Make Up For Ever is a brand that knows how to stay ahead of the innovation curve. It's bold and innovative and you can always count on it to deliver in every product it brings out. About a year ago, the brand announced the reformulation of one of their most popular product, the tried, tested and true Make Up For EverHD foundation. It got me a bit worried – the Make Up For EverHD Foundation happened to be one of my favourite medium coverage foundation. It took about a year for me to warm up to it but after learning the right technique to apply this foundation, I'm glad I gave it a second chance!
Out of the liquid foundation range available, the one I have yet to try was the Face & Body due to its coverage. Before I could get my hands on it however, I was surprised to see that they reformulated this foundation. I can't compare this foundation with the old Face & Body but I'll give you my perspective on the Make Up For EverWater Blend Face & Body Foundation ($54, available here) and how it compares to a few favourites and the existing Make Up For Ever liquid foundations.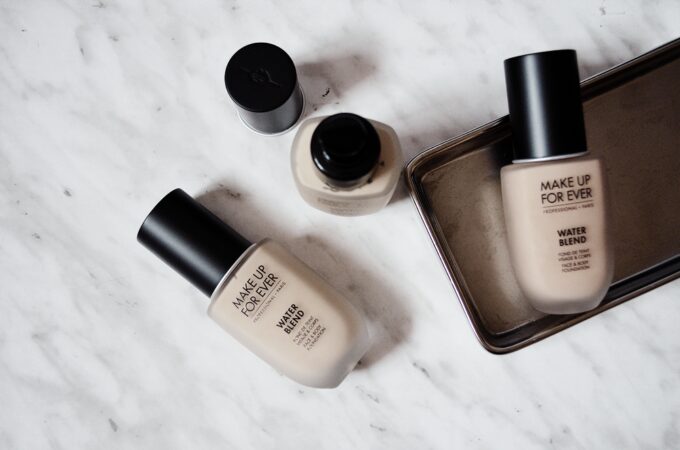 The Make Up For EverWater Blend foundation is the sheerest liquid foundation from the brand and its meant to be very skin-like, and waterproof. The formula is hydrating and comfortable to wear with 80% of the foundation being purified water infused with pro-vitamin B5. Despite the "sheer" label, I think this foundation wears beautifully on the skin and covering up 80% of uneven skin texture and discolouration. Minor redness, hyperpigmentation, sun spots, and discolouration can be easily covered up while active acne and deeper discolouration will need to be neutralized first (i.e. with a colour corrector or high-coverage concealer). The formula is infused with glycerine and mango butter makes the foundation maintain hydration and sit comfortably on the skin.
The foundation has a water-gel texture, the product blends easily and smoothly while the pigments provides the coverage. The foundation feels a lot more liquid-y and will run when pumped on the back of my hand so I avoid using the beautyblender (the sponge will suck the product all up!) and foundation brushes (too streaky). I prefer using one of my all-time favourite face brushes, the Real Techniques Buffing brush which helps melt the pigment on the skin to provide that coverage.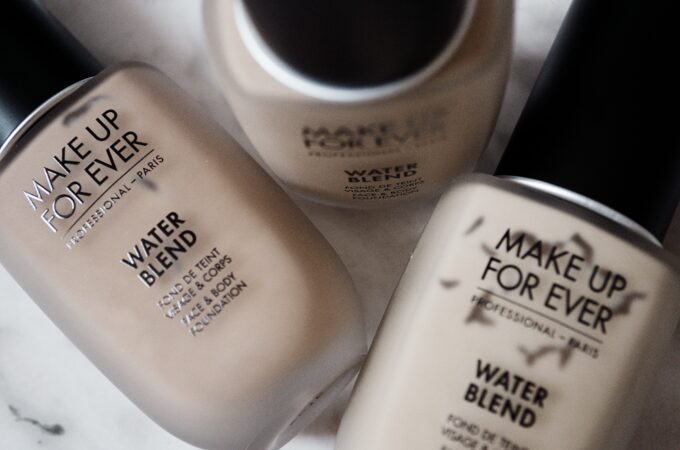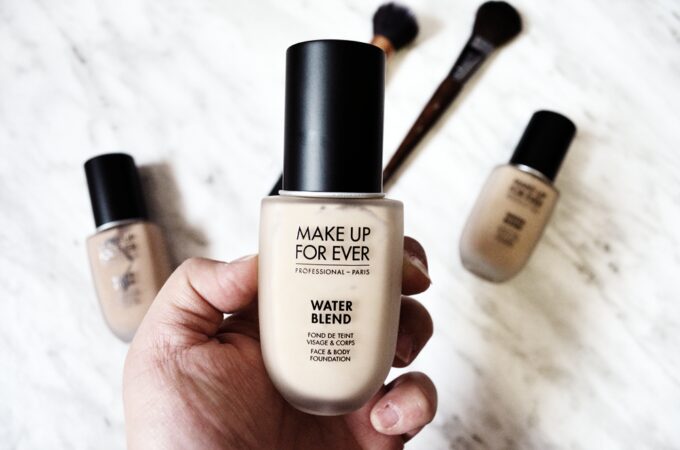 I don't find the foundation to be too buildable – you can easily layer on an additional layer to get a light-medium coverage but it won't cover up the angriest acnes. The foundation will give your skin a soft finish, demi-matte so powder is optional. I find it quite impressive that the foundation is relatively transfer-proof. I tried wiping the foundation off my forehead, and I don't see any makeup on my fingers or any patchiness in general.
The Make Up For Ever Water Blend foundation range has 20 shades available and if prior experience with the brand's complexion products is any indication, there is a shade for everyone! While not as extensive as the Make Up For Ever Ultra HD Foundation, the range has about an even split between yellow-based and pink-toned shades. Any colours that starts with "Y" has a yellow undertone, while "R" has a more pink/red undertone to it. The colour nomenclature is the same as the reformulated Ultra HD Foundation, and for reference, I use Y225, Y245 and Y315.
One thing I have to immediately flag right away though, is that the colour match seems a little off compared to the Ultra HD Foundation. This is one of my staple "baseline" foundation so it may not be applicable to everyone. Don't let this scare you though – This may be because the Ultra HD is more pigmented, but I wouldn't use your Ultra HD Shade as reference as it looks very off (See swatches at the end of this post).
If you're thinking of buying this foundation or the Ultra HD Stick Foundation, get shade-matched again – the colours seem to be closer between these two foundations. The shades Y225, and Y245 are yellow-based perfect for light-medium skintone. I would recommend these shades for those who wear MAC NC15-20 range. Shade Y315 is a lot more peach than the yellow undertone I was expecting based on how yellow the Ultra HD foundation was, but I was able to mix Y315 (75%) and Y245 (25%) to get a better shade match on my skin (NC25).
For some additional reference, I wear the following shades in other brands: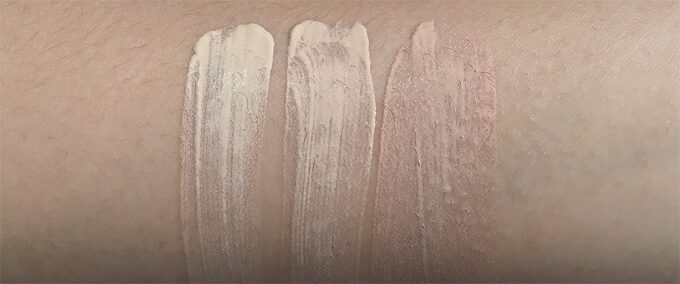 I want to give you a feel of how the shades in this formula compare to the other Make Up For Ever foundations. As you can see in the swatches below, I highly suggest you use your Ultra HD Stick foundation colour as it matches closer with the Water Blend shade. Notice that the Ultra HD Liquid Foundation is a lot more yellow than the other two.
Make Up For Ever Comparison Swatches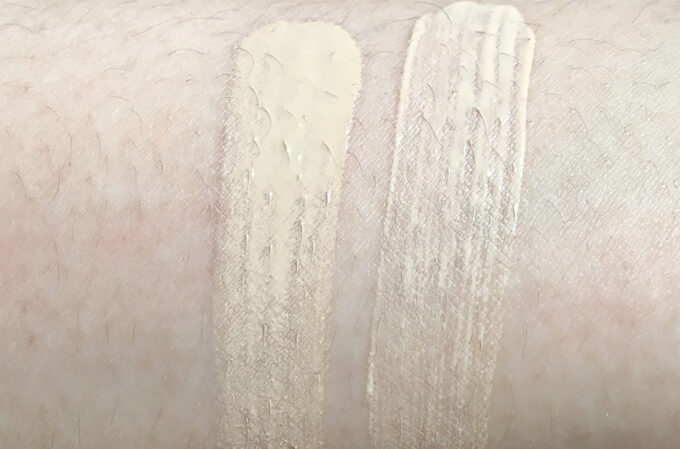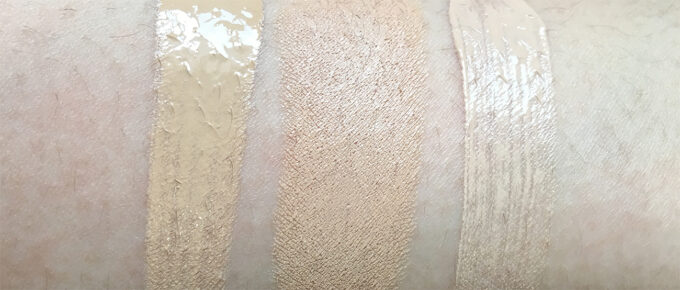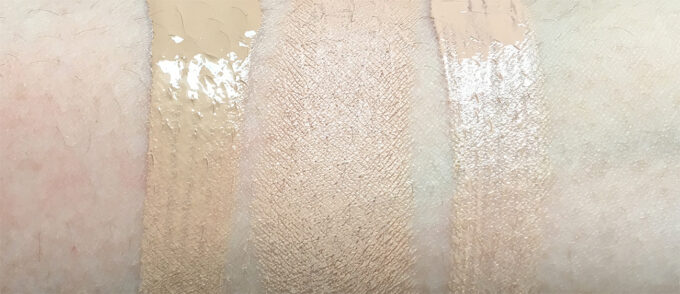 Since the formula is a lot more sheer, I found that colour to be more forgiving. I was honestly surprised at how much I'm liking this foundation for those days that I don't need a lot of makeup on my face. I'll be bringing this foundation with me on my upcoming travels so I'll keep you posted on how it wears throughout the day!
The foundation has 50ml which is almost double the volume of a regular foundation due to the coverage. I find that it wears a reasonable amount of time, but much shorter than what I'm used to with the Ultra HD or the Mat Velvet+ Foundation. For further reference, I wear Mat Velvet+ #40!
Will you be trying out the new Make Up For Ever Water Blend Foundation?