When December rolls around, I'm pretty much "done" when it comes to spending my own money for "things". That's because more and more retailers are jumping on board with Black Friday in November, and with my birthday falling the month before, by the time December rolls around, I'm absolutely penniless, in the red, and drowning in a pool of consumer goods.
So that's why December is a good time to start a Christmas wishlist for things that I want, but can't "afford" (or willing to spend my own money on so I'd rather have someone else buy it for me!) That's what they call "win-win" right?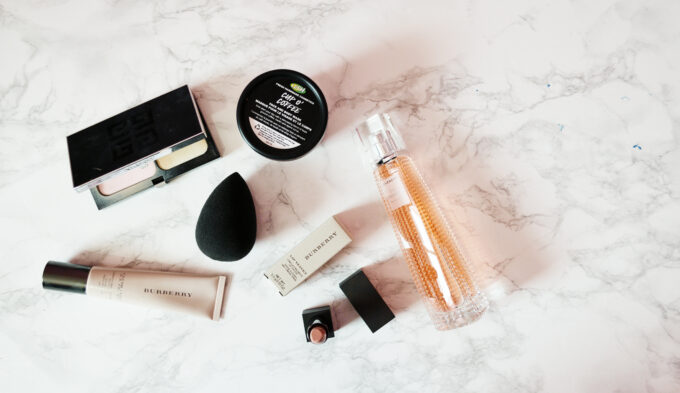 1 // BurberryFresh Glow BB Cream ($46, available here)
I'm just as surprised as you – I'm not the biggest fan of BB creams, and the many I've tried in the past (All the way from Korean to Western BB Cream brands) have failed to impress me until I took the random chance to splurge on a little bit of Burberry recently. There are only three shades in the collection, and I was very surprised that they have some yellow undertone making it suitable for NC-gals like myself. For reference, I use Fair No 1 which is (unbelievably) a perfect match to my NC25 skintone.
Unlike most BB Creams, the BurberryFresh Glow has a little more coverage than your average tinted-moisturizer, so you can wear this even on a bad skin day, with a little bit of concealer. It also helps that this was one of Allure's Best Beauty products of 2015.
2 //GivenchyTeint Couture Long-Wearing Powder ($61, available here)
I only recently went back to wearing the GivenchyTeint Couture Long-Wearing Powder after a long hiatus, and now I can't seem to part with it! The powder foundation was meant to be worn on its own, however, unless you have super perfect skin requiring almost no coverage, this powder is absolutely for you. As someone who suffers from hyperpigmentation and old acne scars, I ended up using this as a setting powder, and holy mackerel! It definitely does the job!
The powder blurs out imperfection like pores resulting in a truly airbrush finish that I've never been able to achieve with the famous Hourglass Ambient Lighting Powders. Plus, it is a great setting powder for under the eye as the pink highlighter strip helps correct the dark circles under the eye. The powder and pink highlighter are matte so you can go to town mixing the colours together.
3 // BeautyBlenderBeauty Sponge ($26, available here)
I know, I know. Spending $26 or so on a beauty sponge is not most people's idea of a great investment. Trust me on this, your life will be changed! I highly recommend purchasing beauty sets that includes the original beauty blender if you can – it will make the money spent a little less painful!
The sponge does an amazing job at applying foundation and concealer without absorbing it the way most makeup sponges do. The dabbing / bouncing motion with this sponge seems to melt the makeup right into the skin, resulting in the most airbrushed, flawless complexion, no matter what format of foundation I use (cream, liquid)
4 // LushCup o' Coffee Face & Body Mask / Scrub ($10.95, available here)
This is one of those random purchases from Lush that I ended up repurchasing over and over again. The Cup o' Coffee mask and scrub is perfect for any java lovers out there who likes to "consume" coffee in some ways throughout the day. The product can be used as either a mask or a scrub because the coffee in it is quite chunky, making it great to use all over the body.
Although it can be used on both the face and body, I highly recommend using it only for the face. Only because you will end up using half the tub for the entire body and that's just… a lot of money that you're washing down the drain. Quite literally. The mask / scrub is infused with agave syrup makes this an excellent moisturizer, so you can skip the moisturizer afterwards!
5 // BurberryLip Velvet ($36, available here)
Nothing screams luxury the way Burberry's packaging does with its magnetic lid and checkered pattern across both the tube and lipstick bullet itself. Understated, simplistic, and luxurious, the range of lipstick colour will impress even those who are difficult to please. The formula is also one to brag about – it sits comfortably on the lips without feeling like its there and doesn't require constant touch ups either!
6 // GivenchyLive Irresistible Eau de Toilette ($114, available here, The Bay)
I can't sing enough praises for this perfume ever since I got it! The limited edition eau de toilette was released in September with Amanda Seyfried as the face of the campaign. Encased in a fun coral shade box with the same shade of juice and a unique studded packaging, this one particular variation of the original Very Irresistible will leave you smiling after wearing it.
The fragrance combines fruity notes (think pineapple, citrus infused with rose) and layered with allspice, amber, and musk to give it a slight spiciness to the overall youthful, and elegant feel of the fragrance. In my mind, I would have never envisioned pineapple as an ingredient to any kind of perfume concoction, but it blended beautifully with the remaining notes to give it that exotic yet delightful smell.
What's on your Christmas wishlist this year?