You know you love a product so much that when you realize it's nearing the end, you start doing that foundation-mixin' to preserve as much of the product until you can get your hands on another bottle. Oh, that's just me? Awkward!
You know that I consider the DiorDiorskin Star Foundation ($50, available here) to be my true foundation love. There's never been a more constant, and consistent companion to my daily 12+ hour grind at work than this little precious formula. Nothing compares, and it has quickly replaced all of my old favourites.
A while ago, I was running low on my FFE (favourite foundation evah!) and started panicking. It was 1.5 weeks until the Sephora VIB Sale starts and I wanted to save on the 15% even if it only meant saving $8 or so. Plus, now that it's getting to the summer season, my current foundation of choice, the Make Up For Ever foundation (#117 marble), is starting looking a little ghostly on me… So of course the solution was to mix the two.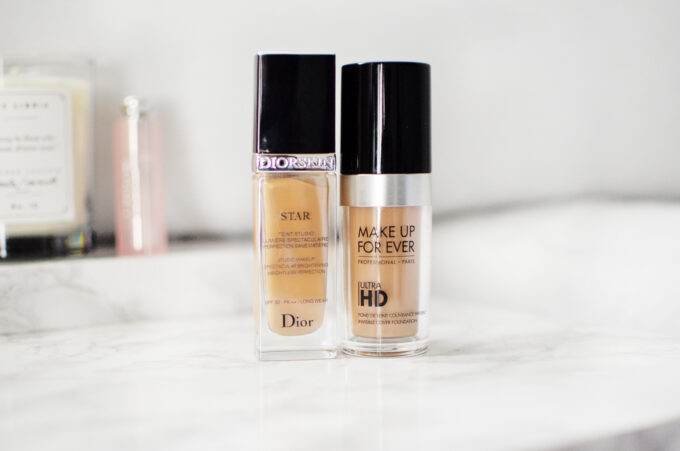 I didn't expect to be so mind-blown when I used this technique. I simply thought, well the colour is going to match my skin better. Combined, the two foundations, and you get a lovely combination of formula and colour. I used 1/2 pump of the HD foundation and 1 pump of the Star so that the HD doesn't lighten up the foundation too much. What was really mind-blowing out of this combination is how it looks on the skin! We all know that the Star foundation gives you that natural-looking finish with a hint of soft-focus enhancing effect to brighten up the face. The Make Up For Ever HD amplifies that soft-focus effect while adding slightly more coverage than to mix. The result is a natural-looking, dewy, slightly fuller-coverage foundation and less obvious of skin textures than using the regular Dior Star foundation by itself.
Neither of this foundation can do wrong in my eyes!
Now it's your turn! Have you tried either of this foundation? As always, I'd love to hear your thoughts! Share with me comment section or through Twitter or Instagram!