Talking about my favourite products brings out the hoarder in me. Let's take a moment to appreciate that my 3-drawer MALM dresser once collapsed under the sheer weight of my own makeup! Not my proudest moment but it was a much-needed rude awakening that immediately prompted a much needed "Beauty Blogger's Buyer Remorse Blog Sale" that was once featured on Buzzfeed (Yes, my only claim to fame is due to having too much makeup).
Usually, when a Sephora sale comes around, or there's a good deal where I can load up my favourite products, you'll see me load up on my favourites like they were going to be discontinued tomorrow. I know, I know. How could I, as a marketer be sucked into these kinds of purchasing behaviour all the time? But I digress.
Let's just chat about those products that made the cut and are so good that I always have to have at least one more backup to get me in between sales.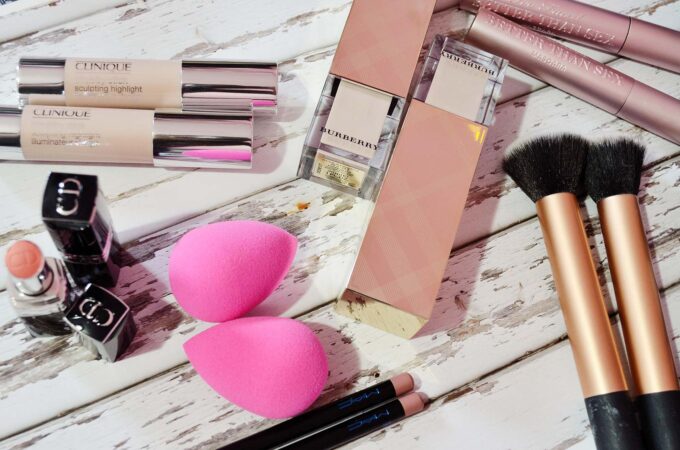 Real TechniquesBuffing Brush (available here)
To be fair, this isn't a product that one could finish, but ever since I purchased my very first Real Techniques brush, I was hooked. The Real Techniques brush remains to be one of my favourite foundation / face brushes and I have repurchased multiple sets just to have these brushes handy!
The Beauty Blender ($28, available here)
Well, I would have never spent $28 on a beauty tool, but an opportunity to purchase these at $10 each during IMATS meant that it was time. I decided to do a little splurge and I haven't looked back. The beauty blender is used by professionals, and makeup lovers alike – it makes every single foundation and makeup product you use completely flawless. No matter the coverage, finish, and texture, this product makes product application so easy and getting that flawless look completely achievable. I haven't had to replace mine despite having used it for 6 months, so I can easily say that even if I had to spend the $28, it would have been a well-worth the investment!
DiorRouge Baume ($42, available here)
Spending $42 on a lipstick is one of my life's goal, but definitely not at this age. However, DiorRouge Baume complete ruined me as it is one of the best lipstick formula's I've ever tried. I call it the lip care and makeup hybrid since this keeps your lips looking moisturized and hydrated all day while giving a kick-ass colour payoff on the lips.
BurberryFresh Glow No 1 ($54, available here)
Some may call me foolish for getting sucked into marketing hype, and limited edition but this gold-casing, limited-edition packaging of the Burberry Fresh Glow was begging me to take it home. I mean oh me, oh my! The effect of this product is quite similar to what you would get by mixing the Benefit High Beam highlighter and your moisturizer, but why go through all that effort when you can do it in one go with this product!
Too FacedBetter than Sex Mascara ($30, available here)
The story about how this product got its name was that Jerrod (the founder of the brand) saw their model wearing this mascara for the first time and exclaimed, "it's better than sex!" and the name stuck ever since. I was never a believer in high-end mascara's until this product came along, and I've been stocking up on them ever since at every Sephora sale, which is the only place you can get them in Canada. In three words, this mascara is non-smudging, long-lasting, and super volumnizing mascara that I've been using sparingly in hopes that I would not run out of them.
CliniqueChubby Stick Highlighter ($26, available here)
I've been a little obsessed with pencil makeup for some time now and I think Clinique is one of those under-rated makeup brands despite their stellar reputation as a skincare brand. I got this product through the Sephora Superstar set from this year, and I have been quite obsessed! The stick format makes it convenient and easy to travel with, but the formula of this product is one of the best cream highlighter that I've been obsessed with! It's not drying nor will it mess your makeup either, so it's a good win-win.
MAC CosmeticsLipliner in Boldly Bare ($19.50, available here)
This colour and MAC's lipliner formula makes the best lip combination I've come across! The understated nude shade and non-drying matte formula means you can get through anything nature throws at you and still look flawless at the end of the day!
Do you buy multiples of your favourite products? If so, is it a regular habit?