When I heard that Make Up For Ever was coming out with the Make Up For EverUltra HD Invisible Cover Stick Foundation ($52, available here) I was pleasantly surprised! I'm not the biggest fan of stick foundations, or any non-liquid foundation product but I know Make Up For Ever always bring out their A-game, and that I should at least give it a shot. I wasn't disappointed!
The similarity between the Make Up For EverUltra HD Invisible Cover Stick Foundation ($52, available here) and the MaybellineFit Me Stick Foundation is quite uncanny – black plastic pop-over packaging with a clear top that allows you to see the true shade inside. Like many, I don't like the idea of travelling or carrying a bottle of my foundation in my makeup bag because it is 1) impractical and 2) seems really silly to me particularly when the glass or plastic bottle could explode at any time!
Like a true Make Up For Ever release, the brand brought out 15 shades. Not up to the usual Make Up For Ever standard of 40+ shades to complement every skintone but still enough to stay competitive to other brands.
I thought about writing a product review on this, giving you my thoughts on the product overall which I'll cover in a few brief paragraphs, but I thought I would share with you why this has become an absolute gem to have in my daily makeup bag.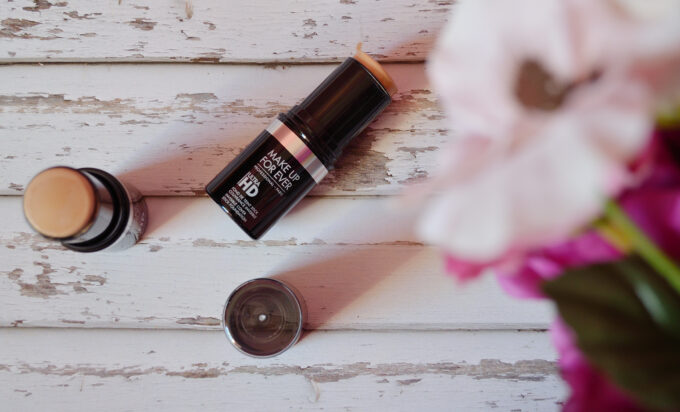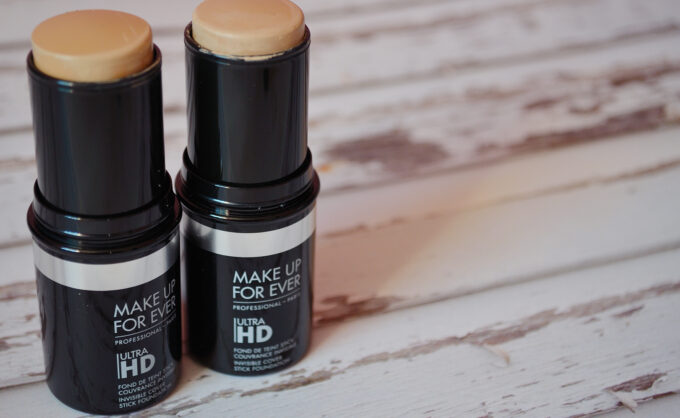 The slim, unobstructive, and travel-friendly design makes this product incredibly useful to carry around with you for touch-ups during the day. The stick / "cream" format means very little risk of spillage or explosion inside of your makeup bag, and the compact and un-obstentatious packaging makes it incredibly useful to have in your travel arsenal and daily makeup bag without screaming "high-maintenance" to your co-workers or significant other (Hey, all I want to do is to make sure my foundation looks good for selfies at dinner!)
The formula itself is a standout – similar to the Ultra HD Foundation ($50, available here), the Ultra HD Invisible Cover Stick blends effortlessly and covers up a lot in one go. It's a guaranteed medium-coverage product that will cover redness, and stubborn spots, but can be built up to a heavier coverage. This product is meant to be the fuller-coverage sister to the Ultra HD Foundation, providing an alternative should you find the coverage of the reformulated product to be too light for your preference.
The stick format allows you to control the coverage too – a sheer touch up? Covering a really bad skin day? Missed a spot because you were running late? Easy-peasy! And no chance of you messing around with your makeup underneath! With this stick format, you get the best of both worlds – the formula that Make Up For Ever has become world-famous for and the easy to transport format! On my NC25 skintone, I use 125 = Y315 Sand and 120 = Y245 Soft Sand.
For some additional reference, I wear the following shades in other brands: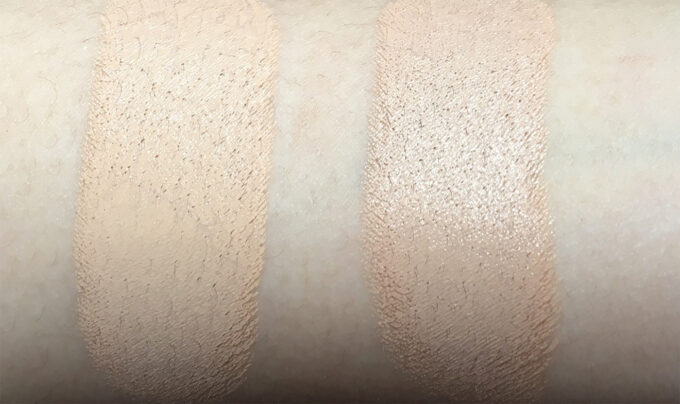 The second way I like to use this product is as a concealer or contour stick. I know, I know, it's a pretty splurge-y item to be used for something so simple! However, this is a great product to have handy if you self-tan a lot or your skintone changes drastically between seasons!
Have you tried the Make Up For Ever Ultra HD Invisible Cover Stick Foundation?
---
Disclaimer:
This post features product(s) provided for editorial consideration. All opinions are my own. For more information about my review policy, please
click here
.
---