My very first introduction to the Make Up For Ever brand was through my purchase of the Make Up For EverHD Complexion Starter Kit ($92). I purchased this set about 2 years ago but have never gotten around to writing about it. I am a sucker for any type of value set, and after deliberating for some time, I decided that I wanted to try more than just the Make Up For EverHD Foundation ($49, available here), and scouting the Make Up For Ever shelf area, led me to discover the Make Up For EverHD Starter Set ($92, sephora.ca) which seemed to be the answer to my wishes!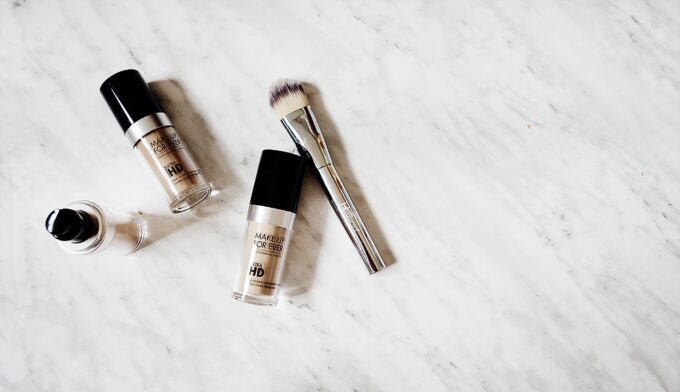 The Make Up For EverHD Starter Set includes four products:
Although one might balk at the price, I purchased this during the VIB Sale (20% off) a couple of years ago in the US. I believe the US selling price was $72 at the time, and with the discount, I only paid $60 (including taxes). Considering the foundation alone retails for $49 in Canada, that was a worthy bargain purchase!
I have a separate review coming up for each of these products so stay tuned for that. Even though I don't wear makeup primer on a daily basis, the HD Face Primer To Go is great to have for days when you need to look extra good and want your makeup to last all-day without budging. I seriously love the tube packaging as it is easy to throw into my bag, and carry with me throughout the day. The HD Foundation is a foundation that I had been dying to try particularly since I watched a before/after full-coverage foundation routine by DiamondandHeels (it has 22M views – video here! She also used the setting powder) where she covered her severe acne. The HD Setting Powder is a highly popular product and I can now truly understand why! The powder has a new packaging which I have written about here (HD Pressed Powder Review), and really makes a difference on how my makeup looks throughout the day!
Other products from the HD range that I have tried thus far include the following:
Despite the initial high price of this set, I saved a lot of money rather than purchasing the items individually, and discovered one of my favourite product lines. This set is not for everyone – you might not have the need for the kabuki brush or you are simply not a primer girl, and that's fine. This set would be excellent for those who are interested in trying out the product line in one go, and are interested in the above items. If you want to save even more money, I recommend waiting for a Sephora sale to pick up this set (or buy it in the US the next time you're there!)
What about you? Have you tried the Make Up For Ever HD Complexion Starter Kit or plan to? What are you favourite products from the Make Up For Ever HD Range? Share with us in the comment section below!