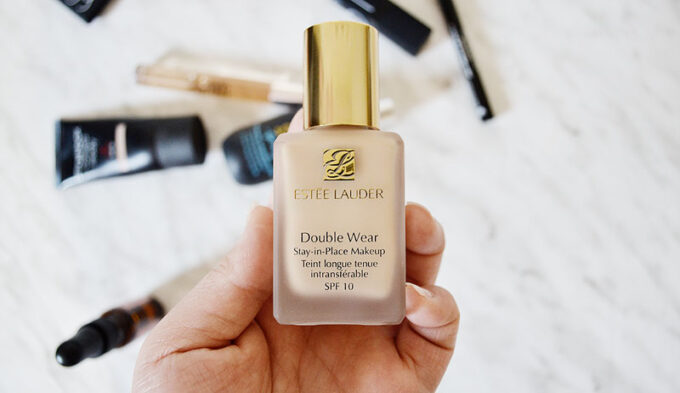 I have yet to write a proper full review on the Estée Lauder Double Wear Foundation which is quite sad since it is one of my favourite products, ever! The foundation is one of those products that has reached the cult-status from the brand, and remains to be a staple for me. With 31 different shades to choose from, there is bound to be a shade that matches individual skintone. The formula was reformulated in 2012, and I believe I have been using the newer version, thus this review will reflect that.
The foundation claims to provide 15-hour staying power, doesn't oxidize or transfer to clothes and stays flawless all day, particularly looking natural through heat, humidity, nonstop daily activities. It's also smudge-proof, oil-free, non-acnegenic and fragrance-free. Basically, it is the holy grail foundation for a super busy girl with a fast-paced, non-stop daily activities. Let's put the Estée Lauder Double Wear Foundation to the test and see how it holds up!
Why Try the Estée Lauder Double Wear Foundation?
Ever since I discovered the Estée LauderDouble Wear Foundation, this foundation has become my foolproof, fail-safe, holy grail product. The only time that I have ever strayed from it is when I want to try something new or when I have really bad skin days and need a more targeted finish.
Whenever I find myself wanting and needing a natural-looking foundation with a matte finish, great coverage, and lasting power, I will always return to this one, which is saying something considering my extensive foundation collection.
The Estée LauderDouble Wear Foundation provides a buildable medium to full coverage. It dries quickly, so that a second layer (if necessary) can be applied quickly for greater coverage. Since it dries quickly, you need to blend just as quickly to ensure that the product is applied evenly on the skin. I don't recommend adding a second layer fully though – this foundation is already very full-coverage so a good high-coverage concealer should be your first alternative.
Why is the Estée Lauder Double Wear Foundation So Popular?
Finding a foundation that lasts through the rigorous university and work lifestyle can often be challenging. I need something low-maintenance that makes me look put together all the time. The Estée Lauder Double Wear Foundation is the only foundation I come back to and I have not been disappointed! I don't even have to use a primer to achieve a long-lasting, all-day natural finish that doesn't budge nor transfer.
I haven't found anything I disliked about the lasting power – it doesn't even get patchy throughout the day! I wouldn't say it stays for exactly or more than 15 hours since I never have makeup for that long, but for a 10-12 hour day, it easily stayed on without touchups!
The foundation dries to a natural matte and dry to the touch so it doesn't need to be set with powder. The finish can make the facial features a bit "flat" so bronzer and blush are musts for this foundation. I like how it sits on my skin without feeling heavy or like I have too much makeup on.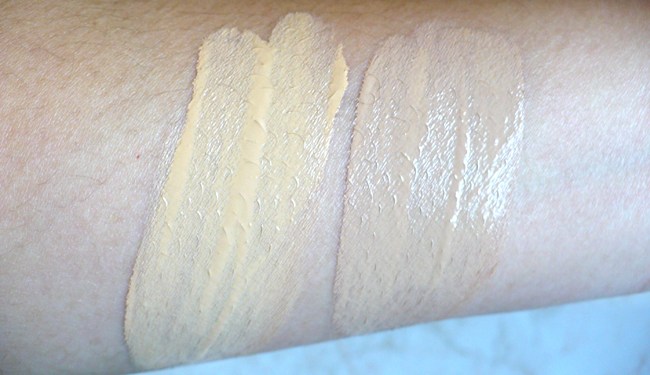 The Estée Lauder Double Wear Foundation Formula & Shade Range
The foundation is liquidy and glides easily on the skin. There is a bit of a scent to it, similar to the MAC foundations (since MAC is owned by Estee Lauder). I wore this foundation for my graduation portrait and everyone compliments my portrait all the time (and this is without the touchups)!
I am a MAC NC25-30 and I find that I am in-between shades with this foundation. I use the shade "Sand" for most of the year, but sometimes it does appear too light and I have to mix it up with a darker shade. "Sand" is a more yellow-toned colour while "Fresco" falls in the more neutral side. The shade "Sand" and MAC NC25 is almost a perfect match, especially if you use the MAC Studio Fix Fluid in NC25 as well. I find that I need very little of the product (about a dime to penny-sized amount) to cover the entire face.
For some additional reference, I wear the following shades in other brands:
I have personally tried and tested this foundation on numerous occasions taking it while I traveled to Doha and Dubai (Middle East area, with lots of humidity), to Ghana, West Africa (crazy humidity and heat), and of course, using it throughout the year in Canada.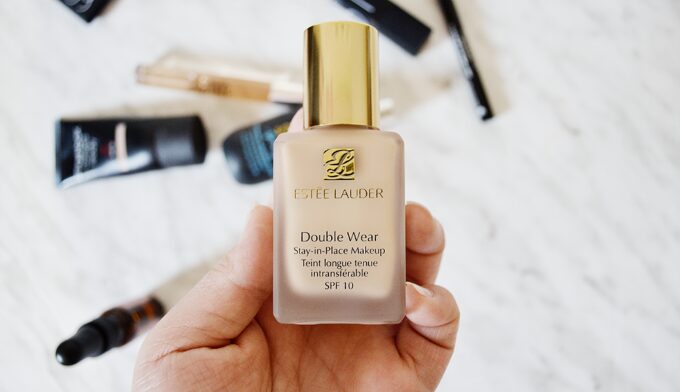 The Estée Lauder Double Wear: What Could Be Improved
There are two things I dislike about this foundation. Number one is that when my skin is lacking moisture (especially when I'm traveling on airplanes), this foundation will look very mask-like. With the proper prep-work underneath though, this foundation can work. You've been warned!
I also think the packaging needs a bit of an update – the bottle has no pump – just an open hole like seen below and it often results in using way too much. Plus, the bottle design makes it easy to end up spilling which is something to worry about. I have seen some hacks for this product including purchasing a NARS or MAC Foundation Pump and shortening the bottom bit to ensure that it fits into the shorter bottle.
Estée Lauder Double Wear Foundation: Application and Final Thoughts
I apply this foundation with the Real Techniques Buffing Brush, Sigma Beauty F80 Brush, Sedona Lace Flat Top Kabuki brush and a few other buffing brush and they are apply the product perfectly. The product is too runny to use with a beauty sponge, and the finish is much more even with a denser kabuki-like brush. I like to use a wet beauty sponge (like the beauty blender or RT one) to pick up any excess product and make the foundation look more natural.
I tried applying the foundation with my fingers once but I really disliked the finish and how uneven it looked. Since it dries quickly, applying with your fingers isn't something I'd recommend – it just will be so hard to blend and get an even finish.
Based on my experience with complexion products from Estee Lauder (and its child brands like MAC, Clinique, Smashbox and Bobbi Brown) tend to oxidize as they dry so I highly recommend that you get a sample of it to try out if you are interested. I went to Macy's and they were more than happy to provide me with a 10-day sample of the shades allowing me to test the foundation at home before splurging on it.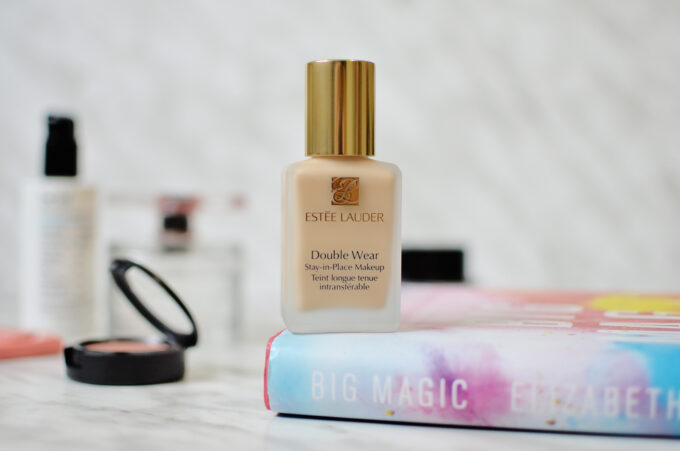 This is a foundation that has won me over and is a reliable one to have and use despite the price tag. With the great coverage, natural and long-lasting finish, there is little to dislike about it. With 31 different shades to choose from, there is bound to be a shade that matches individual skin tone.
Ever since I discovered the Estée Lauder Double Wear Foundation, this foundation has become my foolproof, fail-safe, holy grail product. If you have been hunting for that medium/full-coverage and long-lasting foundation, I recommend that you give this a try – you might end up liking it!
What do you think? Have you tried the Estée Lauder Double Wear Foundation before?
Shop the Post