Just when we thought the micellar solution/water battle couldn't go on any longer, and when it seems that every single brand has their own version and variation of the beloved makeup remover, a new brand steps in and bring another one to the field. I recently discovered that the GarnierSkinActive Micellar Water ($8.97) has made its way to this side of the world. Previously this was only available in Europe. At the same time, L'Oreal (the parent company of Garnier) came out with their own version of the L'Oreal Sublime Micellar Solution which I love and adore as a more affordable alternative to the beloved Bioderma.
Don't get me wrong – I love my Bioderma and stock up on it when I can, but realistically, spending over $20 a bottle is hardly a good way to spend money, particularly when there are other alternatives available.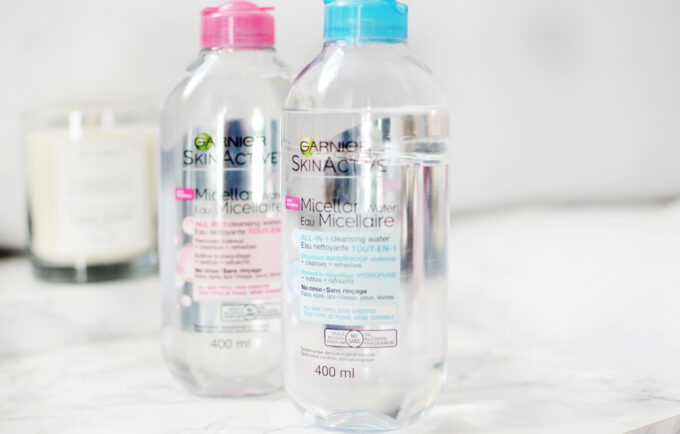 Now that the beauty market is very saturated with micellar solution/water variations from what seems to be every high and drugstore brands, I thought I was going to pass up the opportunity to get myself one of these. And to be honest, I didn't really have to go out and buy one. The fact that this makeup remover formula is easily replicated indicates to me that the formula can't very much between brands. Which means, it all comes down to how their market it. Bioderma holds the spot as being the "it" brand to introduce this unique innovation to the world, and in my mind, L'Oreal brought (at the time) the most affordable drugstore option that resembled the Bioderma offering the most.
It seems that L'Oreal hasn't maintained the momentum of the Sublime Micellar Solution (or the Sublime range rather) so they've decided to re-enter the market with another brand (Garnier) instead. Just my two cents and what I think happened behind the scenes.
So why did I pick up the Garnier version?
Well, I realized that Garnier offered two variations of the formula – a sensitive formula (pink cap) and waterproof version (blue cap). Well, that's actually really great because I don't think many brands (aside from Bioderma) offers multiple variations. Aside from that though I think the biggest differentiation is the price point. Retailing for $8.97 at Walmart (where I bought it during a rollback for $7.97), it is significantly cheaper than the L'Oreal one when you look at it from per mL basis. L'Oreal's offering retails for $8.97 or $9.97 for 200ml, whereas with Garnier, you get 2x the volume for the same price.
To be honest, I don't think it's worthwhile discussing the formula here as mentioned earlier – it can't vary too much given how easily replicated each product is.
The one thing I did notice is that the waterproof formula (blue cap) looks like it has some baby oil in it. There seems to be a separation between the water and top 20% of the liquid. The top 20% of the liquid seems more opaque and the tag on the lid indicates that you have to shake it to activate. Not cool – seems like they mixed baby oil (or something similar – I can't fully tell from the ingredients list) with the micellar solution and market it as waterproof. What do you think?
Have you seen the new Garnier SkinActive Micellar Water in stores near you yet? Will you be picking this up?