Well folks, it's that time of the year again! The Sephora 2017 VIB Sale is just around the corner, and it seemed appropriate to put out a wishlist post of some sort. There are a number of sales happening around this time of the year so I'm excited to put together a haul post soon – only the second one since the holiday season (What the what?!) If you haven't heard or received any news about the upcoming Sephora 2017 VIB Sale, here are the details:
VIB Rouge members get 15% off their purchase between April 18-24 (Use code ROUGESPRING)
VIB members get 15% off between April 19-24 (Use code VIBSPRING)
BI members get 10% off between April 20-23 (Use code BISPRING)
The code can be used multiple times in-store and online. Don't forget to use cash-back websites if you are shopping online (I personally use ebates!)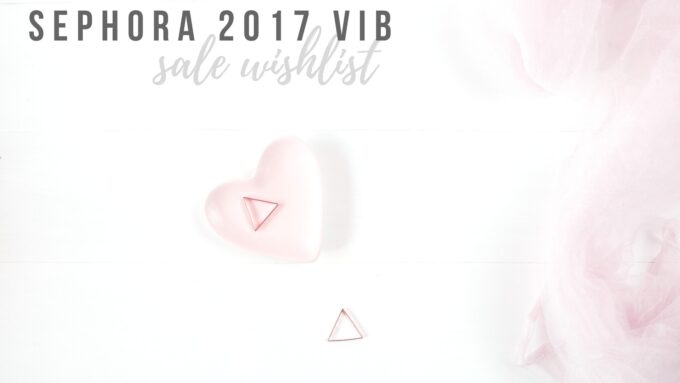 I don't intend to shop a lot during this sale – I prefer to wait for the big November sale (20% off and $25 loyalty card events) so I have only a few seasonal pieces that I'll be picking up.
Sephora 2017 VIB Sale: The Repurchases
The Sephora FavoritesSun Safety Kit ($37, available here) is something that I hope will make its way to Canadian stores because I love stocking up on this kit. The set comes with sunscreen minis which, based on my previous experience, was more then enough to get me through the entire summer season! I haven't seen this in Canada for the past few years (the last time I was able to buy it was in 2014!) so fingers crossed that we'll get lucky this year!
I am desperately trying to ration my Laura MercierSilk Creme Photo Edition Foundation ($58, available here) until November but I honestly doubt it will last that long. I've been using it daily since the beginning of the year and it's the only foundation that I've been wanting to repurchase for some time. I picked up a couple new foundations since but have always returned to this lately!
I missed out on the ClarinsBooster Energy Set ($40, available here) when it first came out so I have been kicking myself ever since. I've been obsessed with the small sample I have of this energizing booster so I'm keen to get my hands on the full-sized version!
I actually bought the wrong shade of the CliniqueBeyond Perfecting Foundation + Concealer ($35, available here) a few years ago so I really need to get the correct shade this time around! I've been really into Clinique foundations lately, particularly for the weekends when I don't want to use up my precious Laura Mercier one!
Sephora 2017 VIB Sale: The Possible Splurges
I feel like I've been going through a bit of makeup fatigue – the endless new releases on top of the pile that I already have at home means I've been a little more careful in the "splurgy" and new release purchases. I've really been trying to scale the shopping back and stick with some time-tested favourites!
A few things have caught my eyes though – the first being the Milk makeup brand. For some reason, everyone on YouTube and many of my blogger friends seem to be quite obsessed with it. The MILK MAKEUPVibes Vibes Vibes ($54, available here) seems like a good type of starter set to get to know the brand. Although I'm not 100% convinced by the price/value ratio of this just yet, I'll have to test it in-store first to decide whether to get it or not!
After having using the Make Up For EverUltra HD Microfinishing Pressed Powder ($45, available here), I've been wanting to pick up the banana shade to try out. I'm working my way through the powder quite quickly and I think it would be great to have a backup!
I heard on the grapevine that a new (darker) nude blush shade has joined the Burberry Light Glow blush range. The BurberryLight Glow Natural Blush in Dark Earthy No. 11 ($47, available here) is something I sense I might end up being addicted to considering my current obsession with nude blushes these days!
There's a new Canadian brand in town and I'm keen to give it a go! I'm really curious to try out the STELLARLimitless Foundation ($45, available here) which is a foundation range designed to wear well on medium skintones. I don't really need to try out a new foundation since I have a few that I already like, but I can't help but want to support a local homegrown brand when I can…
Shop My Favourite Makeup!
If you need a bit of inspiration, take a peek at some of my favourite pieces below! I've written a review on them which you can look at through the Beauty archives here.
Now it's over to you! What are you shopping for during this Sephora sale?