Unlike most, I won't be spending this summer in a tropical paradise since I've got a trip planned for later on in the year. However, that doesn't mean that I want to miss out on getting my skin prepped for the summer!
A recent newsletter courtesy of Sephora alerted me to the release of the 2014 Sephora FavoritesSun Safety Kit (USD$32 / CAD$38, available here). I am always excited when it comes to Sephora value sets/Favourites Sets as they are excellent in terms of variety, product selection, and price. This year's Sephora FavoritesSun Safety Kit did not disappoint, and I will tell you right from the get go, to walkrun to your nearest Sephora as this set is guaranteed to be sold out quickly (at the time of writing, the set has sold out online).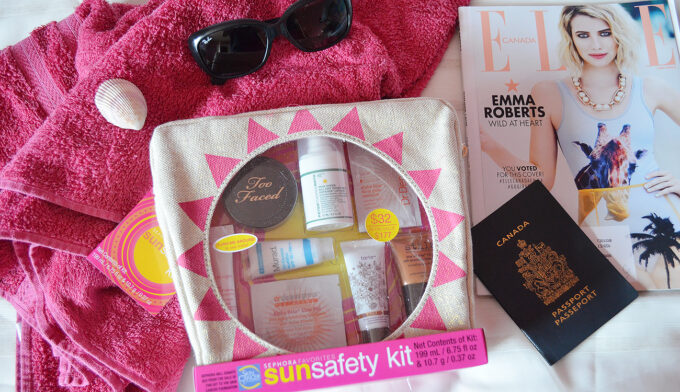 This set has eluded me for the past 3 years – it's always sold out by the time I want to buy them. Fortunately, this year, Sephora made the set available to VIB/VIB Rouge earlier and it will be available to everyone starting in early June (but I've already spotted them in-stores, so you can always try your luck!) Just in case you're not familiar with the Sephora FavoritesSun Safety Kit, it is a much coveted value set released every summer to get your skin ready for the summer. The set includes some of the biggest and most popular products from a variety of brands including those that cost north of $100. As an added incentive, for every set sold, Sephora will donate USD$20 to the Skin Cancer Foundation. Win-win!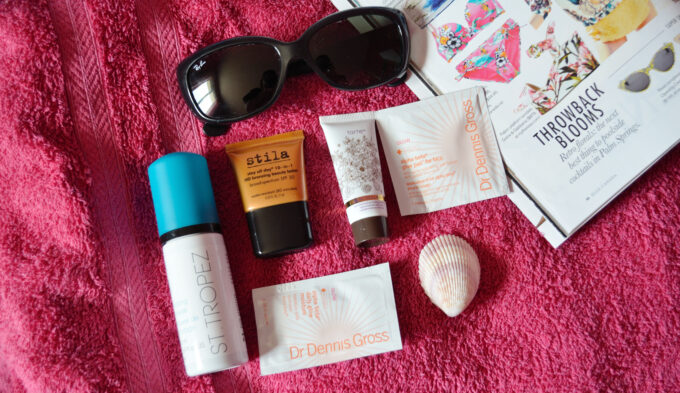 Featuring 16 deluxe-sized samples of skincare product ranging from sunscreen, bronzing/self-tanners, and beauty and skincare products, this set is the perfect way to start the summer. Even though these items are deluxe-sized, I'd wager there's sufficient product to last you at least a week's worth of usage (with the exception of 2, one-time use foils from Dr. Dennis Gross), and that's a pretty conservative estimate. Several of the items are larger than others, so those will likely warrant (at least for myself), more than 1-week's worth of use. I've broken down the value that you get per item at the end of this post.
I really like the variety included in this set – all of them are guaranteed to work for everyone. Nothing in this set is a function of skin colour, skintone, or skin condition, which makes it a great set to gift to friends or family or for yourself and you don't have to worry about colour matching. Additionally, if we were to use the 1-week estimate per product, you're getting about 5 week's worth of sunscreen, 3 weeks worth of moisturizers, 2 multi-use self-tanners, a lip balm, 2 one-time use skin-care items and 2 multi-use beauty products (bronzer and setting powder) plus a makeup bag. It's almost like I won't have to buy any sunscreen this summer!
I'm not a huge fan of self-tanners (I've never used them before since I didn't feel the need to), so from that aspect, 2/16 products are automatically no-good for me. However, I love the variety of sunscreen and skincare that you get with this; aside from the sunscreen, particular favourites from the set for me include the Algenist moisturizer (which at full-size, will set you back $95), the Shisedio face sunscreen, and the Too Faced Bronzer. I've yet to try the other brands/products, but I am excited to delve into the set and see whether they work for me.
At USD$32 / CAD$38 for the entire set, that works out to be USD$2 or CAD$2.375 per item which is amazing considering how much value you get per item. Sephora claims that the set has a retail value of USD$177/CAD$210 so I had to do the math and share it with you guys. I find that the estimated value was far too optimistic – using the prices from the Canadian website, my estimate fell at about CAD$182, so closer to the USD retail value of the items.
Sephora Favorites Sun Safety Kit Product List
Dr. Dennis GrossAlpha Beta® Daily Glow Moisture | $3 value ($50) | available here (0.06 oz)
A daily, oil-free moisturizer enriched with active vitamin D that enhances radiance with antiaging and exfoliating benefits.
Peter Thomas RothMax Sheer All Day Moisture Defense® Lotion | $12.35 value ($50) | available here (0.5 oz)
An ultra-light, two-in-one antioxidant sunscreen and hydrator.
Too FacedChocolate Soleil Medium/Deep Matte Bronzer | $15.20 value ($38) | available here (0.14 oz)
A delectable matte bronzer. Too Faced combines the natural, therapeutic effects of real cocoa powder with their signature bronzing pigments, creating a unique matte bronzer that neutralizes red and evens out and enhances all skintones.
ClarinsUV Plus HP Multi-Purpose Broad Spectrum SPF 40 Sunscreen | $7.41 value ($42) | available here (0.3 oz)
A day cream that protects the skin from the sun, environmental pollution, and free radicals.
MuradOil-Control Mattifier SPF 15 PA++ | $7.67 value ($39.50) | available here (0.33 oz)
A shine-reducing moisturizer that controls oil for up to eight hours, decreases breakouts, and protects skin.
TarteBrazilliance Skin Rejuvenating Maracuja Self Tanner | $4.27 value ($47) | available here (0.5 oz)
A revolutionary maracuja-infused self-tanner for face and body.
StilaStay All Day® 10-in-1 HD Bronzing Beauty Balm Broad-Spectrum SPF 30 | $9.60 value ($32) | available here (0.23 oz)
A high-definition, luxurious, age-defying beauty balms, enriched with broad-spectrum SPF 30.
Dr. Dennis GrossAlpha Beta® Glow Pad | $1.95 value ($39) | available here (1 pad)
An exfoliating self-tanner with antiaging properties and vitamin D.
bareMineralsREADY Touch Up Veil Broad Spectrum SPF 15 in Translucent | $14 value ($28) | available here (0.15 oz)
An innovative concept in solid mineral technology formulated with rejuvenating sea minerals.
St. TropezSelf Tan Bronzing Mousse | $22.50 value ($22.50) | available here (1.69 oz)
A super-lightweight, easy-to-apply, velvety mousse that dries in 60 seconds and delivers a rich-bronze tan.
OriginsA Perfect World™ SPF 25 Age-Defense Moisturizer | $15 value ($51) | available here (0.5 oz)
A moisturizer that helps delay the appearance of premature aging.
Supergoop!Sun-Defying Sunscreen Oil Broad Spectrum SPF 50 | $11 value ($11) | available here (1 oz)
An antioxidant-rich, broad-spectrum SPF 50 sunscreen oil featuring meadowfoam and argan oils.
ShiseidoUltimate Sun Protection Cream Broad Spectrum SPF 50+ For Face | $10.4 value ($35) | available here (0.64 oz)
A powerful and highly nourishing sunscreen for the face.
AlgenistRegenerative Anti-Aging Moisturizer SPF 20 | $23.75 value ($95) | available here (0.5 oz)
A moisturizer with SPF 20 sunscreen protection and the exclusive antiaging ingredient alguronic acid.
FreshSugar Lip Treatment Sunscreen SPF 15 | $13.89 value ($26) | available here (0.08 oz)
A hydrating treatment that nourishes, protects, and plumps the lips.
Ole HenriksenProtect the Truth SPF 50+ Broad Spectrum UV Protection | $10.88 value ($37) | available here (0.5 oz)
SephoraMakeup Travel Bag
While the value of the set is not as value-intensive as previous Sephora favourites sets, it is still a valueable set to try especially if you are interested in skincare. That being said, there's a good variety of products and brands so while there are the cult-favourites, you are also getting a whole bunch of new products to try. This is a great set to try if you have been curious to try some of the items in the set and irrespective of your skin color or condition, nearly all the products should work for everyone.