When it comes to creating highly impressive and innovative beauty products, Make Up For Ever hasn't disappointed me thus far. It was pretty darn exciting to see a new lip product launching as part of the Ultra HD extension! The new Make Up For EverUltra HD Lip Booster ($29, available here) is a hydrating lip serum that repairs, smoothes and moisturizes and prepares your lips for makeup application. I call it my miracle lip worker, because it makes every product and formula I've tested it on so far to wear twice as well!
I can say that I am absolutely addicted with the lip booster and I think it's something that everyone should have in their collection. The Make Up For EverUltra HD Lip Booster is available in two shades, a clear transparent shade, and a slightly tinted berry that gives the illusion of a my lip but better finish. Just like the Skin Booster which preps your skin for the foundation, the Lip Booster is packed with hyaluronic acid to help retain moisture and keep your lips comfortable.
The Make Up For EverUltra HD Lip Booster is available at: Sephora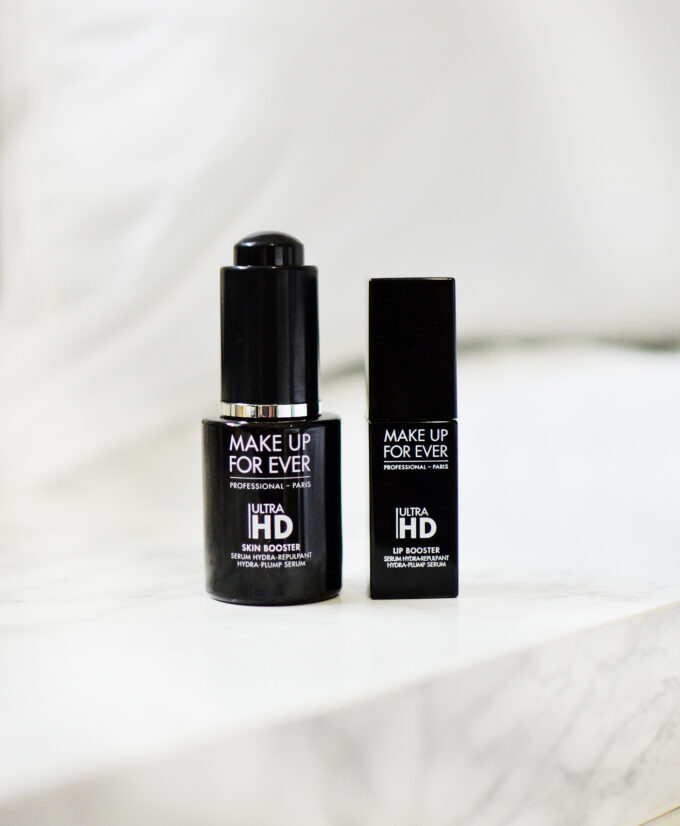 Make Up For Ever Ultra HD Lip Booster
The Make Up For EverUltra HD Lip Booster comes in a square, sleek black lip-gloss tube with a sponge applicator. The applicator has a rounded shape at the end that makes application not only easy but even in one stroke. There two colours in the range makes this product highly versatile – you can use this with any formula's, colours and brands which I think should make this product something you want to buy asap!
Aside from hyaluronic acid, the serum features loofah oil which immediately nourishes and moisturize the lips. Upon application, the lip is coated with a lightweight serum that is comfortable, non-greasy and non-sticky, whilst delivering a shiny glossy finish that looks lovely on its own. There is a light pleasant scent / taste to the product but something that you forget rather quickly.
I love how the lip booster sits on my lip – it adds a glossiness that immediately pulls the look together. The formula is so lightweight and makes the lip so comfortable that you completely forget that you're wearing anything at all. If you feel like pairing this serum with something else, well, that's what really makes this product so versatile!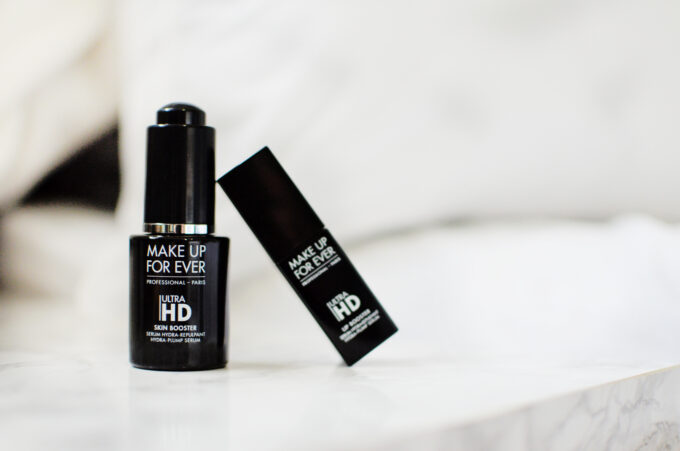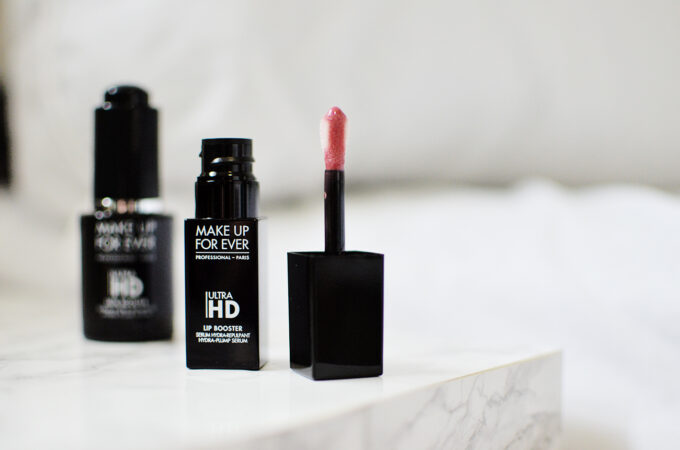 Pairing the Make Up For Ever Ultra HD Lip Booster with Other Lip Products
The fantastic thing about the formula is that whether you're wearing the booster under or over other products, it improves whatever you apply over it! I've tried some of my most high-maintenance, difficult-to-get-right formula like mattes, liquid lipstick / lip paints, and everything in between to see how the lip booster would work when paired together. I'm happy to report, the lip booster exceeded my expectations in every way!
Paired with a matte lipstick, the lip booster (applied first) helps the matte lipstick glide easily, more evenly and precisely (thanks to the added slip). The lip booster does take away from the matte finish as the shine from the serum will peek through. If you want to maintain that matte look, I recommend setting your lip with a setting powder (put a tissue over your lip so that you don't end up eating / inhaling the powder). Paired together, I noticed that my matte lipstick wore longer, didn't feather as much and certainly felt a lot more comfortable (none of that dry or waxy feeling).
Paired with a liquid lipstick / lip paint-type formula, the lip booster helps the lip paint apply evenly over the lip. What I like about his pairing is that the serum takes away from any stickiness and tackiness that a liquid lipstick is often associated with. My Wet n WildCatsuit Liquid Lipstick and TarteTarteist Lip Paint lasted a lot longer, felt far more comfortable on the lip whilst maintaining the colour payoff.
Most liquid lipstick formula's don't transfer once they set but with the added serum and slip, there will be a bit of movement. A quick workaround I've found is to blot the excess at the back of your hand and set it with a little setting powder (see above) to ensure it stays put!
Paired with a regular lipstick or lipgloss (either under or over), the serum helps the lipstick stay on longer and takes away any tackiness. For a lipstick / lipgloss formula that is shiny or already glossy on its own, I find this serum tempers down the glossiness so it looks a lot more natural on the lip. I am someone who's all about subtlety in my makeup routine, so that was a welcomed experience.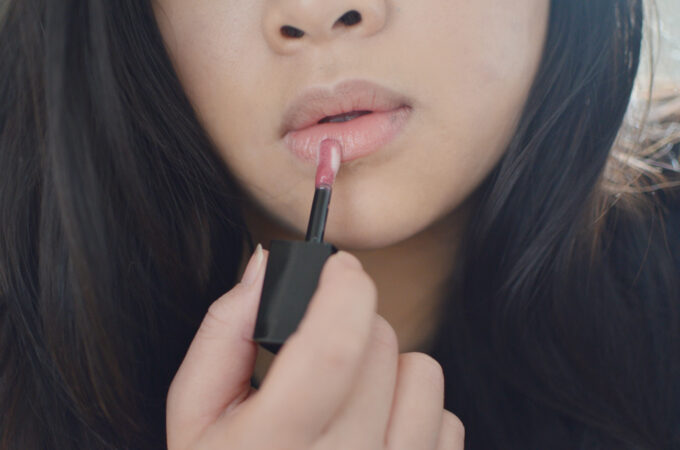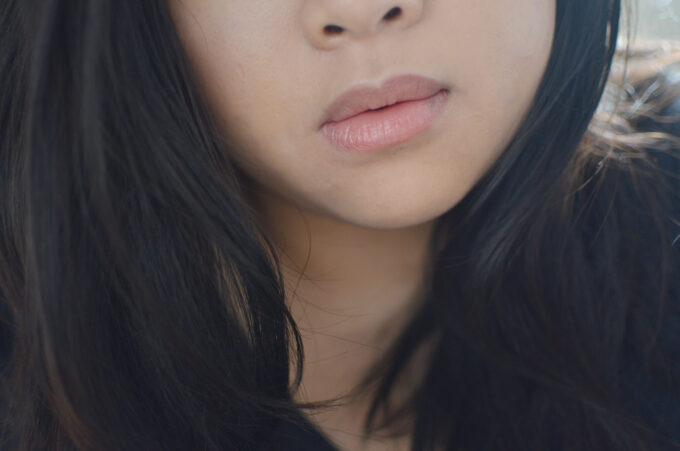 In the before/after swatches above, you can see how the Make Up For EverUltra HD Lip Booster reduces the lines on my lips and adds a natural-looking shine. As you can tell, I've really put the Lip Booster to the test and I am so thrilled that I've found a "middleman" type of product that makes every lip product and formula I'd want to wear so much easier to apply!
I am really impressed with the Make Up For EverUltra HD Lip Booster and I recommend that you should go run to your nearest Sephora as it will change your makeup game completely!
What do you think of the new Make Up For Ever Ultra HD Lip Booster?
---
Disclaimer:
This post features product(s) provided for editorial consideration. All opinions are my own. For more information about my review policy, please
click here
.
---