Here's the thing, I only change up my makeup routine only, and only if, there's a seasonal change or my skin needs something super specific. I really dislike the idea of having everything in my makeup collection opened, and collecting dust / bacteria so I try to use up everything I have open at a time. This winter has been so very Canadian – not the people, because Canadians are awesome – but just typically Canadian in the sense of our unforgiving wintry weather.
This last couple of weeks, I've had to pull out the best and most hard-working bits I have and add them to my routine to address my dull winter skin. The best part is that this is a list of only five items to boost your routine. You can add this into your existing makeup routine or replace certain products that aren't working.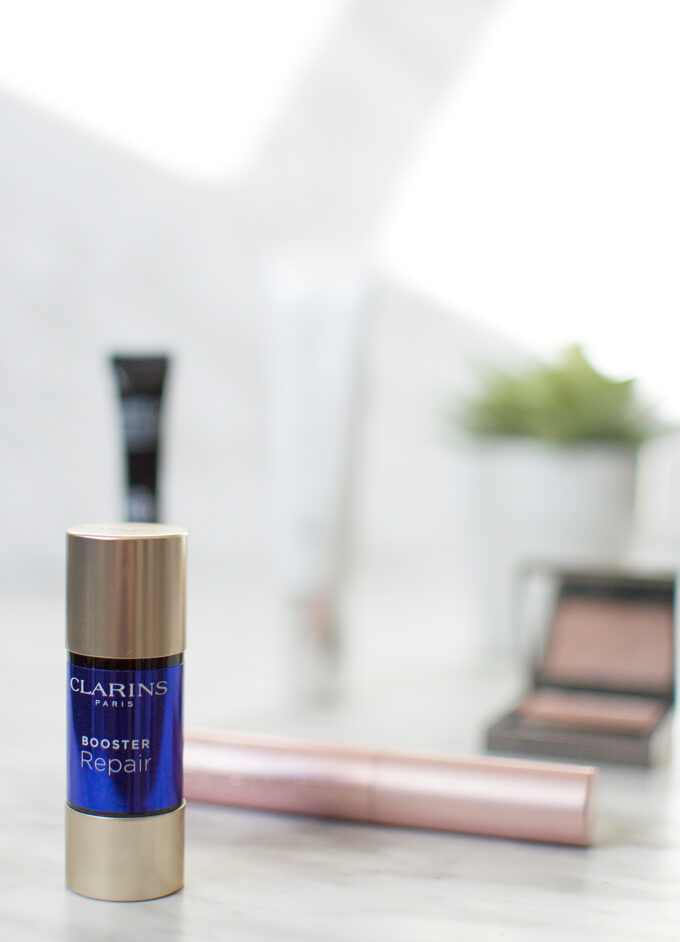 Makeup Tips for Beating Dull Winter Skin
In addition to the skincare and the makeup products I'm sharing here, I want to reiterate that the single two best makeup tips I can share with you is to drink more water, and updating your skincare. The idea of dehydration in the winter sound counter-intuitive, but it's likely the culprit to your cracked and under-nourished skin. Drinking more water helps heal the skin from inside out rather than wearing more skincare and makeup to hide / cover up the damage.
Updating your skincare to be more specific to the season is going help reduce the stress and strain on your skin. Put it this way, it won't have to work twice as hard to hydrate / nourish itself and so on. If you fancy a read on my skincare recommendations and changes, I've written about it a couple of weeks ago: Skincare Routine | Winter Edition.
Skincare
I am including the ClarinsRepair Booster ($40, available here) in here as this serum is such a miracle worker and it is such a simple item to incorporate into your morning routine.
The idea is to mix a couple of drops of the serum into your moisturizer and it instantly gives the skin the illusion of a much healthier, smoother and less damaged skin. So let's say, you had a recent allergic reaction and your skin is a bit blotchy, this serum when mixed with your moisturizer / foundation / another serum will help tone down the severity and reducing the stress of additional wearing makeup on it. In addition to this booster, I really like the Energizing one that Clarins has (orange bottle) – it gives the illusion of a more awake skin in an instant!
Makeup
For some reason I can't find the DiorGlow Maximizer ($48, available here) anymore on sephora.ca but I do hope it hasn't been discontinued. Although advertised as a primer, I really don't think it wisest to apply this all over the skin as the product is very glowy. Not that it's a bad thing, especially if your skin needs the extra boost – personally I just prefer applying less of it but more strategically around the face or over the makeup for a subtle glow effect.
The product initially swatches as a champagne, pink-ish shade but once blended out, it looks a lot more golden. Either ways, it looks very natural on my light-medium skintone.
I've also been really obsessed with nude blushes – I blame Jennifer Lawrence wholly for this. She always looks so incredibly in various premiere photos that I've basically been on the hunt for the perfect nude blush. The one that I am currently obsessed with right now is the BurberryLight Glow Blush ($44, available here) which is a tad too pricey to repurchase. This shade just has the perfect balance of some pink and a tad bit of grey so it looks more skin-like for a bit of contouring action.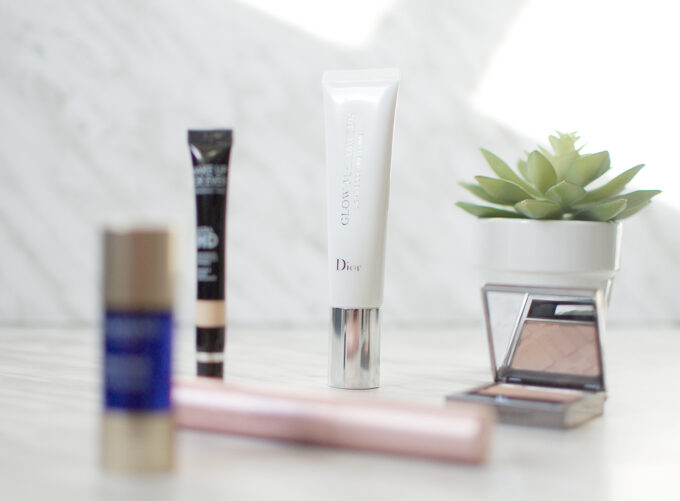 To address the horrible dark circles under my eyes, I have been turning to the Make Up For EverUltra HD Concealer ($32, available here). It's really lightweight, thin in consistency which makes it easy to blend. Most of all, I really like the semi-sphere applicator which I like to massage back and forth and relaxes the muscle and skin as you apply your makeup.
Last but not least, the secret to looking more awake and taking away the focus from the dullness of the skin is letting the eyes do the work. My favourite makeup tips that I've heard over and over again, and like to live by is to apply mascara. Generously.
The Too FacedBetter than Sex Mascara ($30, available here) is seriously one of the best in the market. It volumizes without clumping, and lengthens without being spider-y. It holds and lasts throughout the day without smudging nor does it transfer. Since it's that good, I've probably bought more backups of this than any other mascaras I own.
What are your favourite makeup tips to beat the winter skin?