Adults who have successfully adult-ed often impart wise words of wisdom in the tune of "It's never too early to start…" and that often applies to skincare too. While there are those who are in the camp of "wait until you are 30+ years old" to start using anti-aging skincare, today's external stresses on the skin is so much more intense and numerous! I've recently been turning to two new Clarins innovations to help me care for my skin better.
Here are a few of my favourites from the recent launch!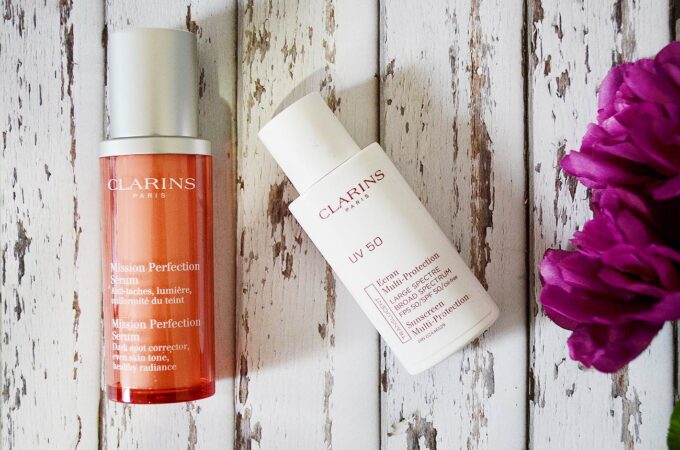 Clarins Mission Perfecting Serum
The ClarinsMission Perfecting Serum ($88, available here) is something I knew was going to be an immediate favourite. When it comes to skin concerns, my biggest insecurity remains to be the leftover acne scars, and hyperpigmentation. With improved skincare regime, my skin has gained a little bit of that vitality and vibrancy back, but it still has ways to go. The new serum from Clarins is a dark spot corrector which works to even the skintone by targeting the "exosomes", the skin cell "messenger". When this messenger is constantly attacked and exposed to UV rays, inflammations (which are the common causes of uneven skintones), it results in the over-production of melanin and dark spots.
I am pretty excited anytime a new dark spot corrector comes out because I will try it all! Clarins is a brand that I trust a lot with my skincare, and I love the science behind each product development! It makes paying that premium so much more worthwhile. To calm the exosomes, the ClarinsMission Perfecting Serum uses acerola extract, a powerful plant extract that blocks the incorrect messages from being fully transmitted. This means that the overproduction of melanin is stopped before it could even begin. In addition to the plant extract, the serum also contains l'hexylresorcinol, a dark spot correcting molecule. I haven't heard much of this ingredient in the past, but it appears to reduce the formation of dark spots at the source.
The serum is meant to be used in the morning and evening, before your regular skincare. You can use this on the face, neck and even décolletage!
UV50
Simply named the ClarinsUV50 Sunscreen ($42, available here), this new sunscreen formula has a higher UV protection to keep your skin safe from the harmful UVA and UVB rays. In addition to that, it is infused with an anti-pollution complex to keep the free radical damages in check.
Sunscreen is often a step skipped and forgotten in favour of primers, serums, and other concoctions before applying full face of makeup. However, sunscreen is one of the most important thing you can be putting on your face on a daily basis as it keeps the skin protected, even in the winter time! I find a lot of sunscreen formula to be too heavy and feels greasy on the skin, particularly if you want to apply a full face of makeup over it. The new ClarinsUV50 Sunscreen is definitely not that. It delivers every benefit it promises with a lighter, fresher, and finer texture that feels invisible on the skin.
I believe in Clarins skincare products because they believe in responsible beauty to farm the necessary plants and ingredients for the products. Knowing that Clarins ingredients are sourced using environmentally-friendly methods and via organic farming makes the price premium (it's not that much higher!) so much more justifiable!
What do you think of the new Clarins skincare innovations?
---
Disclaimer:
This post features product(s) provided for editorial consideration. All opinions are my own. For more information about my review policy, please
click here
.
---