Cue the big "Oops" moment because your gal accidentally made several additional orders in the last days of the Sephora VIB sale 2017 because happily, some of the items that I had been lusting after, were finally restocked on the website! The good news is that most of the items I bought are gifts as well so those spending wasn't entirely for me (though who am I kidding though!)
I did do quite a bit of damage ordering online because as a non-Rouge member, I did have to spend $50 to get free shipping. So that meant adding a few more things that I didn't necessarily need. So nicely, we'll have more holiday content around for you!
Believe it or not, even after the first haul I posted a few weeks ago, I still need to spend $31 to re-qualify as a VIB. Talk about $$$ hemorrhage!
After calling 4-5 stores and finding out that each one was sold out, I was so thrilled that the FENTY BEAUTYPro Filt'r Soft Matte Longwear Foundation ($42, available here) was finally restocked online! I was looking for share #290 which surprisingly, wore really well on my skin. The olive undertone is very similar to my favourite Laura MercierSilk Creme Photo Edition Foundation which is my foundation of the year. I will have to do a side-by-side comparison of the two foundations because I think the Fenty foundation is very, very promising!
I also repurchased the ClarinsDaily Energizer Wake-Up Booster ($19, available here) which is my favourite toner. I've missed this in my life and ever since I ran out of toners in general, I've been tempted to check out with it. I was going to redeem my points at Shoppers Drug Mart for it but I couldn't resist getting it for 20% and have it around!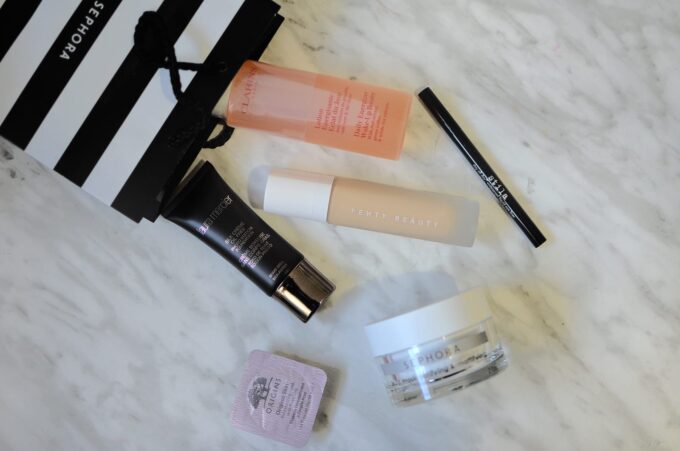 I had to repurchase the SEPHORA COLLECTIONMud Mask Purifying & Mattifying ($25, available here) as this is my sister's face mask of choice. She used the OriginsCharcoal Mask before but this one works just as well and is so much cheaper! This is the traditional holiday gifts she gets every year!
I picked up two more gifts for my Secret Santa and I'm pretty excited about these because they are some of my favourite items too. I picked up my all-time favourite stilaStay All Day® Waterproof Liquid Eye Liner ($29, available here), the ColourPopSuper Shock Shadow ($7, available here). To meet my free shipping minimum, I also added the OriginsOriginal Skin Retexturizing Mask with Rose Clay ($5, available here) mini because I'm still pretty devastated about accidentally throwing this out after only using it 2-3 times!
What did you buy from the Sephora VIB Sale?