I love writing foundation reviews so when I had the chance to test out the new Make Up For Ever Matte Velvet Skin Foundation, I couldn't wait to share my thoughts! I love to Make Up For Ever as they are one of the most reliable and diverse brands I've used, with so many different products/tools for pro's and regular makeup users like you and me. 
I really appreciate how the brand ensures its innovations are readily accessible by those who need them (makeup artists) and those who want to try them out (us!)
When I heard about this new foundation, I thought the name Make Up For Ever Matte Velvet Skin Foundation sounded somewhat familiar – the Mat Velvet+ is one of my go-to for the longest time as it was the most travel-friendly foundation I own. For the sake of completeness, I'll do a thorough review of the Make Up For Ever Matte Velvet Skin Foundation on its own first, then do a comparative review with the other popular MUFE foundations on the blog.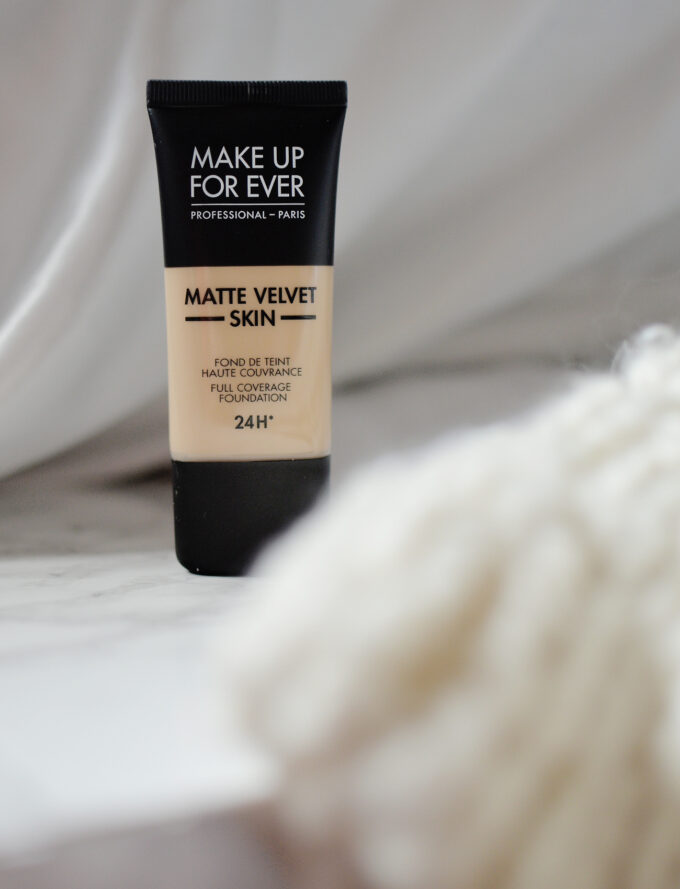 I've long been a fan of Make up For Ever foundations – the formula can be relied upon for anything the element or your day might throw at you; for the most part, the products do live up to their claims. A few key issues I have found in their foundation shade range is how they oxidize (almost as if they change undertone too), and how the same shade translates differently in their other foundations making it difficult to narrow your actual colour when shopping for new launches.
Like usual, I'll include my share comparison when I do the swatches so that you have some benchmark to compare them to!
What's new with the Make Up For Ever Matte Velvet Skin Foundation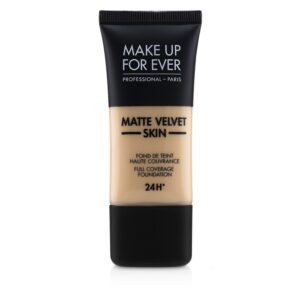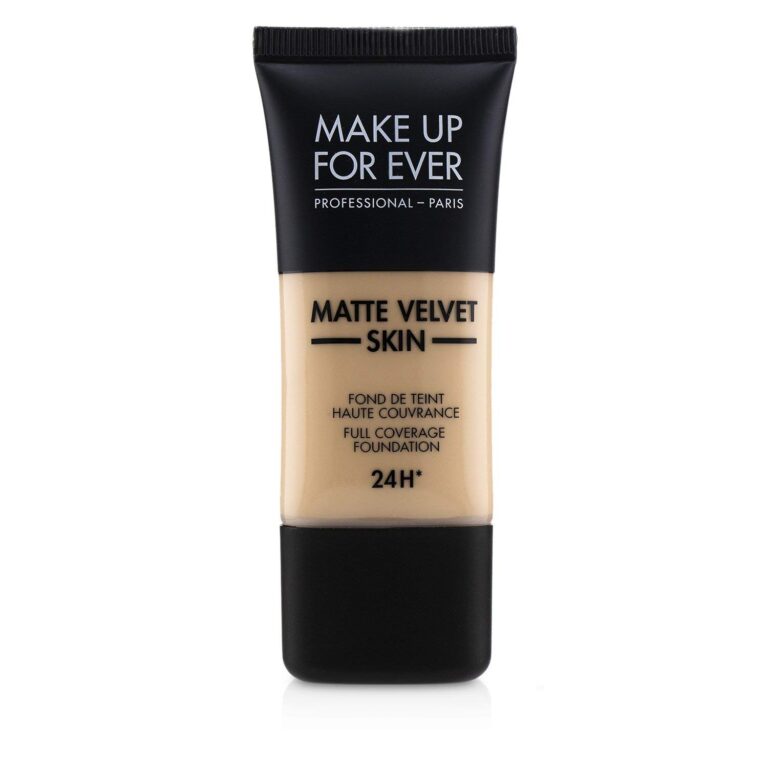 The new Make Up For EverMatte Velvet Skin Foundation comes in a travel-friendly tube format, reminiscent of my old favourite, Mat Velvet+ foundation. This next-generation foundation claims to have 24-hour wear, life-like matte finish and has an oil-free formula in 40 shades. So far, all the claims are fairly standard for a foundation. I won't even bother testing out the foundation for 24 hours because who feels comfortable wearing a foundation for that long? If it helps, my experience with the brand's foundation range (Ultra HD, Mat Velvet+ and the Ultra HD Invisible Cover Stick) has been impressively long-lasting and can hold up to some light physical exercise.
The Make Up For EverMatte Velvet Skin Foundation has a much thicker texture compared to the cult-favourite Ultra HD Foundation, which was reformulated in 2015. The thicker texture lends itself to a much fuller coverage – one tiny dollop is quite sufficient for the entire face. I do find that I prefer using a kabuki brush (My favourite is the Real Techniques Buffing Brush) which maintains the integrity of the full coverage finish rather than a damp BeautyBlender as it takes away too much from the coverage, necessitating going over problem areas over and over again.
Make Up For Ever Matte Velvet Skin Foundation Shade Wear & Application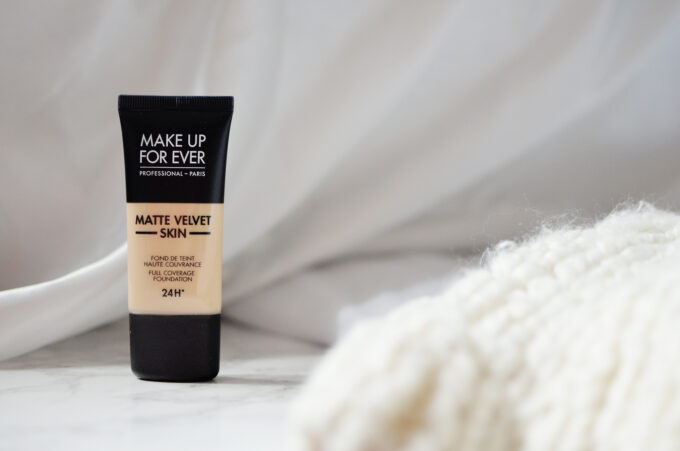 Despite my constant issue with how the foundation oxidizes on the skin and the occasional mismatch of colour, I find the finish of most Make Up For Ever foundations to be very, very impressive. No matter the sub-brand, most, if not all of their foundation shave a very life-like and creates a "your skin but better" kind of finish, which is can be very difficult to achieve.
The same is true with the Make Up For EverMatte Velvet Skin Foundation – I love that it covers the problem areas, reduce the visibility of textures/pores but doesn't look like thick makeup on my face. The matte finish and full coverage mean I don't have to add another layer of powder or concealer – this is one of those one-step face products, perfect for when you're on the go!
The foundation feels equally lightweight on the skin – it dries down almost instantly, and the matte finish means there's very little maintenance afterwards. I don't find any issue with transferring and so this foundation is one that I can confidently say as one of those very low-maintenance, one-product-for-the-face, and something you want to keep handy for those busy mornings.
Make Up For Ever Matte Velvet Skin Foundation Shade Range & Matches
The range has around 40 shades, and I opted to test out 2: Y255, and Y315. I've never tried Y255 before, but I suspect this will be a good winter colour. I went lighter than I normally would after seeing the swatches on Instagram – it seems the lighter colour oxidizes quite a bit so although I normally would go for a shade that's more medium (Y300 and higher), I opted to stay a little lighter.
For some additional reference, I wear the following shades in other brands:
Overall, the Make Up For Ever Matte Velvet Skin Foundation achieves the twin goal of creating a low-maintenance foundation for pro and non-pro users. I love the extensive shade range, and how versatile and easy to use this foundation is! I can't wait to use this more regularly during the winter season!
Take look at the following list:
---