The CHANEL Perfection Lumiere Foundation is one of the CHANEL foundations I purchased last year. I've heard hypes about CHANEL's other foundations, particularly the VitaLumiere Aqua foundation (which I also purchased), but hardly about the others and so in the hopes of getting more attention to the not-so-known foundations in the range, I figure I should review it!
This foundation is a relatively new introduction in CHANEL's range of liquid foundations, and is the replacement to the Pro Lumiere foundations which was a favourite among many CHANEL fans.
Luxurious, and high-end brands such as CHANEL always bring along a certain kind of expectations, and this foundation truly exceeded my very strict and high expectations, so much so that it is one that I will likely repurchase in the future despite the price tag.
CHANEL Perfection Lumiere Foundation At A Glance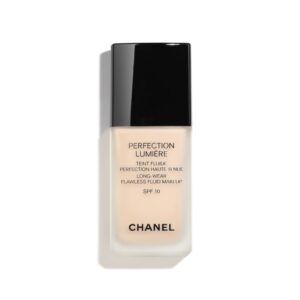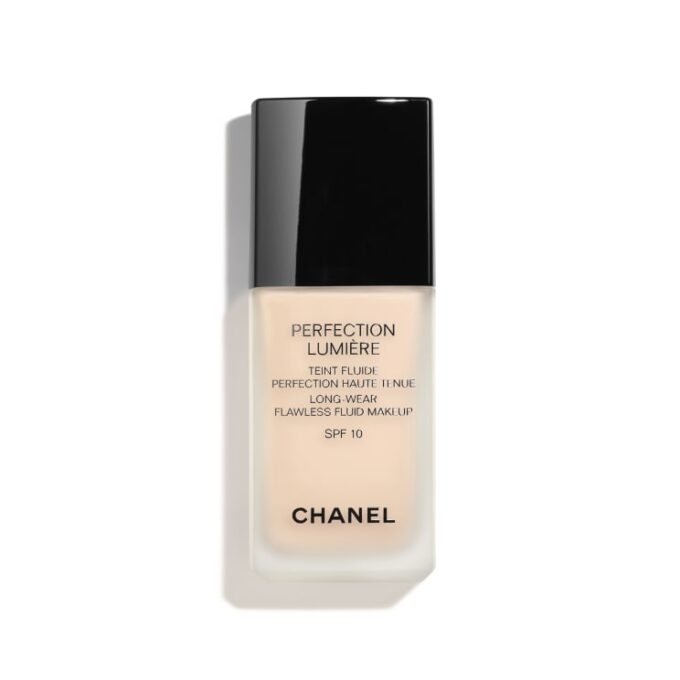 The design is quite standard, and very much CHANEL-Esque: frosted glass bottle with a pump and a black matte cap (which is a magnet for fingerprints) with the CHANEL C's on top. The frosted glass is not a good indicator of the color inside, so I would advise you to test it on your face, and neck before purchasing. Despite that drawback, it is still a great foundation bottle to display on your vanity
The shade selection varies by location – the counter at The Bay has 13 shades, whilst Nordstrom and the US CHANEL website have 20 shades. I have two shades to review, B10 (10 Beige), and B20 (20 Beige); both have a strong yellow undertone, and currently, on my NC25 skin tone, B20 is the better match.
Shade Range and Selection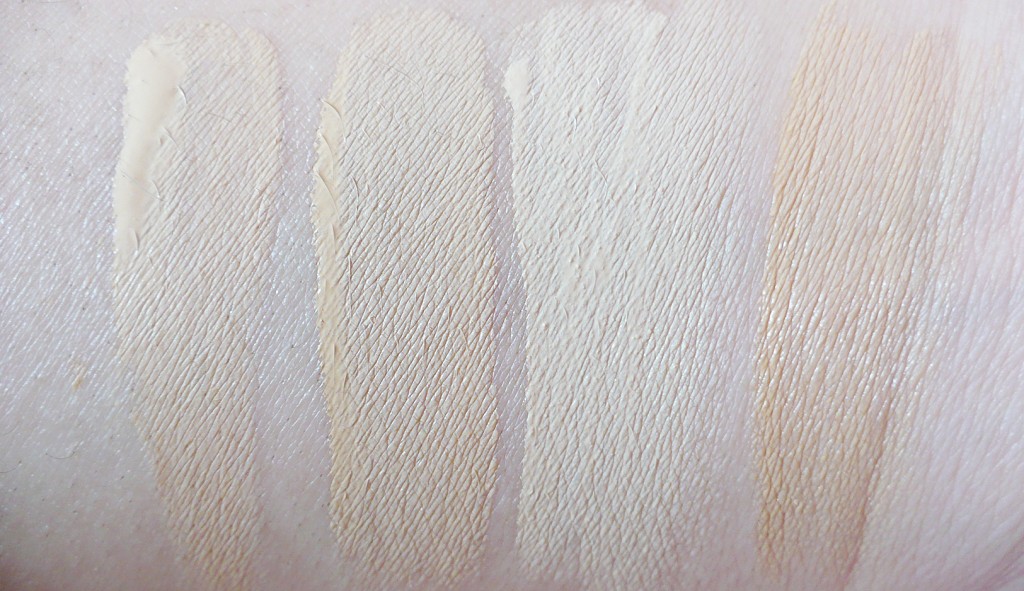 It can be a little challenging to become familiar with CHANEL's foundation shades and how they are categorized. For the most part, they are quite consistent but I still would caution you against buying the same number across the different products because they differ despite sharing the same name.
This is a lesson I learned the hard way from my own experience. From my own observation, this is how CHANEL categorizes their foundation shades (applies to VitaLumiere Aqua and Perfection Lumiere Foundation range):
Beige (B): for those with yellow undertones (ends in 0)
Beige Rosé (BR): for those with pink undertones (ends in 2)
Beige Ambré/Ambré: for those with golden undertones (ends in 4)
Wears and Application
The CHANELPerfection Lumiere Foundation easily provides a long-lasting medium-coverage; it is buildable without looking cakey or settling into any areas on the skin. The texture makes it easily blendable and applies very evenly on the skin. One of the foundation's main ingredients is dimethicone (silicone) which contributes strongly to how effortless it is to achieve an even, airbrushed finish. It has a lightweight texture that seems to sit on the skin without setting or clinging over any spots.
Read More: Estée Lauder Double Wear Foundation in Sand
I have a pretty rigorous/demanding daily schedule which often requires me to be out of the house for 10-12 hours, and I hate doing touch-ups during the day. It does not oxidize, transfer or become patchy throughout the day; The foundation actually looks better at the end of the day than it did in the morning. Most importantly, at the end of the day, the foundation looks very much like skin.
The CHANELPerfection Lumiere Foundation dries to a semi-matte finish that looks incredibly natural-looking with a luminous glow. Once dry, the creamy foundation transforms into a powder-like finish that does not require the use of setting powder.
As with most CHANEL products, the foundation has a light rose scent to it which is not noticeable once the product is applied and it was not strong enough to bother me. To me, the SPF content (SPF10) is more of a gimmick than anything else – you need far more than that to be effective. I did not find camera flash to be an issue when using this foundation.
Swatches & Comparisons of the CHANEL Perfection Lumiere Foundation
For some additional reference, I wear the following shades in other brands:
Laura Mercier Photo Ready Silk Creme Foundation in Bamboo Beige
Estée Lauder Double Wear Foundation in 2W1 Sand
Clinique Even Better Foundation in #25 Buff
Make Up For Ever Ultra HD Foundation in Y245 / Y315 depending on the time of the year
Dior Star Foundation in #21 Linen
Dior Diorskin Forever Foundation in #20 Light Beige
CHANEL Perfection Lumiere Foundation B20, B10
Laura Mercier Silk Creme Foundation in Medium Ivory,
Bourjois Healthy Mix Foundation in #53
Is the Perfection Lumiere Foundation For Everyone?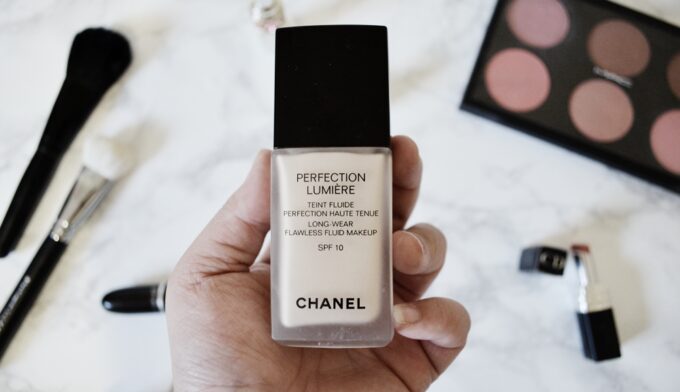 Definitely not, particularly when you look at the price point. I adore this foundation and it has joined my HG list which includes the Estee Lauder Double Wear Foundation and the Laura Mercier Silk Creme. Despite the fact that the price point is similar to most high-end foundations (i.e. same price as the Laura Mercier Silk Creme but still less expensive than the Guerlain Lingerie de Peau or Givenchy Teint Couture Foundation), it is hard to find CHANEL products eligible for promotions anywhere.
My tips to save on this foundation would be to use the Holt Renfrew beauty cards from their semi-annual beauty bags, redeem points at Shoppers Drug Mart (Eaton Centre carries CHANEL products), and/or taking advantage of the HBC MasterCard/Credit Card promotions. Personally, I would not hesitate to repurchase this foundation – it has exceeded all my expectations as expected from a brand like CHANEL.
If you want to consider another MAC foundations take a look at the list below:
FOTD ft. CHANEL Perfection Lumiere Foundation
Luxurious, and high-end brands such as CHANEL always bring along a certain kind of expectations, and I found myself quite hooked on the CHANELPerfection Lumiere Foundation, despite the high price tag. It has a great color selection (20) which ensures that this is a product that can be suitable for a wide range of skin tones.
The CHANEL Perfection Lumiere Foundation has great coverage, and a luminous natural-looking finish which makes achieving that coveted, beautiful, full-coverage 'runway' look very effortless. Great staying power, formula and finish make this foundation a must-have in my book.
What about you? Has this foundation piqued your interest? Will you be trying the CHANELPerfection Lumiere Foundation?
If you want to consider another foundation from CHANEL, take a look at the list below: