Foundations and complexion products tend to be my favorite bunch of products to talk about on the blog so I was thrilled to see that one of the product launches from PUR's Spring collection, is a foundation!
The PUR Bare It All Foundation and the PUR Skin Perfecting Brush are joining the lineup of exciting complexion products that we need to talk about!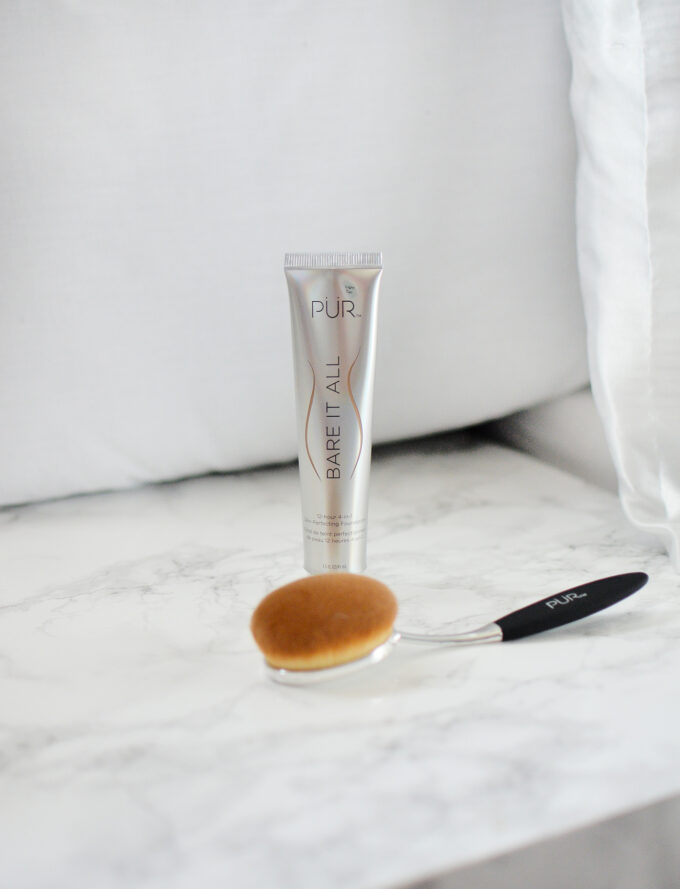 PUR Bare It All Foundation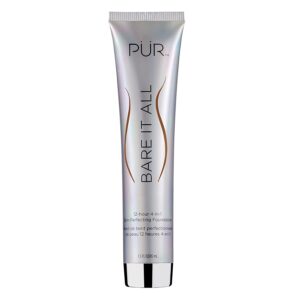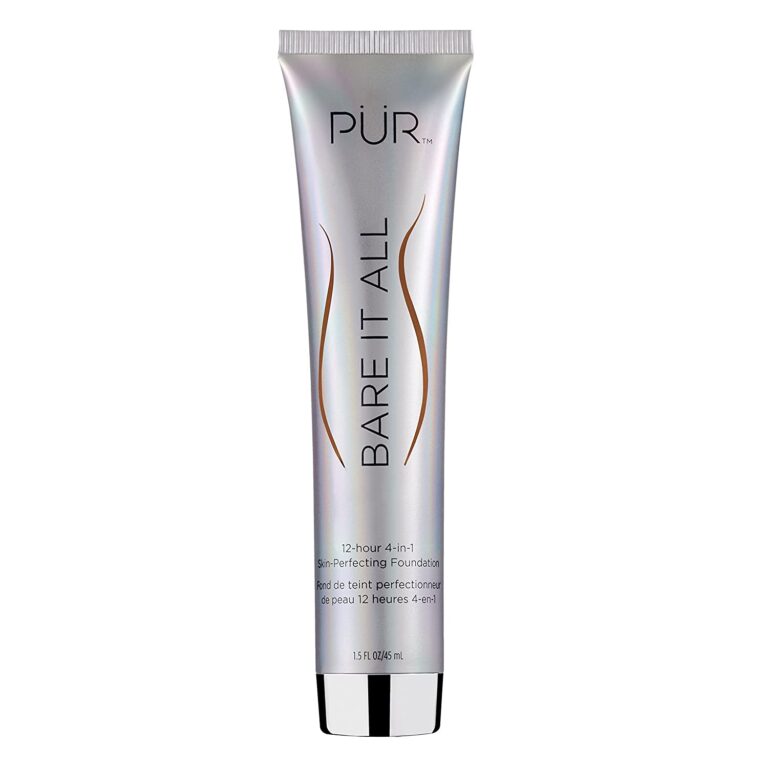 Let's start by talking about the foundation. The new PURBare It All Foundation may sound a tad expensive, but it comes with 1.5 fl oz / 45ml worth of foundation – that's 1.5x more than the average foundation (drugstore or high-end). This was a pleasant surprise even though I was initially suspicious that the increased volume meant that I had to use more. That couldn't be further from the truth – the foundation has great coverage and a lot of slip to it that makes it easy to blend.
The foundation comes in a squeeze tube that has a very tight lid so much so that I feel like being in a mini-battle when attempting to unscrew the top. The good news is that I probably won't have to worry about this product leaking.
The PURBare It All Foundation comes in 7 shades which I think is far too few to cater to different skin tones. At the event, I found my perfect match in Golden Medium and I have the shade Light Tan to share with you today which is a tad bit too dark for my light-medium (MAC NC25) skin tone. If you have a yellow undertone and wear MAC NC30 or higher, "Light Tan" will be a really good match for you.
The foundation is formulated with PUR's proprietary energy complex and certain complex which gives a natural healthy glow to the skin. Applied on the face, this foundation provides a medium to full coverage with a demi-matte finish. The coverage is easily buildable to achieve a much fuller coverage without looking cakey, and the finish makes the skin look like it's healthy from within.
Although the coverage is fantastic, I wouldn't consider this to have a second-skin finish – you can definitely tell that you're wearing something on the skin. I didn't have to set my foundation and I didn't see any transferring. Aside from the above ingredients, this foundation has a soft-focus-like effect that evens out the texture and looks of your skin.
PUR Skin Perfecting Brush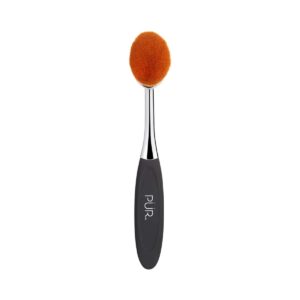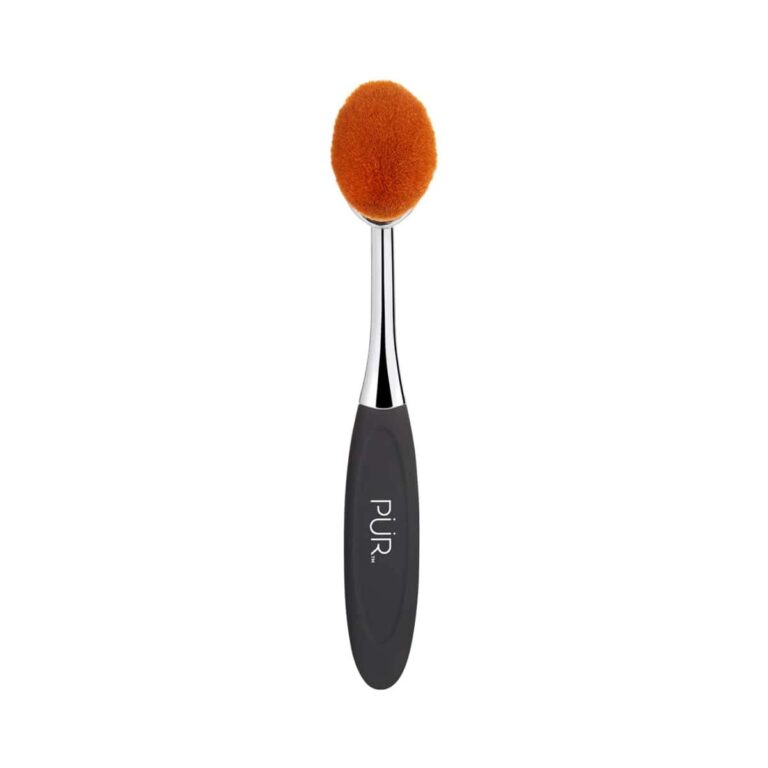 I think I was way too excited for this brush more than anything else in the collection. The large oval head makes using this brush for the face or body a breeze! I can see myself using this brush with my tanning products to get to the harder-to-reach places. I really like the size as it makes the job done easier and faster.
As you can expect from a brush like this, the brush head is very dense like a kabuki-style brush. It makes any foundation and makeup apply flawlessly on the skin and blurs everything out. This is the kind of foundation brush you want to keep handy when you're having a bad skin day. I didn't have any issues with the foundation sinking into the brush so I'm very happy with how this brush works for me.
One important thing I would highlight is the "neck" (the metallic part connecting the brush head and handle). I found it to be very thin and if you press too hard, I can see it accidentally snapping in two. The top half is much heavier than the bottom half, so this is something you want to keep in mind!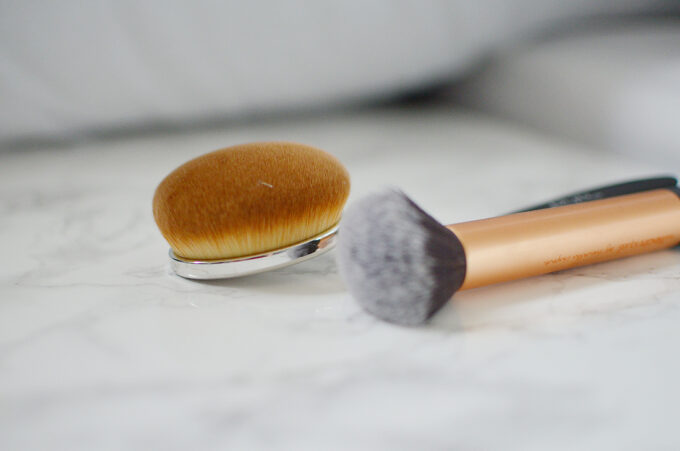 All in all, these two products are fantastic additions to the PUR makeup range. I really like how the formula makes the foundation something you can wear to the gym and back without seeing much transferring or smudging.
Take a look at these PUR beauty products also: