The Dermablend Smooth Liquid Camo Foundation is a full-coverage liquid foundation that promises to cover up minor to moderate skin issues.
It is a product that has been on my radar for years because the brand is known for their dermatologist-tested, allergy-tested, non-comedogenic, non-acnegenic and fragrance-free formula across its entire product range.
I had written a mini-review based on my first impressions of the product. Since many of you seem to enjoy my foundation reviews (they are the most searched posts on the blog!) I will be building on that to provide you a more in-depth review and thoughts on the product.
Liquid Camo Foundation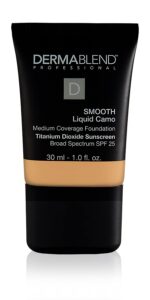 A brand that comes to mind when I think of Dermablend is Canada's very own CoverFX range. Before Dermablend came to Canada in late 2016, CoverFXTotal Cover Cream Foundation is what would be the closest product to this high-coverage foundation.
Read More: Estée Lauder Double Wear Foundation.
The DermablendSmooth Liquid Camo Foundation comes in a standard 1 fluid ounce / 30ml squeeze tube that is conveniently compact and easy to slip into your makeup bag. There is a clear window in the tube that clearly shows the colour inside which is helpful for anyone shopping for a foundation.
It's worth noting that this foundation has a shorter shelf life (~18-20 months – I received mine in October 2016 and it expires on April 2018), and the expiry date is clearly identified on the tube and outer box.
Formula, Application & Finish
The foundation has a liquid-cream consistency very similar to the Smashbox Camera Ready BB Cream and slightly less creamy than the Laura Mercier Silk Creme foundation (older formula).
I was pleasantly surprised at how easy it was to work with this foundation is – it blends seamlessly with a brush or beauty blender. I find it harder to blend out with my fingers as it's not something I normally do but also because this foundation dries very quickly.
Read More: Dior Star Foundation | Review.
The foundation claims to be a medium-coverage foundation but I would say that it's more of a full-coverage foundation. This, combined with the thicker consistency imply two things: 1) the foundation feels heavier upon application and as the day goes on and 2) the skin looks like it's wearing makeup.
This foundation is not something I reach for on a daily basis because of the aforementioned issues. The fuller coverage means that this foundation is best left for the really, really bad days but also more spot-concealing than all-over.
You can really feel this foundation on the skin and it does feel a lot less comfortable as the day goes by. I use this foundation very sparingly (often mixed with another foundation) and on only the days where even my most hard working concealer can't keep up.
The foundation has a matte finish so the good news is that you won't need to use a setting powder. I also didn't find any of the foundation transferring throughout the day, so I can confidently say that the finish is quite lovely in colder weather. I haven't had the chance to test it out during the summer so I'll let you know!
I didn't have any issues with this formula breaking up throughout the day on me, but it does require setting powder around the eyes as the mascara transfers easily on it. It's best to start out with a small amount and build up from there – too much and your skin will look like a mask!
Read More: Dior Diorskin Forever Foundation.
When wearing the Dermablend Smooth Liquid Camo Foundation, it's very obvious that you've got makeup on (compared to foundations that have a second-skin finish) so if you prefer something more subtle, this will disappoint. The fuller coverage also means that this foundation will "flatten" up your skin so using a contour / bronzer / blush product is almost absolutely necessary to prevent looking washed out.
Shade Selection & Wear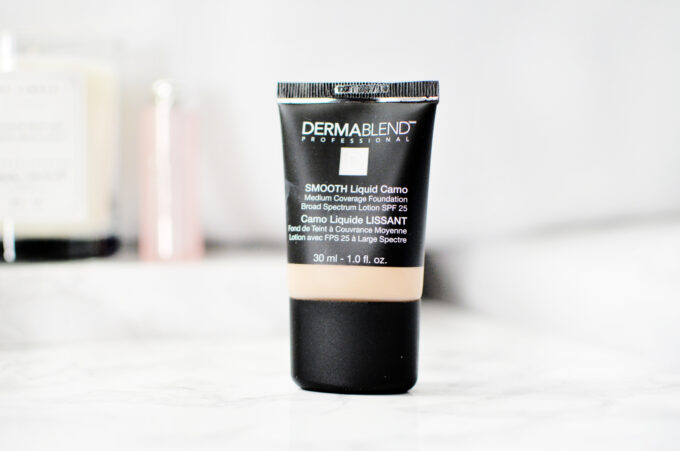 My biggest issue with this foundation is the colour match. Although I was matched by a professional makeup artist on the spot, the color I have is a poor match of my actual skin color. I wear the shade Camel 30N which is the fifth lightest shade in the range with a neutral undertone.
That particular undertone is what makes this foundation difficult to work with – you can really tell where my foundation ends and my skin starts. If I had a color that was warmer and more yellow, I think I could overlook some of the other issues and still get on with this foundation.
It also seems to oxidize a little bit immediately after application – you can see in the swatches below that the foundation first applies decently but oxidize as it is blended out.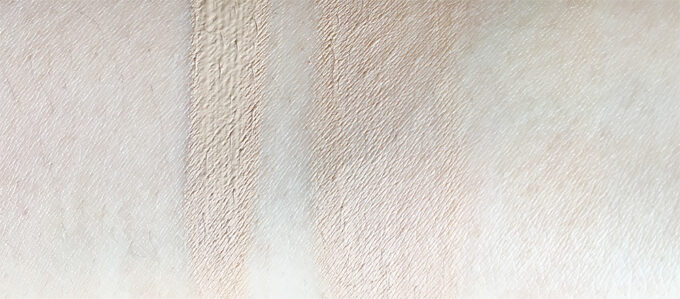 Dermablend Smooth Liquid Camo Foundation on its own // blended out
There are fifteen shades available and the Canadian Dermablend Website has a helpful quiz to help you determine your color match. It's really unfortunate that you can't get samples of this foundation before buying it because it would help in the selection process a lot.
Overall
I think the Dermablend Smooth Liquid Camo Foundation is a foundation that would be complementary to your collection – it won't replace the product you're using on a daily basis unless you like to wear something so high coverage like this one.
I don't find the foundation comfortable enough to wear daily either so I've been using this only when I feel like my other foundation / concealer can't keep up (which is quite rare).
Since this foundation isn't really the right match for my skin, I've been using it a lot on my legs when I want to make them look super smooth and lovely.
I wished I had a better experience with the Dermablend Smooth Liquid Camo Foundation as it would be lovely to have a go-to full-coverage foundation without having to rely on concealers and all that. I would recommend the CoverFXTotal Cover Cream Foundation which has more colours in their range and also a better wear!
Have you tried the Dermablend Smooth Liquid Camo Foundation?