Make Up For Ever is well-known as the brand that the pro's rely on and their products have long been considered to be the industry-standard for pretty much all segment. So it comes as no surprise that the massive brand has such a huge footprint in Sephora and across all media channels. Let's be honest with that many products (If I'm not wrong, over 8000 SKUs) and no plan to slow down rolling out innovations, Make Up For Ever will continue to be around and its worth getting familiarized with their products now!
A lot of the product range have been reformulated in the last couple of years, but that only serves to make them even better and better. When brands reformulate their trusted formula and colours, there's often the challenge that it will lose the qualities that makes them such a popular product in the first place. Not the case with Make Up For Ever. As far as I know, there's only been very positive feedback from customers all around the globe when the brand reformulated their eyeshadows, beloved HD foundation, primers and more!
If you're new to the brand, no worries. It's a daunting brand to get familiar with – the pro's use it so it must be gold, and it is! There are plenty of variants, colours, finishes to satisfy even the choiciest and pickiest user out there.
1. Foundation: Make Up For Ever Ultra HD & Mat Velvet+
There are numerous formulations available but the top two best-sellers and ones that I've delved and been a loyal user of have been the Ultra HD Foundation ($50, available here) and Mat Velvet+ ($44, available here). Both were developed for different skin concerns and issue and both equally outperform in their respective field.
For those who are always on camera (or considering what makeup to use for special events), the Make Up For Ever Ultra HD should be on your list. This is reformulated from the original HD foundation which was the most advanced, and camera-friendly foundation on the market at the time. Ultra HD is meant to stay up to date with the changing camera technology, nowadays with 4K which is equivalent to 2160px if you keep track of that kind of details. For those whose job aren't as glamourous to merit being in front of a camera all day (Like me! I'm in front of a computer screen all day!) this foundation is worthwhile to keep in your arsenal because it is as photo-friendly as it gets! Given that its main selling point is to keep up with the ever-changing camera technology, you can definitely depend on this for photography on that special occasion!
The Mat Velvet+ is a different kind of foundation meant primarily for oily skin. This product comes in a much more travel-friendly format, and is far more compact to travel with. Even though I don't have oily skin, I still keep this foundation as a backup because it is seriously amazing for when it comes to travelling. The full-coverage foundation stays all day long and the oil-free formula makes it incredible for the time I am on vacation and being out all day. Trust me, even hiking up mountains, walking around the city of Rome, this foundation will stay put.
2. Step 1 Primers
Make Up For Ever brought out the Step 1 Skin Primers ($43, available here) earlier this year and it has been an incredible hit. Available in 14 different formulations, split into 2 categories, where one is designed to address specific skin needs, this range is meant to customize your beauty routine to be as unique as you are!
With so many options available, it could be difficult to choose which one is appropriate for you, but think about the skin problem that you wished wasn't there and that should give you a bit of a guide.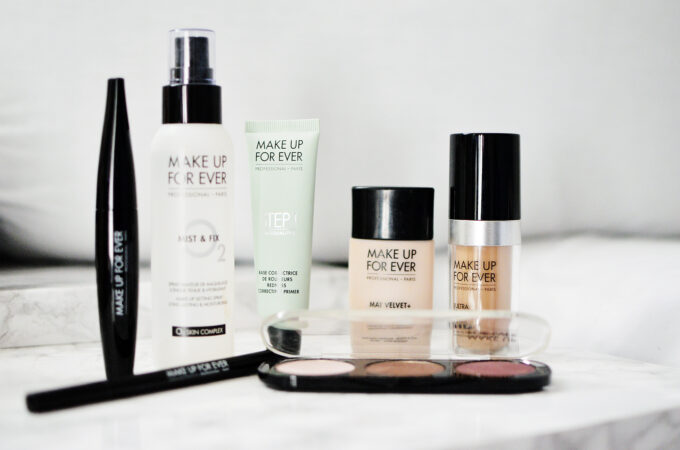 3. HD Blush
When the brand reformulated their cream blushes ($31, available here), I bought five. You didn't read that incorrectly. I seriously spent that much money because of how amazing they are! The cream to powder formula dries to a very natural looking flush on the skin and looks effortless. You never have to worry about over-doing it because you will never be able to with this blush!
4. Glosses: Aqua Rouge, Plexi-Gloss or Lab Shine
I admit that I'm not the biggest fan of lip glosses, especially sticky ones like the one from the Plexi-Gloss range ($23, available here) or Aqua Rouge ($29, available here). I wrote in my review that I was extrmenely concerned by how sticky it felt on the lips and how much I thought this was going to be a dud because let's be real – there isn't any saving grace to a sticky lip gloss. Fortunately, this lip gloss feels a lot more comfortable after application, meaning that you get that light on the lips feel while getting the amazing coverage, and such a pigmented colour on the lips. With 35 shades available including the boldest red, and purple to subtle, barely-there colour for the lips.
5. Smokey Stretch Mascara
I have yet to be disappointed by Make Up For Ever's range of mascara's ($28, available here). If you have checked it out yet, the Make Up For Ever booth in Sephora has an amazing mascara bar where you can feel the wands, and learn which ones are best for you. I've been the biggest fan of the Smokey Stretch since I got it in a birthday gift from Sephora last year – the bristles and cone-shaped wands coat every lash with just enough product and the formula holds the curl all day long!
6. Artist Shadows
Relaunching on the products that made them world famous, Make Up For Ever didn't even bat an eye about launching, not only 50, or 100 colours in the range, but a whole 200+ of them. The Artist Shadow ($21, available here) which are available in five finishes (matte, satin, metal, iridescent, and diamond) and in hundreds of colours for the less-adventurous to the "I want every colour under the rainbow" this is a range worth checking out if you are building your collection.
The "build your own" palette concept ensures that you only buy colours that you want (not because it looks good on someone else therefore it must look good on everyone), and the astounding 88% pigmentation means that your money goes towards getting the actual colour rather than the fillers!
Now it's your turn! What are your favourite products from Make Up For Ever? As always, I'd love to hear your thoughts! Share with me comment section or through Twitter or Instagram!
---
Disclaimer:
This post features product(s) provided for editorial consideration. All opinions are my own. For more information about my review policy, please
click here
.
---