One of my really good blogger friends, Jenn, tagged me to do this. The always swamped person that I am meant that I left it took me that long to get this tag together. It's not very often that I sit down to categorize and take inventory of my beauty products, so this was a semi-painful process that was a reminder of how much money I've wasted spent on beauty products in the name of blogging. Here is a look at the most and least expensive products I own,
I've never had to do one of those disclaimers, but this is a very good place to include it. Not intended to show off (in fact, this makes me feel bad, because obviously, my priorities are not in order) at all, just for the sake of sharing!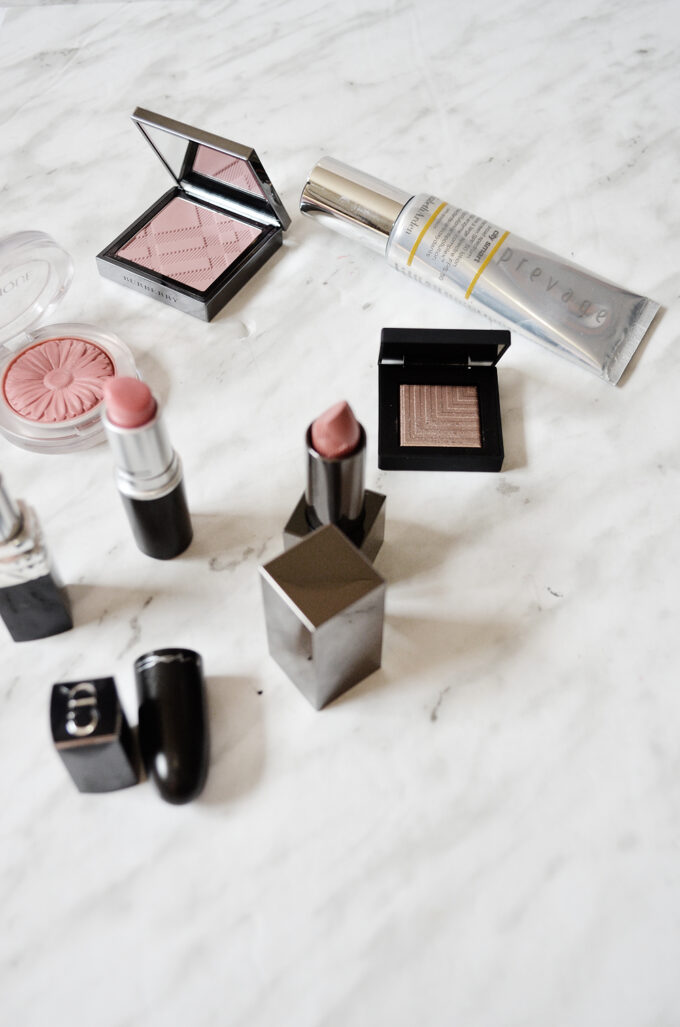 The Base Complexion
Face Serums: I seem to have a preference towards face serum without actually realizing it. I bought them once in a while, and realized that I have way more than I bargained for. Here are the two on both ends of the price spectrum, the DiorCapture TotaleOne Essentials ($130, available here) and the Caudelie Vinosource S.O.S Thirst Quenching Serum ($52, available here) which is technically as expensive as the Sephora price lists it for. I bought the Caudelie serum in Paris, so when converted to Canadian dollars, I paid just around $30 or so.
Foundations: I accidentally featured two here, but ah well! The most expensive foundation I own is the Giorgio ArmaniLuminous Silk Foundation ($66, available here) which I bought when Sephora had their annual 20% off sale. Another pricey foundation I own is the CHANELPerfection Lumière Foundation ($58) which I bought with my Shoppers Optimum points (Hooray for free CHANEL!)
On the opposite end of the spectrum, we have the Rimmel London 25H Long-Wear Foundation, which I use often when I'm practicing/playing around with my makeup. It's a really good drugstore foundation as it provides similar coverage to the creamy Laura MercierSilk Creme Foundation but priced a lot less and not as thick as the Laura Mercier version. The only reason I don't wear this regularly is because it tends to oxidize.
The Eye Makeup
Eyeshadows: Before I purchased the LORAC Mega Pro Palette, the most expensive palette I own was the Urban Decay one. However, I've decided that the palette wasn't for me, and sold it via blog sale. At the moment, my most expensive eyeshadow palette is the LORACMega ProPalette which is not as expensive as it sounds because of the number of eyeshadows included in the palette. On the opposite end of the price spectrum is the Wet n WildColor Icon EyeshadowPalette and Singles. Priced at a range between $2-7 a piece, and readily available at Walmart and drugstores alike, this is a great way to start out a makeup kit.
Mascara: My holy grail, high-end brand mascara comes in the form of the pink tubed Too FacedBetter than SexMascara ($30, available here). I got sucked into buying this mascara because of those mini's and the Lashstash To Go set so I didn't really spend that much money on it. My favourite drugstore mascara remains to be the MaybellineColossal Mascara, a relatively inexpensive drugstore alternative that is equally lengthening and volumizing.
Eyeliner: My must-have and favourite eyeliner ever, remains to be the StilaStay All Day WaterproofEyeliner ($26, available here). Though relatively pricey, I have been using this for the last 3 months and it's not running out soon. It is also one of the longest-lasting, non-smudge, and matte black formula I've used.
From the "drugstore" or within that price range, is the Inglot AMC Eyeliner in #77 – it is one of those that is easily forgotten at back of the drawer, but rarely fails in the quality department.
Other Complexion Products

Bronzers: My biggest splurge on bronzer/contour products is the CHANELSoleil Tan de Chanel bronzer with a hefty price tag of $51. Although it hurts to fork out that much money then, I haven't even made much of a dent in this product, so it's safe to say, it was money well-spent. The less pricey bit is more of a contouring powder rather than a bronzer, but the InglotHD Sculpting Powder ($17, available here) is my favourite go-to product under a bronzer. It does cost a little bit more than the average drugstore product, but the pigmentation is so on point, that this little pan will last for a while.
Powder: The most expensive kind of powder I own has to be the GuerlainMeteorites Compact Light Revealing Powder ($71, available here) which is what I prefer over the Hourglass Ambient Lighting Powder. This was technically sent as a press sample, so I didn't fork out the money for it. What I did end up spending is for the HourglassAmbient Lighting ($52, available here) which I am still quite torn about.
The other end of the spectrum features the Essence All About Matt powder which only set me back a mere $3. It's been called a dupe for the Make Up For Ever HD Powder but I'm not convinced; I find this balls/pills up which does not look very attractive, but at the price point, I think it can be forgiven.
Now it's your turn! What are your most and least expensive beauty products? As always, I'd love to hear your thoughts! Share with me comment section or through Twitter or Instagram!