Today I am going to review another one of my all-time favourite foundation, Laura MercierSilk Creme Foundation ($55, available here). the I am very behind when it comes to writing about my favourite foundation, and although I have featured it numerous times in the past, I have yet to write a proper full review on it. The Laura MercierSilk Creme Foundation is such a splurge given the price tag; it comes with 35ml of products in an easy-to-use, hygienic tube.
Laura Mercier Silk Creme Foundation
Ever since I discovered the Laura MercierSilk Creme Foundation, this has become my go-to "dry-skin" foundation. It is a foolproof, fail-safe, holy grail everyday foundation for the dry winter weather in Canada. Whenever I find myself wanting and needing a natural-looking foundation with a glowy, and dewy finish, and great coverage, I will always return to this one.
Wear, Formula and Finish
This foundation provides a full coverage and can be thinned out by using light buffing motion. Despite the claim that it lasts for up to 12 hours, I have to disagree. When I have one of those super long hours in classes or at work, I notice the foundation getting patchy, particularly around the nose area. As a university student, my classes, meetings, errands, gym sessions and social life mean that I can be on campus anywhere from 10-12 hours each day. Finding a foundation that lasts through the rigorous university lifestyle can often be challenging and patchiness is never an attractive thing! Additionally, I find it smudge onto my clothes quite a bit when it is not properly set with powder.
The one thing I absolutely love about this foundation (and is basically the reason I can overlook all of its flaws) is the coverage. With this foundation, I can get away without applying any concealer because the formula covers nearly all the redness and imperfection on the skins so well. It is that foundation you reach for when you're late for class in the morning and are in a rush to get out of the house as soon as possible. The foundation dries to a natural dewy, glowy finish. The finish makes the skin look healthy and radiant, two words that I love to associate with my skin.
Application, and Shade Selection
The foundation has a thicker creamy consistency but still very easy to blend and glides easily on the skin. There is a bit of a scent to it as well in case you are someone who is allergic or dislike that sort of things. Also, because of the thicker consistency, this foundation tends to feel heavier on the skin, and can start feeling greasy especially with humidity.
The SPF content in the foundation is the biggest fault I find with this foundation. I know SPF is a big no-no when it comes to photography because it tends to reflect flash creating that dreaded white cast on the skin. However, combined with the dewy finish, this foundation just makes my skin look awfully oily, and nasty! I have a normal-dry skin combination, so looking like I just slathered butter all over my skin was shocking.
I am a MAC NC25-30 and I find that I am in-between shades with this foundation. I use "Medium Ivory" for most of the year, but sometimes it does appear too light and I have to mix it up with a darker shade (Bamboo Beige). Since it is highly pigmented, a tiny dime-sized amount will cover your whole face. I've over-applied this foundation on several occasions, and it looks awful and very streaky. Be sure to keep that in mind when squeezing out the product.
Swatches & Comparison with Other Foundations
FOTD ft. Laura Mercier Silk Creme Foundation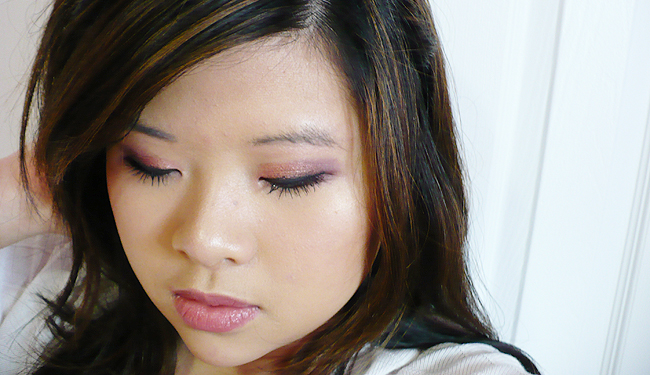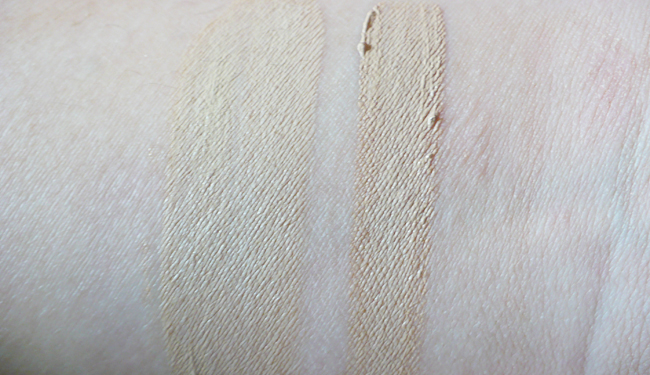 Face: Laura Mercier Silk Creme Foundation, Make Up For Ever HD Pressed Powder, Make Up For Ever HD Blush in #335, Benefit Watt's Up
Eyes: Urban Decay Primer Potion (Eden), MAC Mythology Eyeshadow (lid), Inglot 487S Eyeshadow, Benefit They're Real Mascara, and Milani Liquif'eye Eyeliner
Lips: Givenchy Le Rouge in Violine Precieux
Overall, this is a foundation that has won me over and is a reliable one to have and use despite the price tag. With the great coverage, natural and long-lasting finish, there is little to dislike about it. Whenever I find myself wanting and needing a natural-looking foundation with a glowy, and dewy finish, and great coverage, I will always return to this one. If you have been hunting for that perfect natural looking, radiant, and healthy-finish foundation, I recommend that you give this a try – you might end up liking it! You can always test out if the foundation is right for you by asking for a sample from Sephora.
What do you think? Have you tried the Laura Mercier Silk Creme Foundation before?