Every once in a while, a visit to the Sephora Value Set page or What's New section will result in an order that will make breaking my no-buy or low-buy worth the while. This time around, it was the MACHyper Real Prep Set ($56, sephora.ca) that got my attention and actually made me break my makeup no-buy 28 days into the year, because it was such a fantastic deal!
The MACHyper Real Prep Set is a limited-edition value set featuring two full-sized, highly popular MAC products as well as a mini, all for a grand total of $56. Purchased together, the two full-sized items will set you back $71. When I purchased this set online at Sephora, they had two versions available, the Pink (featuring the Pinklite "shades" of the strobe cream and Fix+) and the Gold (featuring the Goldlite shares). The purpose of having these two different options available, I would assume, is to make it wearable for different skintones.
I picked up both versions to show you here; I think the Pink will be easiest to incorporate into my routine – pink-based products tend to be focused on the brightening and if they were too cool-toned for my skin, I can mix it into my complexion product to make it workable with my foundation shade. I can do separate reviews on each product if that would be helpful!
What's included in the MAC Hyper Real Prep Set?
MACPrep+Prime Fix+ in Pinklite or Goldlite ($31, available here) – full-sized
MACStrobe Cream in Pinklite or Goldlite ($40, available here) – full-sized
MACPrep+Prime Natural Radiance in Radiant Pink or Radiant Yellow ($49, available here) – mini
Admittedly, I've been fairly ignorant of the the Hyper Real range, which upon further research, seemed to be more focused on the highlighting products and tools. I do know that I love the original Fix+ and I've tried a sample of the Strobe Cream before and really liked the glow it gives on the more matte foundation so this set looked very, very promising.
The MACPrep+Prime Fix+ in Pinklite and Goldlite are new in my collection given its recent launch by the brand. The product is the glowed-up version or the original Fix+ with a bit of shimmer in it and can be worn on the body in addition to the face. The brand mentions that this product immediately illuminates, and adds radiance, improves wear of makeup for 12 hours which are all fairly straight-forward claims, and not at all anything too grand or different than what I would normally expect.
Having long been a fan of the original Fix+, I can see either the Pinklite or Goldlite being a great addition to the collection, especially for the days when my skin is looking dull or sallow and need a bit of that perk. If you wear foundations that are matte, so formula's like the Estée LauderDouble Wear Foundation or MAC's very own Studio Fix Fluid foundation, I can see this being the perfect finish to add a bit of dewiness and natural glow. The Fix+ works well under or over your makeup and perfect for that extra something on the shoulders, or décolletage.
It's worth keeping in mind this shimmery Fix+ is not a highlighter so you won't have to worry about looking clowny with all that shimmers on your face. The beauty about this product is that it features the same original formula we loved about the Fix+ – it helps lock your makeup in place during the day.
The MACStrobe Cream is a somewhat familiar item in my vanity; I've tried a sample of this product before and felt it was worth investing in. The cream is meant to improve the look of your skin giving it a natural glow. Similar to Fix+, it's meant to enhance your complexion product; the beauty of this cream is that you can mix it with your foundation / bb cream or moisturizer, or simply apply it under. I like pairing this cream with the two foundations I mentioned earlier which tend to feel and veer on the heavier side so having something to "lighten" it up and add some glow to the skin.
Finally, we've got the MACPrep+Prime Natural Radiance in Radiant Pink or Radiant Yellow – the sample size is really too small to finalize my thoughts on this product but I wasn't immediately impressed by it. Once I applied the primer, I left it for a few seconds before applying my foundation. It didn't really change the finish of my complexion product in any way and felt almost underwhelming compared to the Strobe Cream. Given how much more expensive this product is, I would recommend trying out the Strobe Cream instead if you are in the market for a new brightening product.
Where to Buy the MAC Hyper Real Prep Set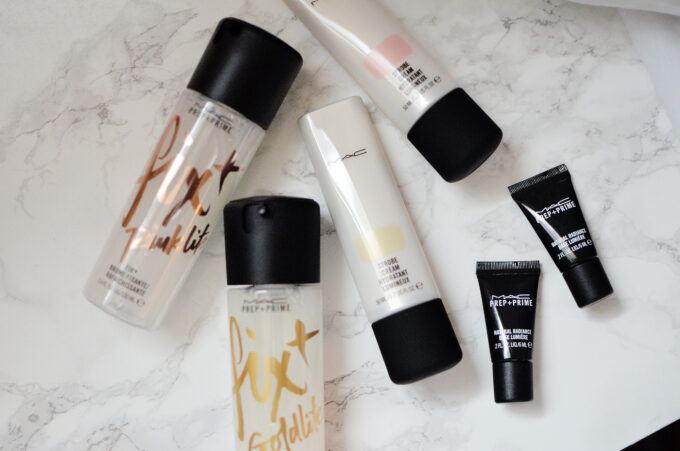 At the time of writing, the set is available at sephora.ca and MAC Cosmetics online sites. The MAC Hyper Real Prep set is a really fantastic deal – the two full-sized items will set you back $71 and getting a $15 (20% off if buying separately) discount! If you spot this on your next shopping trip, online or in-store, I think it's worth picking up!