If you have been following my instagram account (if you haven't, you should!) you will know that I took a vacation in early December, and flew to Europe. One of my stops was Paris, because according to according to Audrey Hepburn, "Paris is always a good idea." And of course, she was right.
As expected of a beauty blogger, I had to make a quick stop of the famed City Pharma, a mecca for locals and tourists alike, to stock up on some of my favourite bits. If you're interested in what I picked up last year, click here.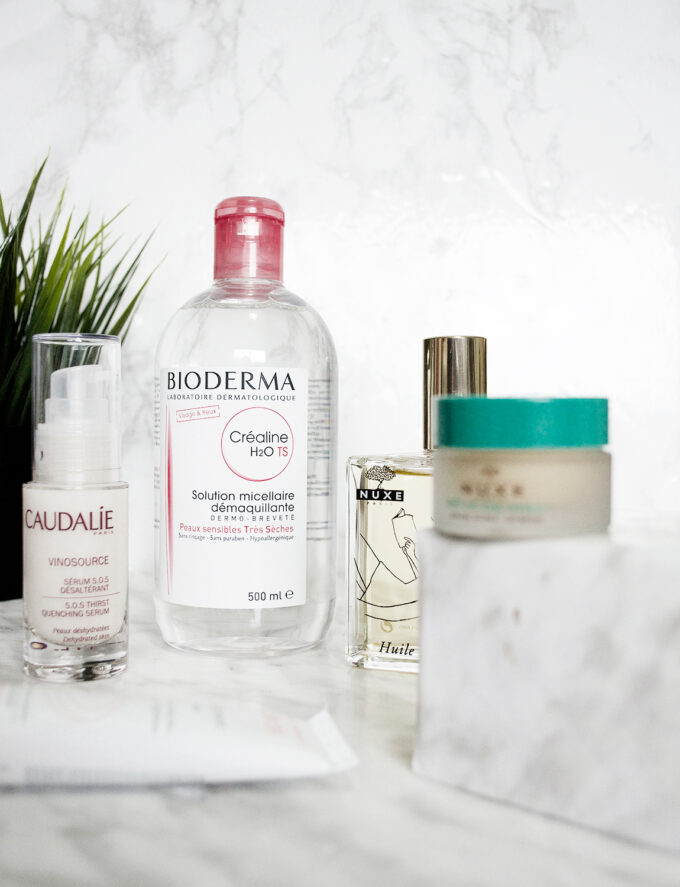 Typically, a French stop results in the purchase of an additional suitcase, but I gave myself a budget of €100. I was so successful in my first trip (coming in at €97.50), only to stop at another pharmacie afterwards and spent an additional €18! With so many pharmacies within the vicinity, it is a huge surprise that I didn't spend more than that (or at least that's how I console myself!)
I decided that there are tons of products I have yet to try that may be worth trying instead of repurchasing the same bits over and over again. Curious as to what I picked out? Here is my French pharmacie haul…
Bioderma H20 Créaline 500mL [€14.90 for a pack of 2x500mL]
No trip to City Pharma would be complete without restocking this magical liquid. This time, I only bought two packs since I've found another micellar water that is an exact dupe for this magical liquid.
Bioderma H20 Créaline 100mL [€2.99]
I purchased a mini version of the Bioderma because I realized that since I travel quite a bit, the smaller version is incredibly handy to have around for travel/short trips!
Phyto Phytophanère Cheveux et Ongles [€24.90]
This is a dietary supplement by Phyto that supposedly helps your hair and nails to grow stronger and packed with vitamins such as B2, B5, B6, B8, C and E as well as minerals such as zinc. It comes in a pack of four months' worth of capsules, so here's to hoping for healthy hair and nails for 2015!
Caudelie Vinosource Serum [€23.99]
I received a sample of this from Sephora a while ago, and I really liked how it made my skin very supple and hydrated. I held of ordering it from Sephora since I knew I could purchase it for slightly cheaper in Paris.
NUXE Huile Prodigieuse [€19.99]
I have been curious about this dry oil for as long as I could remember. I could not justify purchasing this when I went to Paris last year since I'm not a fan of using oil. I finally got this since I was convinced by the empty shelf that this must be a really good product. Plus it came with a sample of the perfume inspired by this scent (I'm obviously a sucker for these kinds of marketing ploy!)
NUXE Reve de Miel Lip Balm [€8.99]
This was another one of those things that I did not purchase because I wasn't convinced it would add value to my routine. I was perfectly content with my Nivea and Bioderma lip balms, but then I saw that this had a special, limited edition packaging for NUXE's 20th anniversary with a pink or teal packaging. So into the basket it went.
Marvis Whitening Mint Toothpaste [€8.99]
I know you're probably wondering why I bought a toothpaste in Paris. I heard about this through a blogger and she said this helped her maintain the whiteness and health of her teeth. As someone who consumes coffee too frequently, I am all about finding the right kinds of product to help maintain my teeth!
So that was all I bought in Paris! Did I miss anything that I should add for my next trip? As always, I'd love to hear your thoughts! Share with me comment section or through Twitter or Instagram!