The CHANELSoleil Tan de Chanel otherwise known as Bronze Universal ($51, available here) is definitely the most expensive (okay, maybe I'm exaggerating a little) impulsive purchase I've made. Not that I really needed this product, but my logic was that: 1) it was going to be my first CHANEL product, 2) I had some thoughts about picking up a treat for myself and 3) I had a $10 gift card to use – it became much harder to argue why I should not buy it. On top of that, I've been on a hunt for a really good cream-based bronzer, and this seemed to be the most promising (and most expensive).
I've seen the CHANEL Soleil Tan de Chanel popup everywhere – from YouTubers to Bloggers from across the pond and the border talking about it. Lisa Eldridge (an international celebrity makeup artist) did a video on this and I was quite intrigued which planted the seed of want. From the consistency, universal shade and application, this was right up there on the wishlist. After I walking away with this from Holt Renfrew, I had a lot of mixed feelings towards it. For one, I hated that it costed so much. Second, the color looks like this terrifying shade of orange and me realizing that there's no return policy for cosmetics at Holt Renfrew was a lesson learned.
The CHANELSoleil Tan de Chanel is available at: Holt Renfrew • The Bay • Nordstrom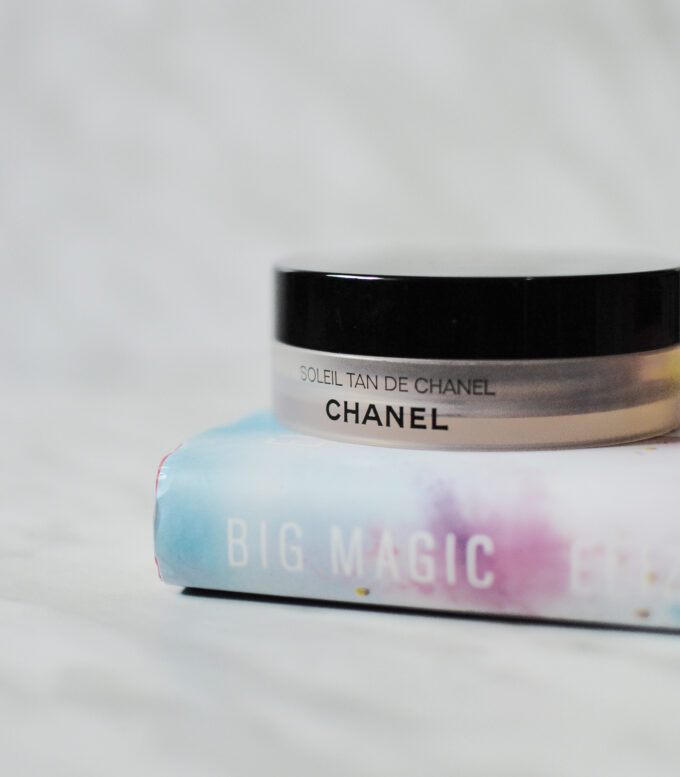 CHANEL Soleil Tan de Chanel – Vacation in a Tub
The packaging is very sleek, lightweight but sturdy, and the product is contained in a semi-transparent tub that looks like frosted glass. There is a topper that helps prevent the product from drying out. The black glossy lid with the interlinked "C" that Chanel is most well-known for, easily catches fingerprints and dust but that's more of a personal preference. All in all, I think the packaging is spot on, and functional for the type of product that Soleil Tan de Chanel is. The tub holds a generous amount of product that can easily last over a year. There is a bit of a floral scent to it, which is more pronounced than I had expected. While I have no issues with it, it could be something to keep in mind in case you disliked floral scented products.
This product is easily CHANEL's one of most coveted, and most often to sell out. On the day that I passed by the CHANEL counter, I was told that they only had one of these left in stock, and that they are waiting for shipment which wasn't coming in for several weeks or so.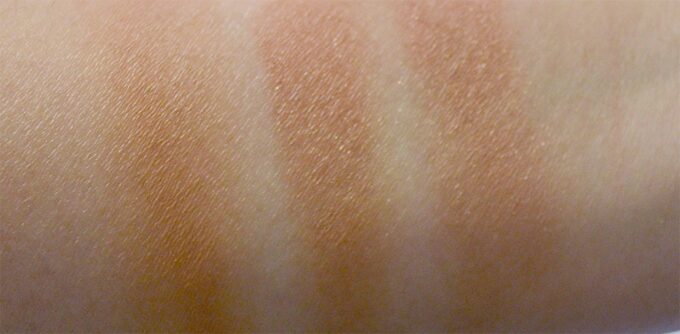 Price-wise, I was so pleased to realize that there isn't a significance markup between the Canadian/American/European price (i.e. I always try to shop in US counters/stores if I know I'm saving a great deal of money on the products). I was expecting to pay $10 more than what it retails for in the US or Europe but I was pleasantly surprised to find very little price difference. This is probably something very specific to Canadians, but I try to be avoid the Canadian price tag whenever I can. I usually save up my wishlist for the times I go to the US to haul the stuff I want because I really do not want to pay that $10 markup.
One Colour That Works for Everyone
The CHANEL counter sales lady told me there's only one shade. The color appears orange in the pot but applies as a warm-brown shade on my NC25 skintone. The product itself reminds me of chocolate pudding with a silky and shiny texture. Despite the one shade for all skintone, I can see this being functional since it can be applied fairly sheer or built up. Those with lighter skintone may have to play around with it to tone down the color.
The bronzer doesn't lean too orange or red or brown, it appears to be the perfect combination of the three. There's a tiny bit of shimmer in this product which helps reflect light off your face in a very natural way, giving the skin a very natural, radiant, healthy and from-within glow. On my NC25 skintone, this was a surprising natural-looking and highly flattering bronzer.
It's really difficult to put the Soleil Tan de Chanel into one word to describe the texture. It has a whipped cream/mousse-like look to it, but texture-wise, it is a firm, creme-gel bronzer that blends easier than a cream product. The velvety, semi-matte finish makes blending effortless, and depositing color very easy, as expected from a very pricey bronzer.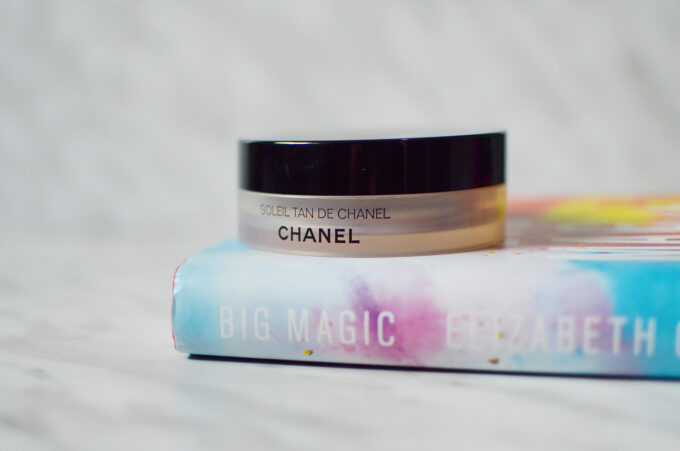 Applying the CHANEL Soleil Tan de CHANEL – Proper Tools Needed
The application of this product can be somewhat challenging and tends to confuse people. A lot of bad reviews mention the difficulty of application and lack of proper tools. Others praise it as being the best thing ever invented after sliced bread. Ultimately, it comes down to what you use. I like to use a flat top, synthetic brush since these brushes pick up just the right amount of product. I use either the Real TechniquesBuffing or Expert Face Brush or the Sigma MakeupF82/F84 Brush. I'm also told that the brush that comes with the bronzer (which I didn't purchase) is the perfect tool to go with it but I'm sure you can make do with other synthetic brushes.
This product is best applied as the base prior to foundation and other makeup products, which is how I mainly use mine. The silky finish helps to smooth out the texture of my skin so it helps my foundation to set better. With this as my base, I can use my more finnicky, and light-coverage foundations. Worn over my NC25 skintone, this product gives the most natural tan even though I'm not someone who tans easily or naturally. I love the way it looks on my skin without appearing dirty or a shade of orange. I absolutely love that it looks so natural, feels lightweight, smoothes out the texture of my skintone and gives me a beautiful, radiant, bronze-y glow!
The Soleil Tan de Chanel also provides coverage and I was surprised at how little concealer I had to use. I think this purchase (though impulsive), ranks as one of the best beauty purchases/investments. There's a great value in this product, particularly when it comes down to cost per ounce compared to other brands. The cost per use and relatively length of useful life makes this a bargain as far as a high-end investment purchase is concerned. The texture, and product quality is worth every penny spent. I'm really happy that this purchase worked out for me and despite the pricey tag, I'm glad that I bought it ????
Now it's your turn! Have you tried the CHANEL Soleil tan de CHANEL? As always, I'd love to hear your thoughts! Share with me comment section or through Twitter or Instagram!