The most exciting product for me to delve from the Les Tendres 2015 collection is the GuerlainMeteorites Compact Light Revealing Powder, ($71, Guerlain Boutiques). I wasn't disappointed. The claim was that the "feather-light texture for infinite radiance and catches light imperceptibly without covering the skin" sounded a lot like the hypes surrounding the Hourglass Ambient Lighting Powders. The Hourglass offering didn't quite work out for me, so I was very much looking for an alternative.
The Guerlain Meteorites Compact Light Revealing Powder combines corrective and colour-enhancing shades in a travel-friendly format. As someone who travels quite often, I am always looking for the most convenient travel-friendly beauty products. The powder comes with a black suede pouch which will prevent scratches in destroying this beautiful piece of artwork should you choose to travel with it or carry it in your makeup bag. The luxurious compact which has a magnetic lid and is embossed with the Guerlain logo and flower-like pattern will beautifully adorn anyone's vanity. It has the same promise as the original Guerlain Meteorites, which promises "soft focus", "enhancing" and "healthy radiance" effect on the skin.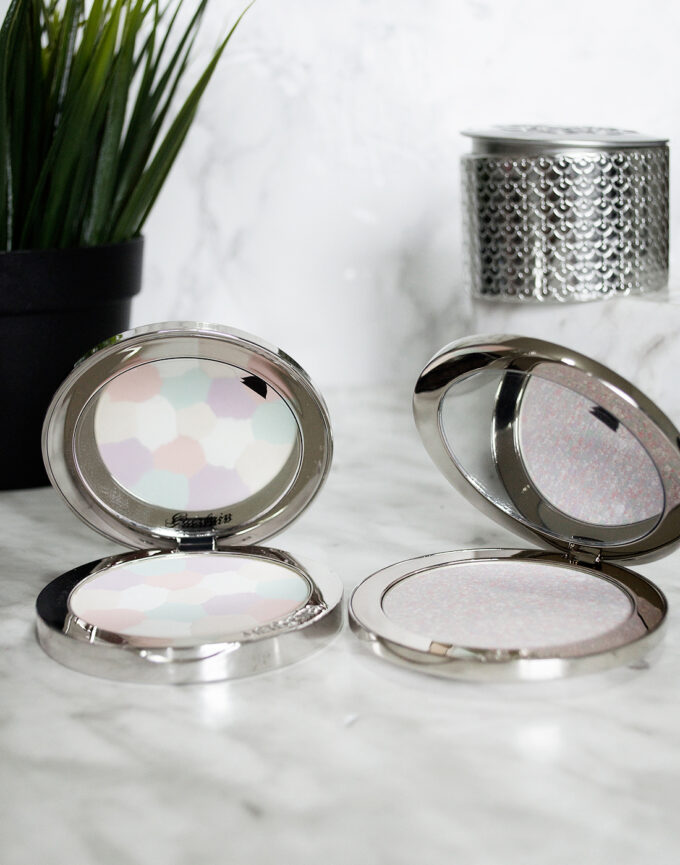 I didn't have a spectacular experience with the HourglassAmbient Lighting Powders, despite many bloggers' and friends' accolades for said product. I was very curious about that "photoshop" effect that a lot of people were talking about with Hourglass' offering. I was very much looking forward to Guerlain Meteorites Compact Light Revealing Powder being that it product even if it means paying $15 more.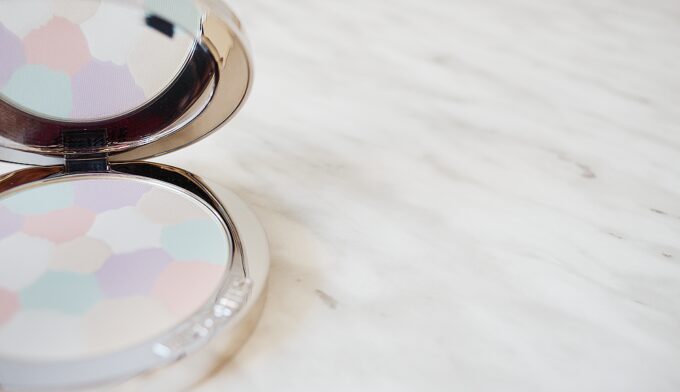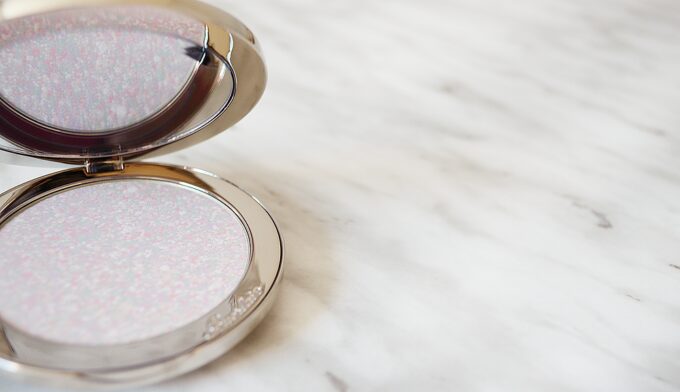 There's no way to pick up the colour individually which would not be helpful anyhow. A quick swirl of the brush picks up just enough to dust all over your face. The much more finely milled texture of this compared to the pearl format means more matte finish and less shimmer. The powder doesn't add any colour to your skin but leaves an enhanced finish that you have to see in person to notice. Or not to notice. It adds a little something that makes other people say "Your skin looks so healthy/glowy" or "Tell me your skincare secrets!" Just like other Guerlain products, there is a hint of violet scent in the powder.
There are six colours in the pressed powder, and if you are interested as to what each colour does, here it is: green to eliminate redness, lilac purple to neutralize sallowness, peach to brighten, shimmery white to illuminate, and champagne to warm up the skin. The powder doesn't come with any oil-controlling or similar claims so if you absolutely need setting powders, you might want to use this as a highlighter or on top of the setting powder.
As someone who travels quite frequently, when I am going on a more luxe trip (i.e. work related), this is one I would immediately reach for. Above is a light swatch of the powder, which is barely picked up by the camera as it should be. On my NC25 skintone, this works well as an all-over powder or to subtly tone down the sections of the face that gets a little more oily than the rest.
Between the "loose" or pressed compact formats, I am always an advocate of the more compact, travel-friendly and less fussy version. If you were deciding between the two formats, I would recommend going for the compact as it is more convenient and I feel offers a more even application all over the skin.
Now it's your turn! Have you tried the Guerlain Meteorites Compact or the original Guerlain Meteorites? As always, I'd love to hear your thoughts! Share with me comment section or through Twitter or Instagram!
---
Disclaimer:
This post features product(s) provided for editorial consideration. All opinions are my own. For more information about my review policy, please
click here
.
---