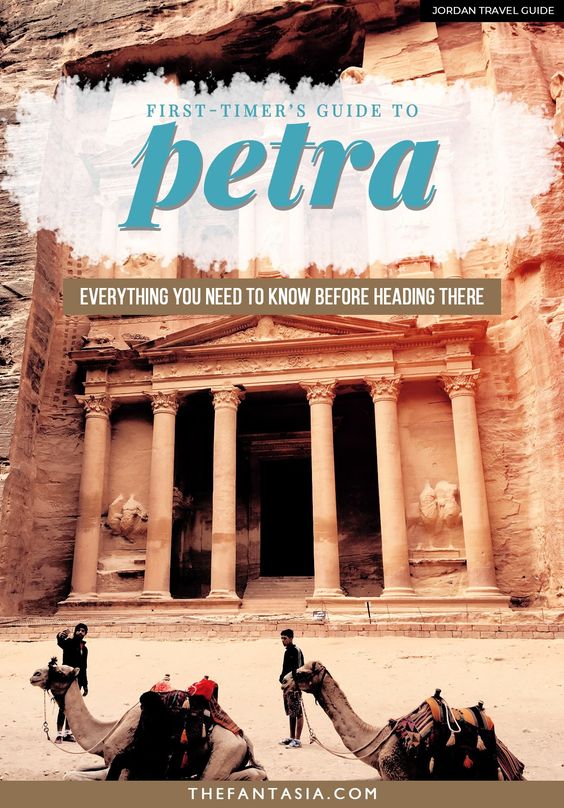 The minute I knew I was going to Israel, I knew I had to make a trip to the ancient lost city of Petra in Jordan, a UNESCO World Heritage Site. In the following weeks after my trip was booked, I was in a Google-frenzy trying to find information to plan my trip to Petra, Wadi Rum, Jerash, figuring out how to get to Petra and around, where to stay, whether to get the Jordan Pass or not and what to do after I'm done exploring Petra. Although I'm not an expert of Petra after a single day spent there, I did come away with a few things to know about Petra, one of the the new 7 wonders of the world.
To make the most of your trip to this world famous archaeological park with centuries of history behind it, I've rounded up some practical advice and things to know about your first visit to Petra so you can have an efficient trip. I've rounded these up based on tips I learned from other travel blogs and my own experience. If you have tips to add, leave me a comment below!
There are so many information about Petra and what to expect on your first time visit. I encourage you to go through them and save those tips as you feel is most relevant. I wrote the below checklist based on my experience as a solo female traveller but I'd love to hear about your experience if you travelled as a couple or with your family!
Visit Petra | 10 Practical Things to Know!
1. Plan to Arrive Early
If I can share one advice for your trip and if there's only one thing you take away from this post, is that you should plan to go to Petra early! Petra is one of the most visited sights in the world (especially since it was featured prominently in Indiana Jones) and you are guaranteed tourists no matter what season you go. Arriving early has another benefit: you can do the majority of your exploration before it gets too hot.
Fortunately, the whole Petra Archeological Park is open at 6:30AM meaning that if you are an early riser, you can have Petra all to yourself by arriving early. Most tourist buses arrive at 10AM, so even if you have to have that extra hour of sleep, making it at 7:30-8AM still allows you a fairly tourist-free experience!
2. Pack a Lunch & Snacks
Petra has become a tourist site filled with overpriced restaurants everywhere. There are small restaurants found throughout the park/city but obviously overpriced and the restaurants outside of the national park aren't that much better either.
Your best bet is to get your hotel/hostel to pack you a lunch (Costs I've seen are around JD3-5 for a sandwich, banana/apple, cheese cubes, and some crackers). This is still a much better deal than what you'll find inside Petra. Alternatively, you can do what I did – pick up a few essentials at the grocery store and pack it in your bag before you're off on your adventure!
3. Allocate 2 days for Petra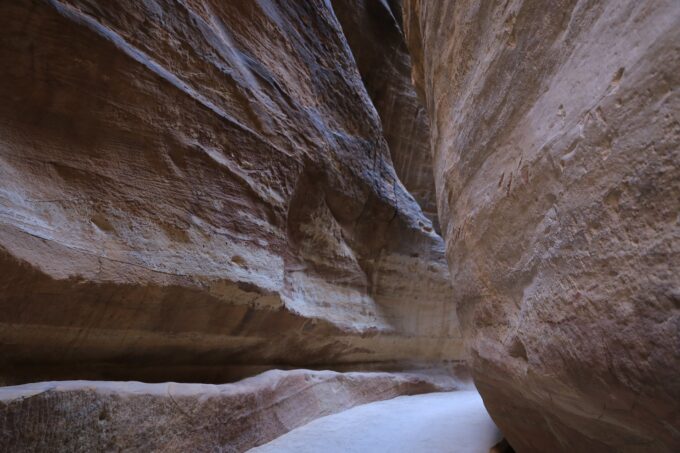 Petra is one of those places that the longer you stay, the cheaper it is. The folks responsible for Jordan tourism are very smart people – knowing their country borders some of the world's most active conflict zones, they realize tourists will likely come only once. So to incentivize them to spend more and stay longer, they set up visa rules and Petra entry fees that get cheaper the longer you stay.
For example, at Petra, if you're doing it as a day trip from Israel, the entry cost is JD90 (C$180). If you visit for two days, the price goes down significantly – JD50 ($100). You get the gist.
Plus, if you plan to do the hike to the Monastery or High Place of Sacrifice, you'll want a bit of a break in between! I opted to visit the Treasury and Monastery in one day so it was a bit of an exercise. If you feel confident that it is doable rather than doing it all in one day.
4. Avoid the Horse/Donkey/Camel Rides
The people that runs these business will tell you the rides are included in your ticket. That's true. But, once you get on the horse/donkey/camel/carriage, they will ask you for a ridiculous amount of tip, something like JD20-30/person (C$40-60) is quite normal.
It may not be obvious, but the fact is that these animals are treated cruelly and their conditions are very appalling. I'll spare you the details, but if you look up animal abuse in Petra online, you'll see what I mean. Challenge yourself, and hike the whole way up. You'll feel so much better that way!
5. Protect Yourself from the Element
Whatever you can do to protect your head and skin from the sun because they are incredibly unforgiving. It may be Jordanian "winter" but you are still in a part of the world where everything is very dry and very, very hot. The sun is incredibly unforgiving, even in the winter. By the same token, be sure to bring a pair of sunglasses, sweater (in case it gets chilly as some parts of the hike is hidden between the rock formations)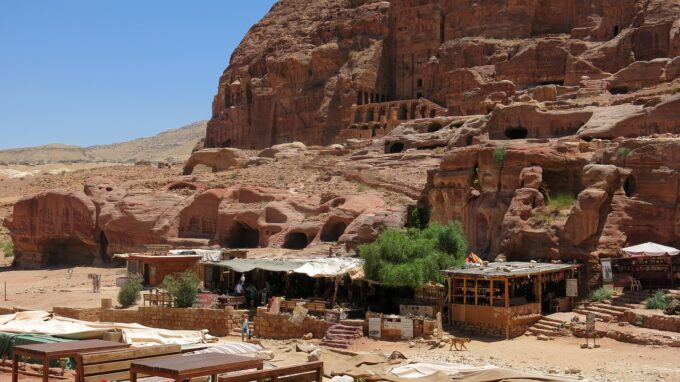 6. Skip the Restaurant by the Monastery – Go for the Best View in Petra instead
If you make it all the way to the Monastery, you'll see signs that will point you to the "Best View in Petra" or something similar (see signs below). I think you should enjoy yourselves here instead – the view is not crowded, definitely very unique and the money goes towards the Bedouins running the show!
7. Getting to Petra by Public Transit is Surprisingly Easy
I will admit that getting to Petra via public transit was far more challenging than expected. I am used to well-connected train, and bus systems, even if they are a tad bit uncomfortable and takes longer. Jordan tested my patience and stretched my resources to the limit, even if I wasn't trying my hardest to be taking the least expensive transportation mode possible.
I found travelling to Petra, either from Amman or Wadi Rum, is going to be fairly expensive no matter what, so I highly suggest having a travel companion to shave down the cost a bit. Head over to the post I've put together about my experience taking the public transit options to travel to Petra from Amman and Wadi Rum to get a sense how to DIY your own trip.
Furthermore, travelling between Wadi Rum and Petra are easily doable using the tourist Bus from Petra to Wadi Rum running daily departing at 6-6:30am. For more information about this bus, head over to this Getting There: How to Get to Petra, Jordan post where I break down transportation options around Petra and nearby destinations.
8. Bring Great Camera
I don't know about you, but to me, visiting Petra almost felt like a once-in-a-lifetime experience, mostly because the site itself is so old and fortunate to not have too much damage from human interaction until recently. However, the force of nature and increased tourism these days mean the architecture is declining faster than before. You'll want to get some memorable snaps before all the cranes and construction takes over the site.
9. Plan to go during the Low Season/Winter Season
Petra is a unique architecture and it doesn't seem like the interest in this incredible site will abate soon. You'll want to plan your trip during the spring or fall season for two practical reasons: 1) the temperature is more forgiving and 2) there are fewer people and tourists around.
10. A Guide is recommended but Beware of the Sparrows of Petra
Petra is one of those places that I think feels a lot richer when you understand the context, scale and scope of its history. The best way to experience this is through a guide who can walk you through the significance of some areas and add value to your overall experience. I think a guide is worthwhile but I would caution against it if you are a solo female traveler unless you feel comfortable.
There are Bedouin guides throughout Jordan (Wadi Rum included) whose intentions for female travelers may not be as honest. I personally have experienced it in Wadi Rum and felt very uncomfortable that I was ready to leave almost right away. If you are travelling as a pair or at least with one other companion, then I feel more comfortable in recommending it; otherwise, just be aware that this is a common problem for female travelers in Jordan.
Want more Jordan Inspiration?