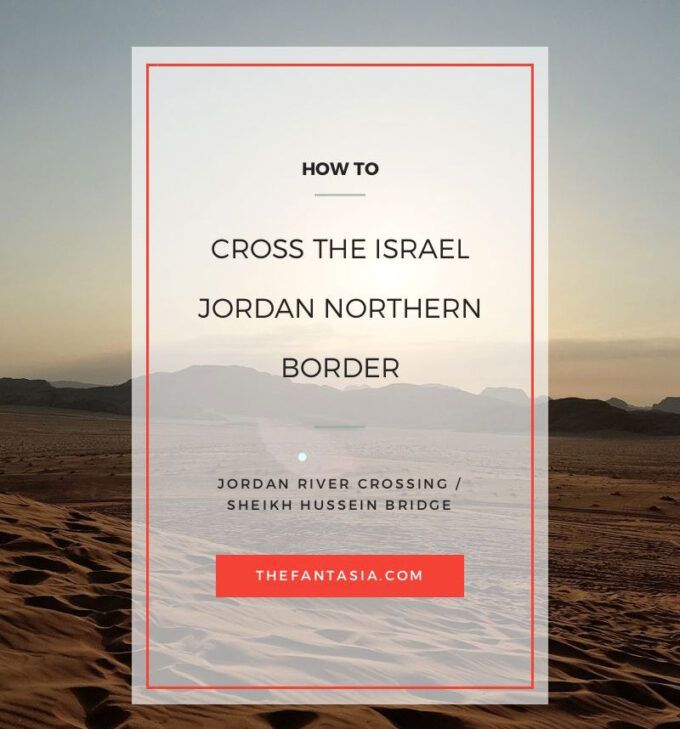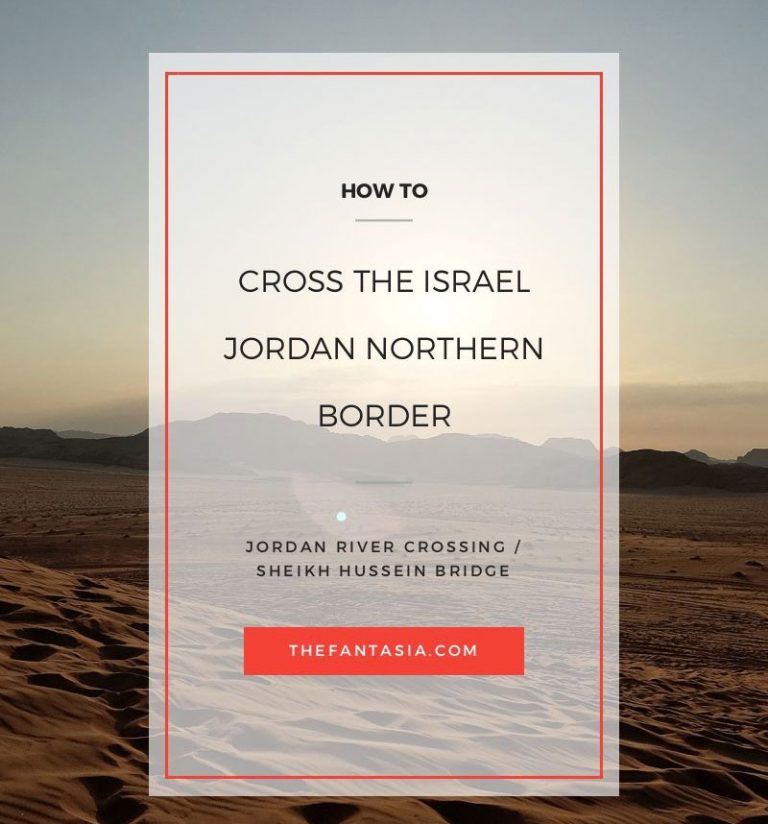 I knew to visit the mystical city of Petra and camping in the desert had to happen if I was flying all the way to Jordan (and who wouldn't right?) so here's a quick write up on my experience crossing the Israel Jordan Northern Border (otherwise known as the Jordan River Crossing / Sheikh Hussein Bridge).
Visiting both Israel and Jordan seems like a natural itinerary given their proximities. From my research, I knew it would involve crossing one of the three land borders the two countries share which is tricky at best. Flying was out of consideration given that flights between the two cities had an eye-watering price tag of $500+.
After a few hours of research, I began to realize how complex and convoluted this process is going to be – as I went through pages and pages on Google realize that there are so many variables (it seems every blog post yielded a different information), and that due to the political situation, entry is not always guaranteed, and you're quite at the mercy of the border agents.
It didn't help that every time I went on Google to do some research, articles like this kept popping up (Hostility and Humiliation: The 'Welcome' Awaiting Tourists at Israel's Border Crossings).
Oh yeah, the beauty of planning one's own travels!
Crossing the Israel Jordan Northern Border with Nazarene Tours
Once I got over my bit of self-pity and whining, I got down to work. I came up with a few possible alternatives to get from Israel's Ben Gurion airport to Jordan:
Join an organized group tour – that means having a preset itinerary with limited time in Petra and not guaranteed to have an overnight stay in Wadi Rum (There's a special rule for group tours travelling between the two countries that allows the tour operators to manage your visa for you)
Go to Ramallah – the city is located in the West Bank and attempt to get a visa to travel to Jordan but risk being denied entry back into Israel because Israelis are highly suspicious of anyone attempting to go to the Palestine
Take a private transfer – pay exorbitant prices with companies like Amman2Jerusalem at the cost of USD$200+
Suck it up and fly into Amman at a cost of CAD$500
After a bit more research, I saw that Abraham Tours offers a transfer between Nazareth to Amman for NIS80 (Roughly C$30). The transfer is outsourced to another company (Nazarene Tours) and it ran on 3 specific days but I figured this was the cheapest, and logistically most attractive option available to me. So I took it.
Other Options for Crossing the Israel Jordan Northern Border
The reason I opted to go North instead of through the other two borders are as follows:
1. Allenby / King Hussein Bridge: This border makes the most sense as geographically it is closest to both Jerusalem and Amman, two cities that are often on most travellers' itineraries. This is the border used exclusively those living in the Palestine/West Bank. As a result, it is notorious for long lines, unexplained detainment by the border agents, higher exit fees (NIS176, roughly C$65 vs. NIS101 at the other borders which is roughly $30). I went through this border when exiting Jordan and I'll share my experience on another post!
2. Eilat / Aqaba Southern Border: This looked like a fairly attractive option as it is closest to Petra / Wadi Rum. When I booked my accommodation, the owners mentioned that visa on arrival is back at the border but at a cost of JD60 (CAD$120), it was more expensive than the JD40 (C$80) I would have paid from the other borders. This change was only instituted in the last few months, so no confirmation whether my Jordan Pass would hold up at this border. Plus, it's a longer trip from Tel Aviv to the southern border.
Getting from Tel Aviv to Nazareth
The transfer with Abraham Tours departs from their bus station in Nazareth. The first thing I had to figure out was how to get to Nazareth from Tel Aviv -and I had 3.5 hours from the time I land in Tel Aviv's Ben Gurion airport to make it to Nazareth for the 8:30AM pickup. Google Maps indicate that Nazareth was only 1 hour 15 minutes by car and I had more than enough time so I opted to take the public transit to save money.
How to get there: What I had to do was take a train to Haifa and then take bus #332 all the way to Nazareth. Sounds simple enough.
1. Train from Tel Aviv Airport to Haifa
First, I needed to find the train station at the Ben Gurion airport; it was one level below the arrivals point. There are machines (with instructions in English) so you can buy your ticket. Credit card is accepted for payment. The train leaving to Haifa is on Platform 2 and it departs at 5:35AM arriving at around 7AM. So far so good – no traffic involved and I arrived at the Haifa train station just in time.
2. Bus #332 from Haifa to Nazareth that Didn't Happen
The bus was trickier though. There was no one else waiting for bus #332 so the driver decided to wait. I had 1.5 hour to get to Nazareth so I was getting pretty nervous. After waiting 20 minutes at the station (and realizing that I now had just over 1 hour to get to Nazareth), I sucked it up and took a taxi at a cost of NIS200 (C$60) for the rest of the journey.
I thought the money spent would have been worth it if I made it so you should know that it was the worst 60 minute ride of my life with tons of traffic, a few wrong turns, and finally me leaping out of the taxi as the bus was preparing to leave. I was literally the last person on the bus, 2 minutes late, and made it just as the bus was about to close its doors.
Abraham Tours: Nazareth to Amman Transfer
Once I got on (which involved me frantically waving my confirmation in the driver's face), I realized I was one of the two foreigners on the bus which made me super nervous. The bus had a very generic "Nazarene Tours" decal on the outside and no indication that this was the bus specifically going to Amman. The only confirmation I received was a gruff nod when the driver briefly glanced at my confirmation paper.
I was too tired to think and basically prayed that I make it to Amman.
And then I slept (In my defense, I couldn't sleep on the Toronto » Reykjavik » Tel Aviv flights and spent a whole day awake in Reykjavik).
Important: It goes without saying that any paperwork you receive at the border should be kept safe at all times and held until the very end of your journey
Exiting Israel through the Jordan River Crossing
The exit process is fairly redundant and almost comical in how many steps in involves. In their defense, Israel and Jordan are surrounded by active conflict zones and have managed to keep their entire country safe and away from the fighting. So think of this experience to keep you safe instead of a nuisance ????
Here is a summary of the process you can expect:
Exiting IsraelEntering Jordan
1. Pay your exit fee (NIS101-106) – credit card is accepted
2. Pass through passport control (hand in your entry stamp and exit fee barcode/stamp) – see an example of the slip below.
3. Go through the duty free to get back on the bus
4. Drive to the Jordan side
1. Obtain visa on arrival (even if you have the Jordan Pass)
2. Go through passport control
3. Security check on luggage
4. Board the bus on the Jordan side to the checkpoint
5. Pass the checkpoint – border agent will review your docs on the bus again
An hour later, we arrived at the Jordan River Crossing / Sheikh Hussein Bridge border. Cue the sigh of relief. Once we passed the checkpoint, we got off without our belongings and proceeded to go through passport control.
The first thing I had to do was pay the exit fee – NIS101 + NIS5 for paying on the spot (you could get pay the exit fee at the post office, saving NIS5) for the benefit of being in Israel for only 3 hours at this point. But I digress. The counter is located immediately after you enter (I recall it had counters #1, 2) so it's easy to locate.
Then you walk over to Passport Control, to the left of the payment counter (counters 6-8) to hand in your exit fee barcode, show your passport, answer a few questions and go through the formalities. This is where you hand in your entry stamp and receive your exit stamp. Once that's done, you pass through the duty free and get back on the bus.
Pro Tip: Note that Israel has ceased stamping foreign passports knowing that it could limit mobility of the traveller in certain countries. At Ben Gurion airport, this is the standard, but not all land borders do this. Always double-check to be safe.
We did a quick drive across a No Man's Land before arriving at the Jordan side.
Crossing the Jordan River Crossing: The Jordan Side
There was only one counter open for the visa on arrival. I had my Jordan Pass and still had to line up in the same line as everyone else. I requested my Jordan stamp to be on a separate paper (even if you manage to avoid the Israeli stamp, if you get the Jordan stamp at one of the borders, it clearly shows that you've travelled to Israel because there's only one other country in the world that's on the other side of said border). I had to fill in a separate piece of paper which was stamped.
I then proceeded to passport control where they scanned my passport, ask a few questions. All in all, this process took another 30 minutes (mostly due to the line up).
Once the formalities were completed, I had to get my luggage through security. It was a quick xray scan but the agents seemed to have a fascination with my and another traveler's camera gears. I only had my DSLR and extra lens, while he had a point-and-shoot camera and a GoPro. We were held back for about 5 minutes without them actually inspecting the cameras beyond admiring it.
We then boarded the bus towards the last checkpoint before exiting the Jordan "border".
At the last checkpoint, a border agent came on board and went through everyone's passports again. It was a quick process, taking about 10 minutes before we were free to go!
At this point, it was another 1-hour drive to Irbid where 2/3 of the passengers got out. You could absolutely alight at the Irbid station should you wish to go to Jerash then onwards to Amman. It was another 30-45 minutes drive to Amman drop off point (Wardat Albustan Hotel) where there were tons of taxi drivers waiting to pick up passengers. Try to split taxi fares if you can.
My reading and hotel told me that it should be JD3-5 (C$10) to get from the North bus station to downtown Amman. I paid JD14 (C$28) because no one was heading in that direction and I asked them to find me a place where I can also buy a SIM card for my onward travel. I'm pretty sure I got ripped off but it was peak traffic time and the 25 minute journey took just over an hour. All in all though, I am super glad I had a SIM card with me for the remainder of my travels in Jordan, especially because I was taking the public transportation (serviis) all the way to Wadi Musa/Petra.
I hope this is helpful to you in case you're planning upcoming travels to Jordan!
Additional Helpful Links to Plan your Travel