An experience I just had to really experience when visiting Jordan a few months ago, was to camp overnight in Wadi Rum, the famous desert in Jordan that might be familiar to you because it is often used in Hollywood movies. If you've seen Lawrence of Arabia, Transformers: Revenge of the Fallen or The Martian, you will recognize some of the landscapes here. If not, prepare to be mind-blown because staying overnight in Wadi Rum is a total bucket list experience you simply have to do!
Camping overnight in Wadi Rum is an experience of its own – I can't think of when I've had so much fun and felt in awe every time I turn around. The 720 km² heart-stopping desert valley instantly reminds me of Martian landscape with its endless monolithic features dotted around the desert, and endless red sands that stretch as far as the eye can see. When there are no tourists around, and the jeep is parked, the absolute silence (aside from the occasional gusts of wind) is almost unnatural but left me in utter peace.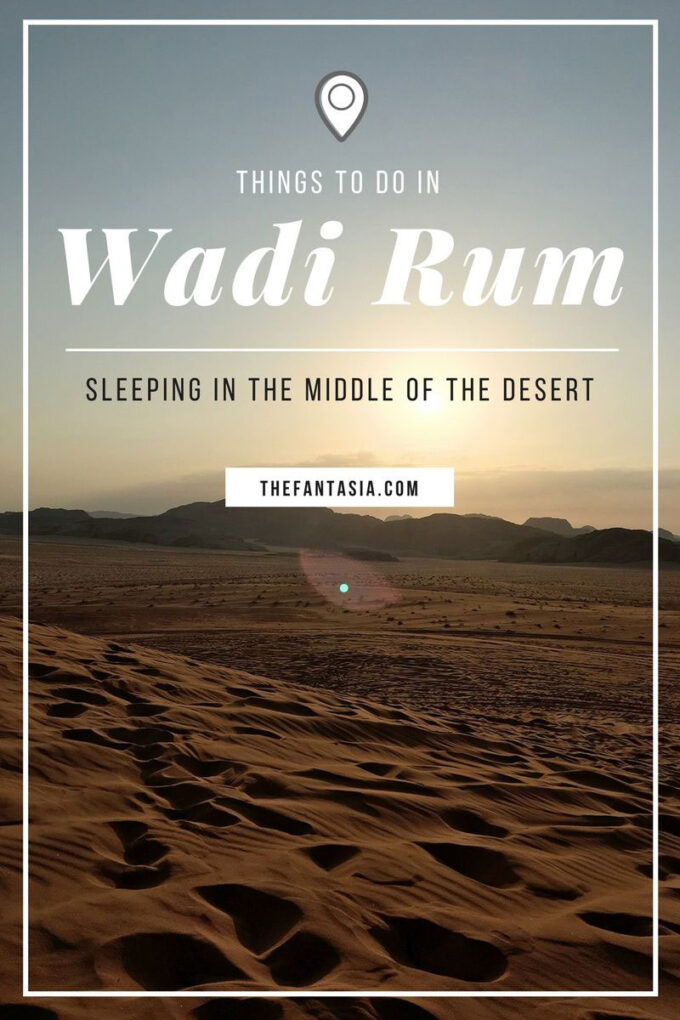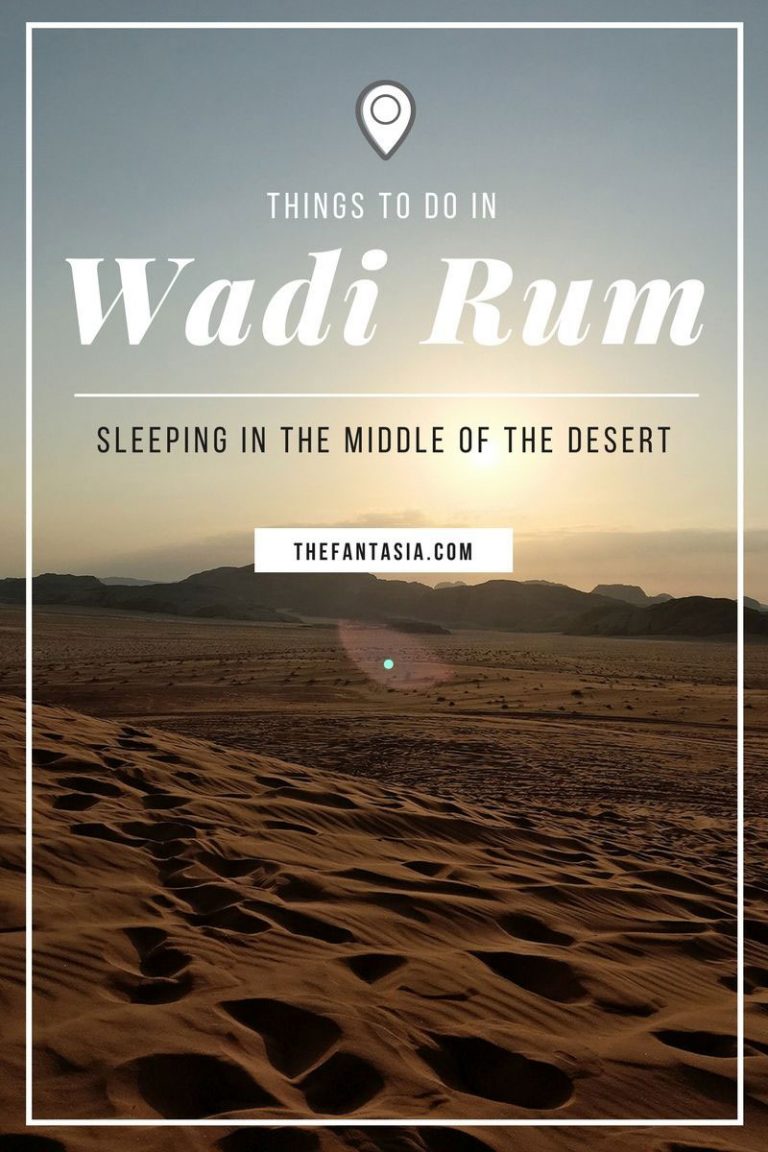 Wadi Rum is notoriously temperamental and is a hostile environment with blistering hot daytime and frigid night. The Bedouins have made it their home for thousands of years, and many returns to the desert because they miss being in the desert and sense of calm it seems to exude.
Arriving in Wadi Rum from Wadi Musa (Petra)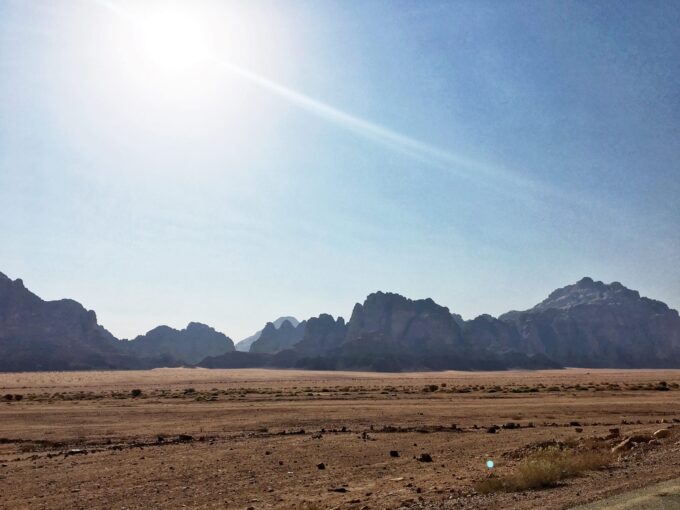 I arrived in Wadi Rum from Wadi Musa – a one-hour drive on a tourist bus that costed JD7 (C$14). This bus only departs once every day, at around 6-6:30 am and you need to call the operator ahead of time to reserve your spot. To do this, just ask your hotel or camp operator to make the booking for you.
How to go From Wadi Musa (Petra) to Wadi Rum (and vice versa)
There are only 15-20 seats on the local tourist bus so be sure to book ahead of time through your hotel (It's run locally so the hotel will know who to call). I don't know if multiple buses run the same route during high season, but our bus was the only one running on the day I went (October 2017) There's no confirmation so just be ready to leave at the lobby by around 6 AM. The bus then makes its way through Wadi Musa to pick up guests from other hotels. You can take the same bus if you are traveling back to Petra for the same cost. Pick up is at the Rum Village just outside the desert.
If this is your first time reading this post, you can safely assume that Wadi Musa is Petra. Wadi Musa is essentially the village around Petra where most of the hotels, restaurants, and supermarkets are located, so tourists stay in Wadi Musa.
The 1-hour journey wasn't too impressive or memorable so you are fine to sleep throughout. If taking the tourist bus at this time isn't possible for you, you can also take a taxi (available in abundance) for around JD45 per vehicle (C$90).
At the Wadi Rum Visitor Centre
The bus stops at the Wadi Rum Visitor Centre at around 8:30 am so you can buy your ticket (JD5/C$10). If you have the Jordan Pass then entrance is free, you need to go down, show your pass and get it stamped. There's also a washroom, souvenir and small food stall where you can grab things before you go on.
Note that the Wadi Rum Visitor Centre is not your final destination so after you get your ticket stamped, go back to the bus.
If you have already made a booking with one of the Bedouin Camp operators, you will be dropped off at the Rum Village, exactly in front of their house. If you haven't made a booking and would like to do so, there are plenty of individual operators who will offer their service for a discounted fee at the Visitor Centre.
A Note About Operators at the Visitor Centre: Although you can absolutely go with the individual operators at the Visitor Centre, keep in mind that the experience you will get is unlikely to be as impressive. They charge less because they may take you on an almost barely-functioning vehicle which may break down in the desert. They may not provide you with as much valuable insights about the history of the desert either.
From the travel blogs I've read about this "wing it" approach, the consensus seems to be to book in advance with an operator (I went with Bedouin Directions owned by a gentleman named Mehedi; I've written about my experience here!) I paid JD100 (C$200) for the one-day tour and overnight at the camp.
[UPDATE on Nov 10] I recommended this tour to a friend who did the bivouac camping for 2 nights and they loved it! Safe to say, Mehedi is one of the best operators in the region.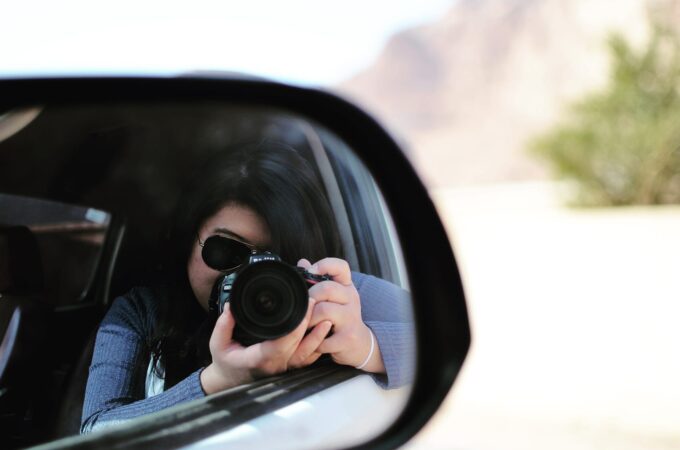 Exploring Wadi Rum with Bedouin Directions: Mehedi's Special Jeep Tour
After enjoying some delicious Bedouin tea at Mehedi's home in Rum Village (where I met another Canadian father-daughter pair wrapping up their trip), I was introduced to my guide and proceeded to dump my belongings at the back of the Toyota truck and had front-row seat to the desert ahead! I was the only one taking the tour on that day so I had a totally private guide and photographer for the entire day.
Among the different Bedouin camp operators, most of the itinerary is identical. You visit around 8-10 different locations, usually in the same order. When it comes to choosing which operator to go with, it comes down to price, comfort level and what kind of extras you might want. It still blows my mind that they know where to go without a GPS or any significant landmarks aside from the occasional tire tracks.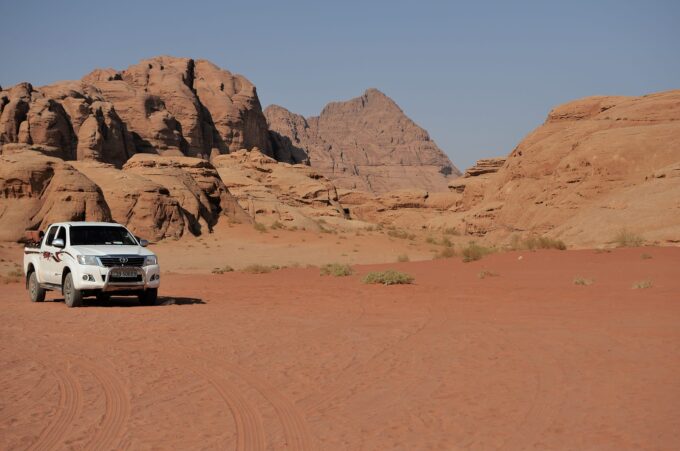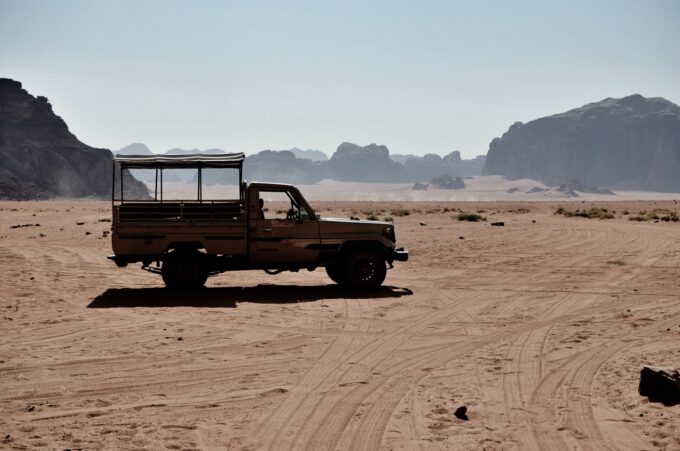 I opted for the jeep tour and I'm glad I did! I had done a similar experience in Dubai and knew that I would never be able to walk a long time in the desert. Plus, it gets incredibly hot despite the gusts of wind. Limiting the number of jeeps that go around Wadi Rum is one way to preserve and keep the desert clean, so it is advisable to join groups where possible. The group tours are typically limited to 6-8 people so it's a nice, intimate group and dates may fill up quickly.
The Mehedi Special Jeep Tour takes you to the following locations:
Lawrence Spring – camels, Nabatean inscription and a lone fig tree.
Khazali Canyon – this canyon was used in the filming of Lawrence of Arabia so you can see the drill holes left in the rocks for the cameras during filming.
Red Sand Dunes – this was an epic hike because climbing the hot sand is like getting a foot massage on crack. You don't realize how steep the dune is until you get to the top (you can roll down or sandboard down should you choose to).
Anfishieh Inscriptions Rock – unique camel inscriptions that tells the story of the desert's previous inhabitants.
House of Lawrence – supposedly this is the site that T.E. Lawrence used (not confirmed) during the Great Arab Revolution to store weapons. You also do lunch here with other groups.
Burdah Arch Stunning natural rock bridge that actually takes 3-4 hours to climb. It's included more as a "nice to see". You can do the hike separately for additional fees.
Um Frouth Arch – I call this "the baby" which somewhat resembles the Burdah Arch but totally doable to scramble and hike. It took me about 10 minutes to get up – though it's incredible steep. Having some rock climbing/bouldering experience is recommended!
Small Sand Dune
The "Chicken" Rock – a unique rock that resembles a chicken and is your last stop before going to the sunset spot
Bedouin Camp: you can enjoy a delicious dinner cooked in zarb (a traditional method of Bedouin cooking involving cooking their food underground in "Earth ovens"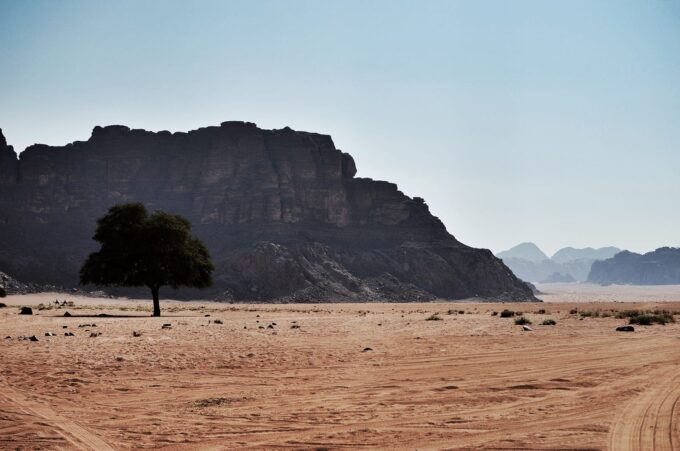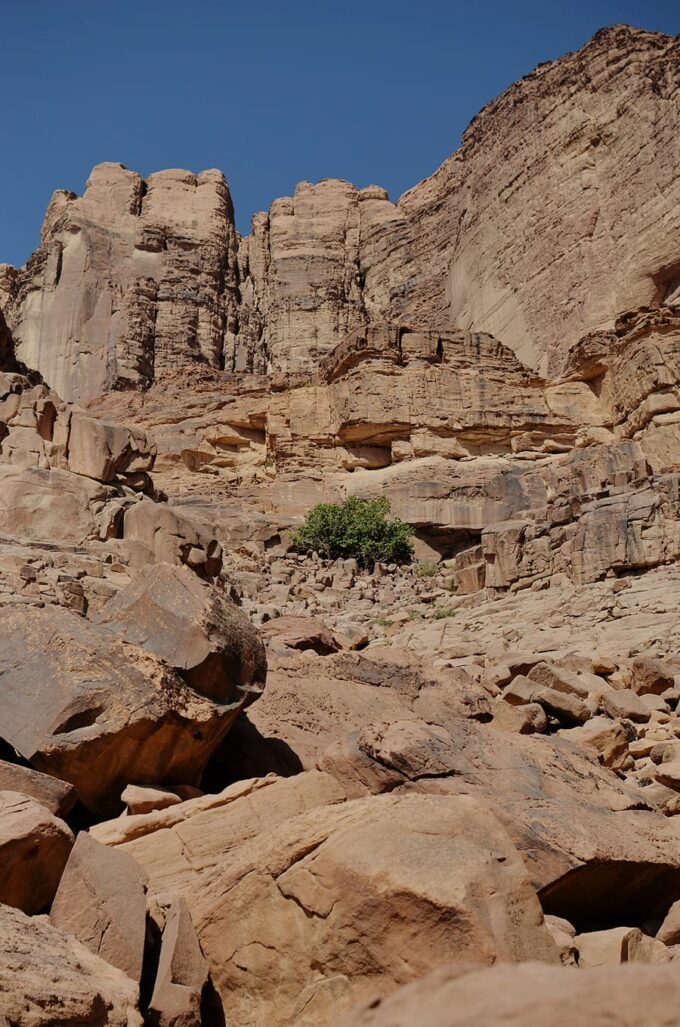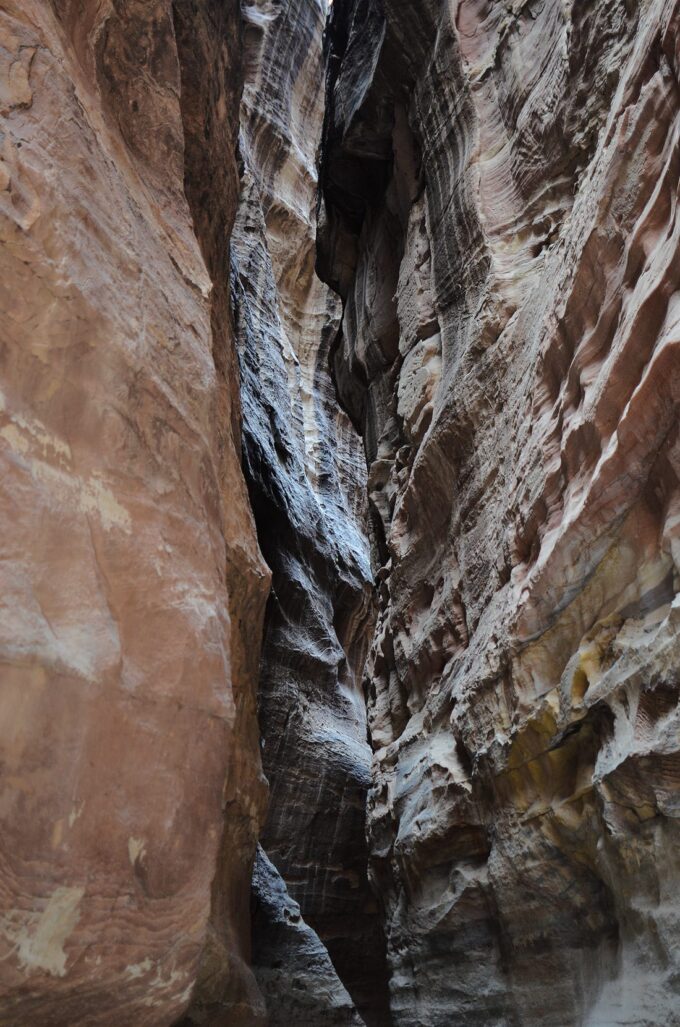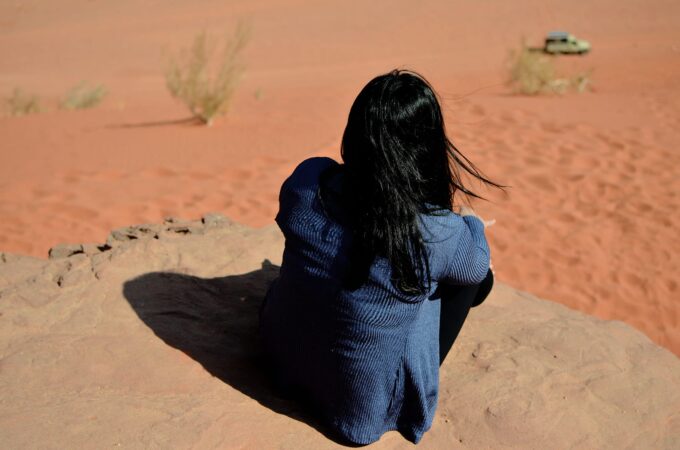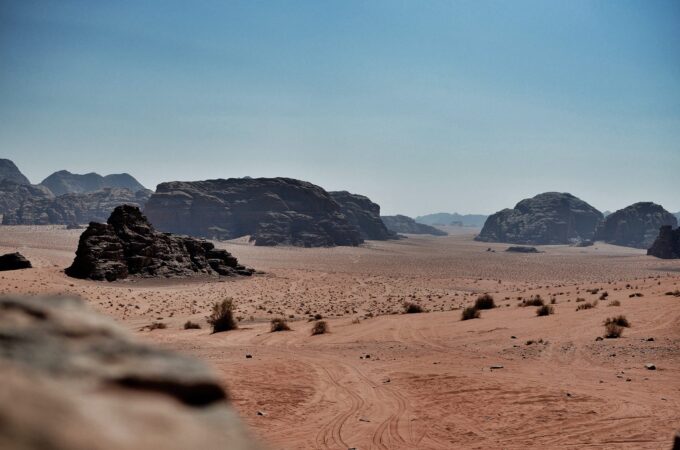 After about 8-9 hours frolicking in the desert, I really desperately wanted a shower. The cold shower water was a welcome relief (cold water in the winter seems like a recipe for disaster, but I'm Canadian!) and it was refreshing to feel clean before enjoying dinner! I joined the other guests in the cozy Bedouin shared tent where we waited for dinner to be served and indulged in conversations.
We proceeded to get ready for bed around 10pm (being in the desert all day takes its toll!) but decided at the last minute to "sleep under the stars". We pulled our mattress and blankets in the middle of the camp, side by side and slept under millions of stars twinkling over our heads and made wishes upon the many shooting stars we saw before drifting off to sleep.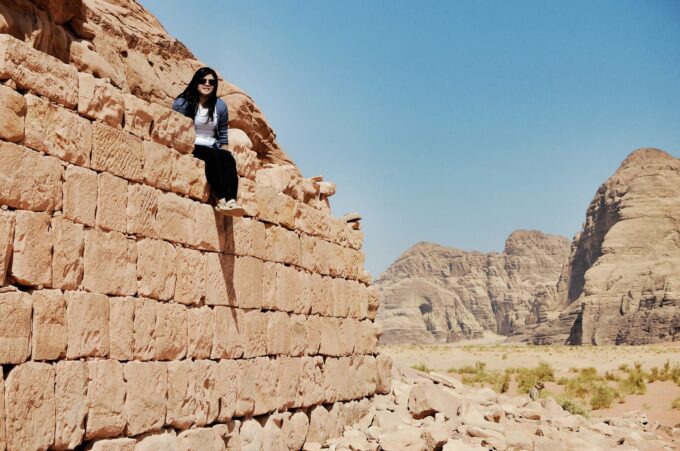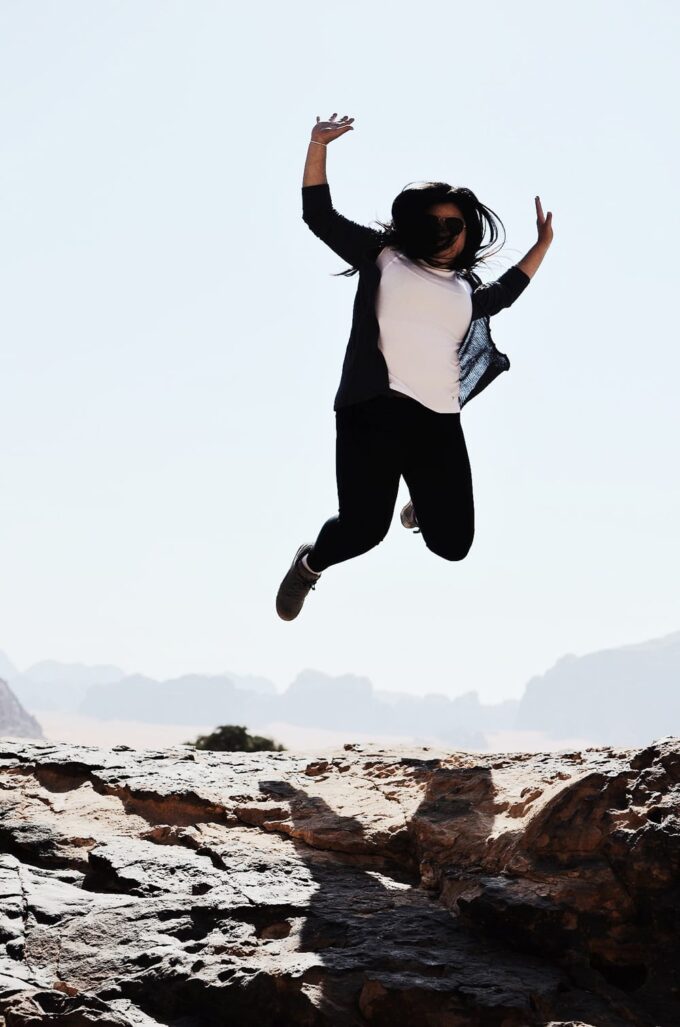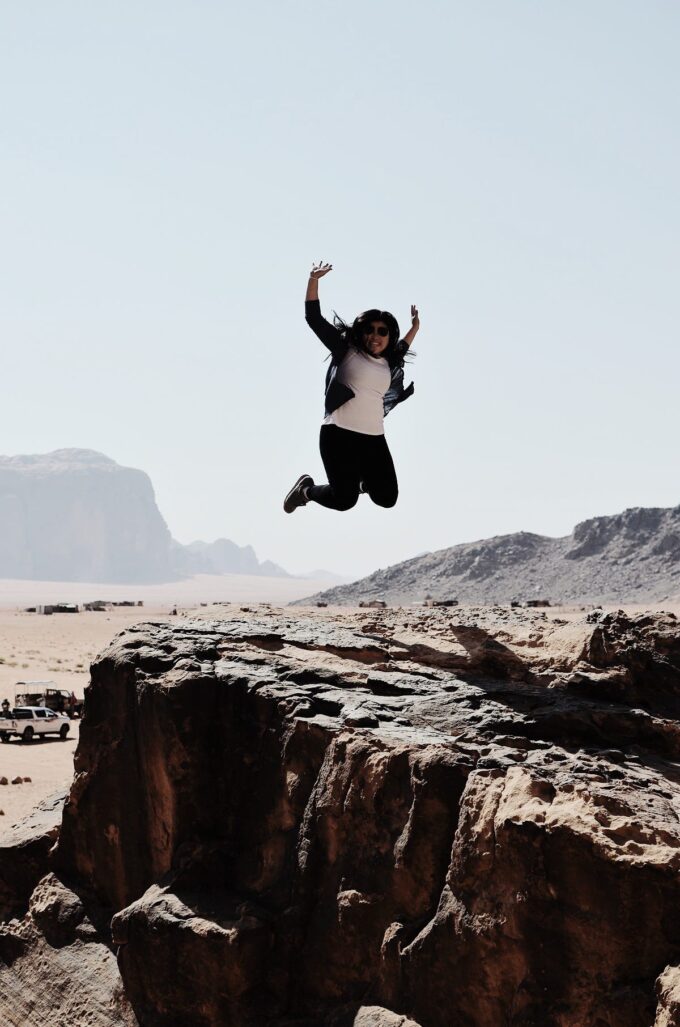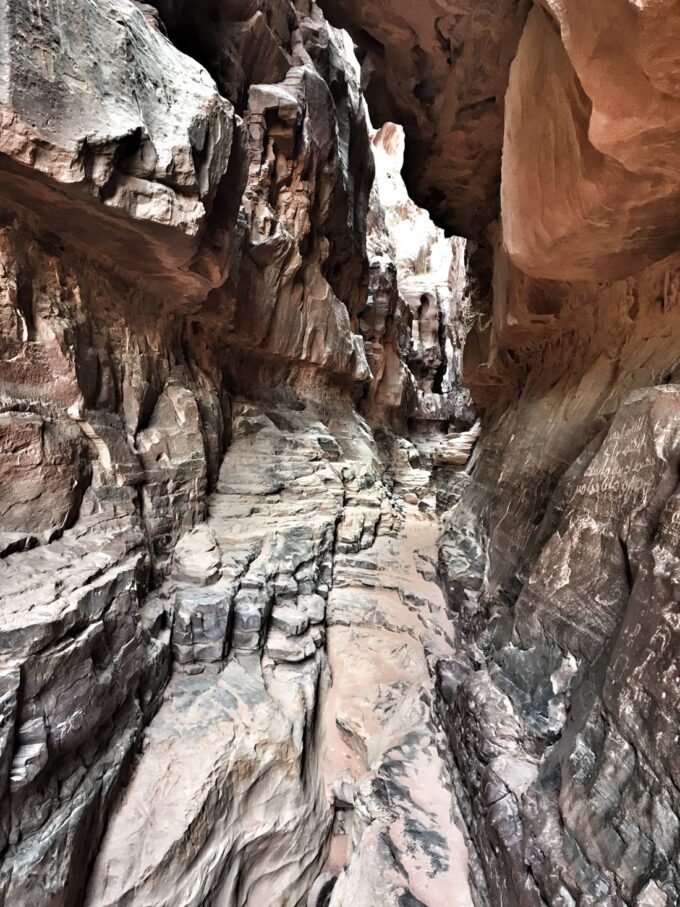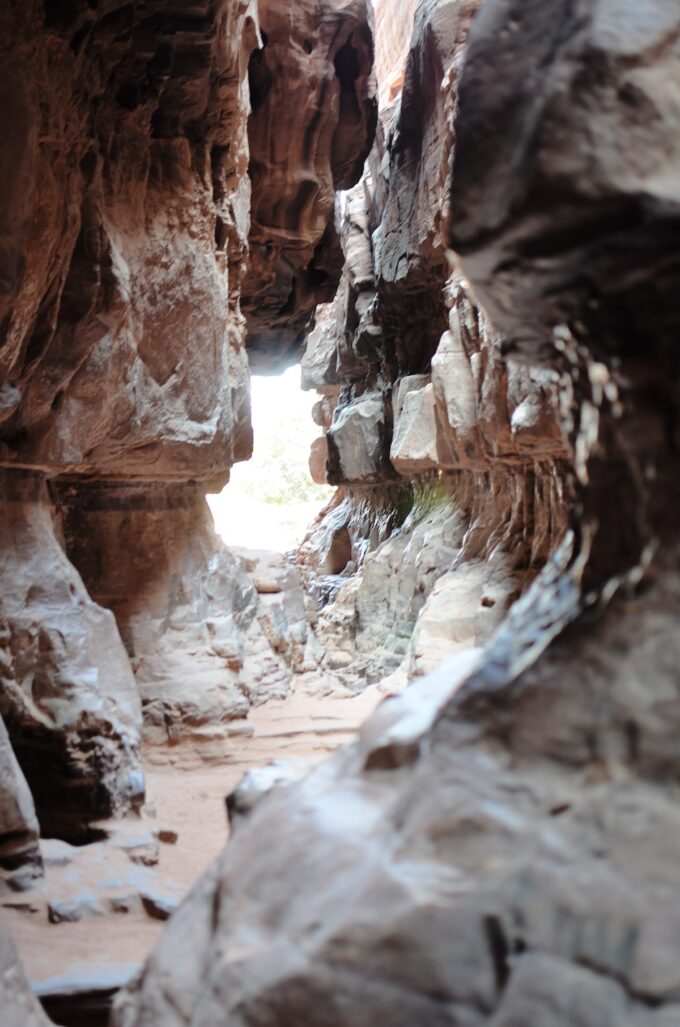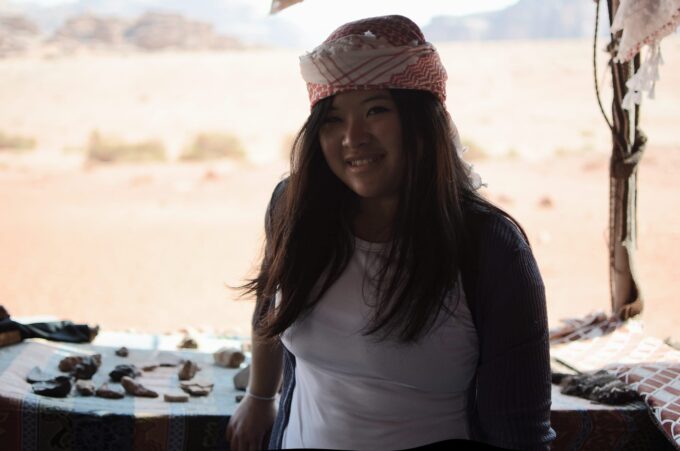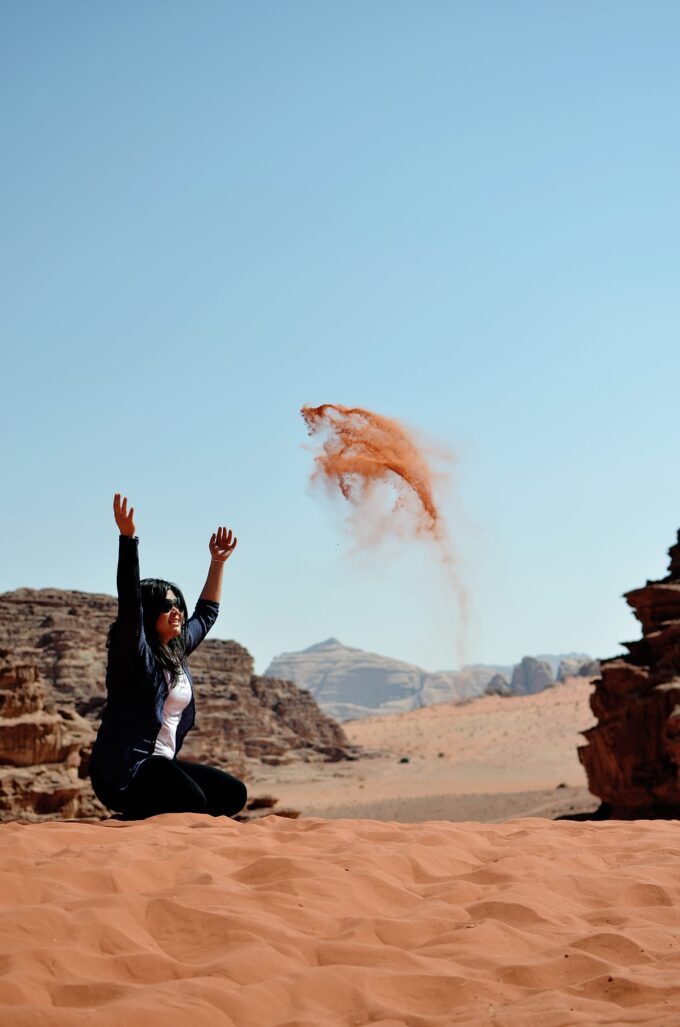 There are still tons more photos I plan on sharing from my trip to Wadi Rum but I hope you enjoy this little preview to the desert!
Overnight in Wadi Rum | The Essentials
Where to Stay: I chose to stay overnight at Bedouin Directions and booked ahead of time. I have written a review of my experience on the blog which you can find here! One night stay with the Mehedi Special Jeep tour is JD100. Owner, Mehedi, is an incredible host who ensured every aspect of my experience was well worth the money! He is able to arrange transportation to and from, and his website is a wealth of information for all things Wadi Rum!
When to Go: I chose the autumn season because that felt most comfortable to me. Even so, the day time weather was around 30C or so, but the evening was much cooler. I only had a light sweater on me so it was fine. Do bring a sweater in case you get cold easily. The camp has very thick blankets (can provide you with more if necessary) so it was comfortable wearing just what I had.
How to get there: Please refer to my Bedouin Directions review post and scroll to the bottom section for additional information. You can start your trip in Amman and head south or start from Eilat (Israel)/Aqaba and head North.
Stay tuned to see more of my Jordan and Wadi Rum adventures!
Want more Israel & Jordan Inspiration?