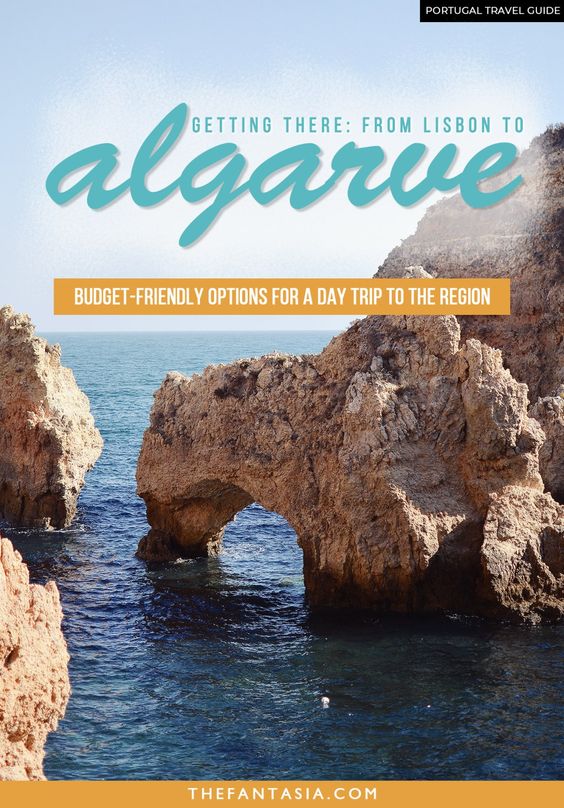 At this point, I hope I've convinced you that a trip to the Algarve is an absolute-must. But taking a 3-4 hour trip to the South of Portugal may seem like a daunting effort. So I hope to alleviate those concerns and show you how to visit the Algarve region from Lisbon can be done easily and fairly cheaply too!
Although you can visit the Algarve region as a day-trip or over the course of several days, I would highly suggest that you stay over a few days if you can. I didn't because I found the area to be more expensive than Lisbon and opted to spend one glorious, sun-filled, delightful day in Lagos! There are a few accommodation option and plenty of restaurants in the area to spoil yourself silly if you prefer to go slower.
Keep in mind the Algarve region is a popular destination for tourists and locals so it might be a good idea to book your accommodations and transportation ahead of time during high season. I like to research and book my accommodations through AirBnB and Booking.com which provides so many options to choose from and makes it easy to book and check your reservations on the go. I've stayed at many AirBnBs and love the more local experience it provides!
How to Visit the Algarve from Lisbon
I may have mentioned it once or twice before, but Lisbon has one of the best public transit systems I've ever come across! Whether it is an in-city or intercity system, the ease and reasonable price makes it one of the best budget options to choose from. It's very easy to hop on a bus for a day trip and not as expensive as you might imagine! There are several buses and trains going to the Algarve region and back and it's quite cheap to go there and back. It doesn't hurt that the Algarve, Portugal region is so full activities so it's worth spending longer than you thought!
The only (and from my research) and best station to base your travels in Lisbon would be Lisboa Sete Rios station. Think of this as the city's main station (i.e. the equivalent of Grand Central / Union Station) as you can easily connect between different modes of transportation in this one station.
How to get to Lisboa Sete Rios if you're taking the metro (Carris): get on the Blue Line and get off at the Jardim Zoológico station which connects to the Lisboa Sete Rios (3-5 minutes walk at most).
From Lisboa Sete Rios, you can connect to the intercity train (Comboios de Portugal), get on the tourist AeroBus Transfer Bus (line 2 only), and take the urban bus (Carris).
Below, I'm sharing the public and non-public transit option in the hopes that it will help you decide for your trip!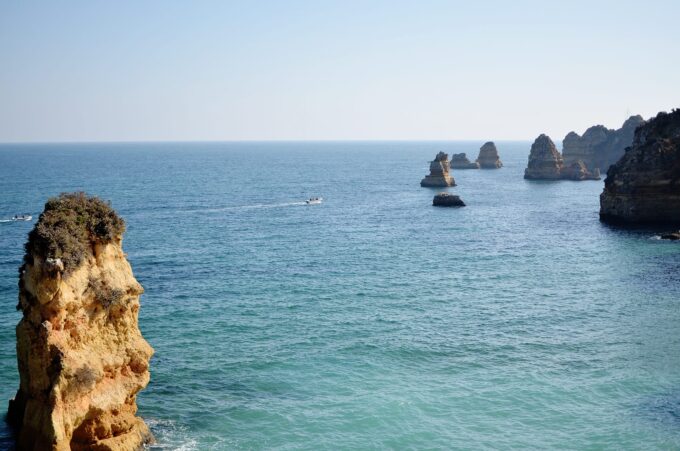 1. How to Visit the Algarve by Car
The easiest and most convenient way to get to the Algarve region is probably by driving. I've never rented a car during my travels but I came across many guests who did. There are a number of providers and I haven't come across or heard of any horror stories which leads me to think it's a fairly safe, easy, quick and convenient option. The journey is anywhere from 2.5-3.5 hours depending on how many stops you take.
Several providers who you can use include Sixt, Enterprise, Europcar among many.
The best part about travelling by car is you can stop wherever you please and spend as long or as little time as you'd like at various stops. Most beaches I visited last year did have some parking spot and it was mostly empty during the low season, so it could be a very viable option if you enjoy the flexibility.
2. How to Visit the Algarve by Train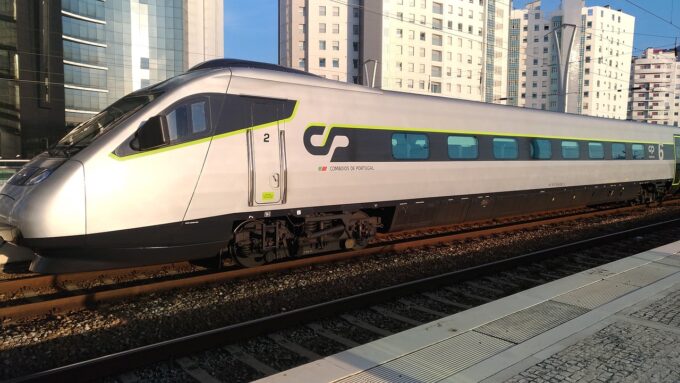 Take advantage of the incredibly easy, clean, speedy and inexpensive intercity train with Comboios de Portugal which departs the main station in Lisbon (Note: locally Lisbon is also called Lisboa). There are several train stations in Lisbon, but the one that I used as my base is Lisboa Sete Rios which is conveniently connected to the intercity bus systems, urban bus and metro systems, as well as the where the CP trains leave from. Think of this station as being your Grand Central Station or Union Station – it's so easily accessible from the city of Lisbon no matter where you're staying so it makes a lot of sense to leave and arrive at this station.
In the Algarve region, there are (to my knowledge at least) 3 stops, but you might want to go for the Lagos stop as this will take you the closest to the beaches. Alternatively, you can also take the Portimau or the Faro stops.
The journey takes around 4 hours and tickets are around €22-24 one-way; if you book your tickets ahead of time, you can get it for €14-15 (promo price). I think the 30% discount is very generous and worth booking early (5-8 days) for especially since their website is very easy to navigate!
Do you need a reservation?
Highly recommended! You can secure a 30% discount if you book 5-8 days ahead of time and I would recommend booking ahead of time during the high season as it is a highly popular route for locals and tourists alike. You can book your tickets on the official Comboios de Portugal website.
3. How to Visit the Algarve by Bus
The cheapest, and I think the most convenient option for a glorious beach visit is by the bus. It is surprisingly clean, quick, punctual and easy to access (Clearly I have very low standards) from Lisboa Sete Rios! The buses have air-conditioning, a toilet, and free wifi as well.
There are several of operators to choose from: Rede-Expressos (blue and white bus), Renex (red and white bus) and Eva (yellow and green). They're all fairly identical in terms of service, pricing and leaves from the exact same station. I took the Rede-Expressos on the way there, and Eva on the way back. I think the only difference is depending on what time you're getting back – I feel like it's their way of maximizing the number of journeys they can do in a day.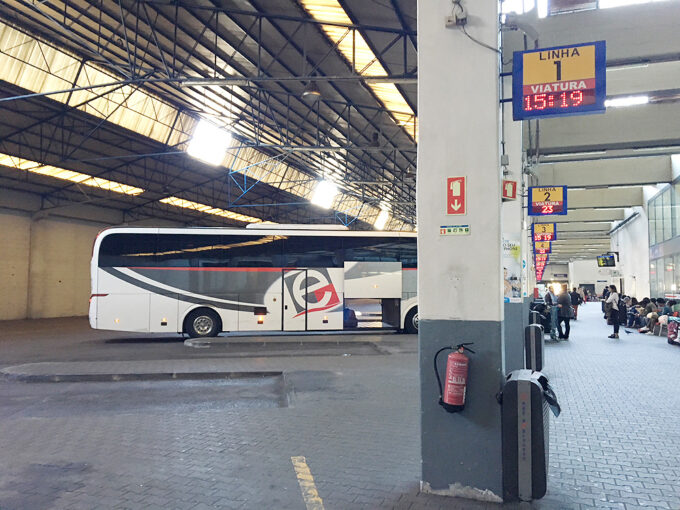 The journey takes 3-4 hours depending on which bus/time you take. Most of the trip has no stops but it seems 1 route has a "link". The bus stops at the bus stations towards the end of the journey including Portimau and Lagos.
What I love about taking the bus is that there is FREE and really good wifi on board. I was watching YouTube the whole journey and it's such a great way to kill time. There's numbered seating and you can pick your seats ahead of time although if the bus is empty, you can move around as needed. The buses are clean and very punctual which is great when you're travelling such a lengthy journey. Regular ticket is €17-18 one way, but if you are under 29 years old, you would be eligible for youth pricing which is €15 ROUND-TRIP total price (that's more than 50% off!)
Do you need a reservation?
No but recommended! You can book your ticket just before you get on board (make sure you arrive early enough), but they have recently revamped their website which means pre-booking your seats and purchasing your tickets in advance is very convenient. I bought my ticket about 15 minutes before departure and the bus was very empty. During high-season, I would imagine the route is fairly very busy.
Pro Tip: There is a fruit market in front of the Lagos Central Bus station which you will immediately see upon disembarking from the bus. I highly highly recommend picking up some fresh, cheap and tasty clementines, apples or other fruits which supports local farmers and makes for the perfect healthy day picnic and will save you money from eating out. I bought a bag of 5-7 clementines for €0.85 (that's around $1 for fresh and delicious clementines!)
Heading to Portugal soon?