Jordan was one of those countries where I got to experience a variety of different accommodations and being the pricey destination that it is, I figured I'd share a bit about the places I've stayed at and my experiences at each. I know I'm one who's always using other bloggers' recommendations to get a sense of what's the best value and centrally-located to make as my base for exploring so I figured I'd pass my knowledge onwards! Below, I've shared some of my accommodations in Jordan to give you a rough idea of where to start.
Jordan is a country where I think you should go out of your comfort zone and enjoy it for what it offers. Where else in the world can you sleep in goat/camel-hair tents that are handmade and/or sleeping under the stars in the middle of the desert? Or enjoy the luxurious Movenpick hotel right outside of the Petra gates?
My Jordan experiences are some of the most difficult to replicate experiences in all of my travels so I was inspired to put this list together in case you are planning to head there yourself in the near future. I've tried in include as much variety based on my research and actual stays to give you more options to choose from!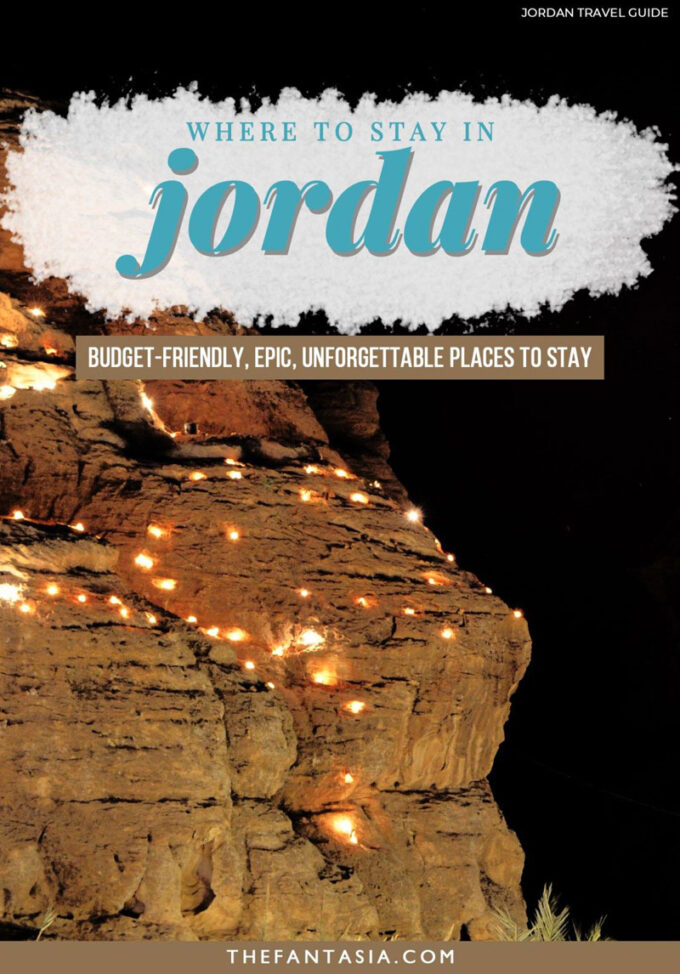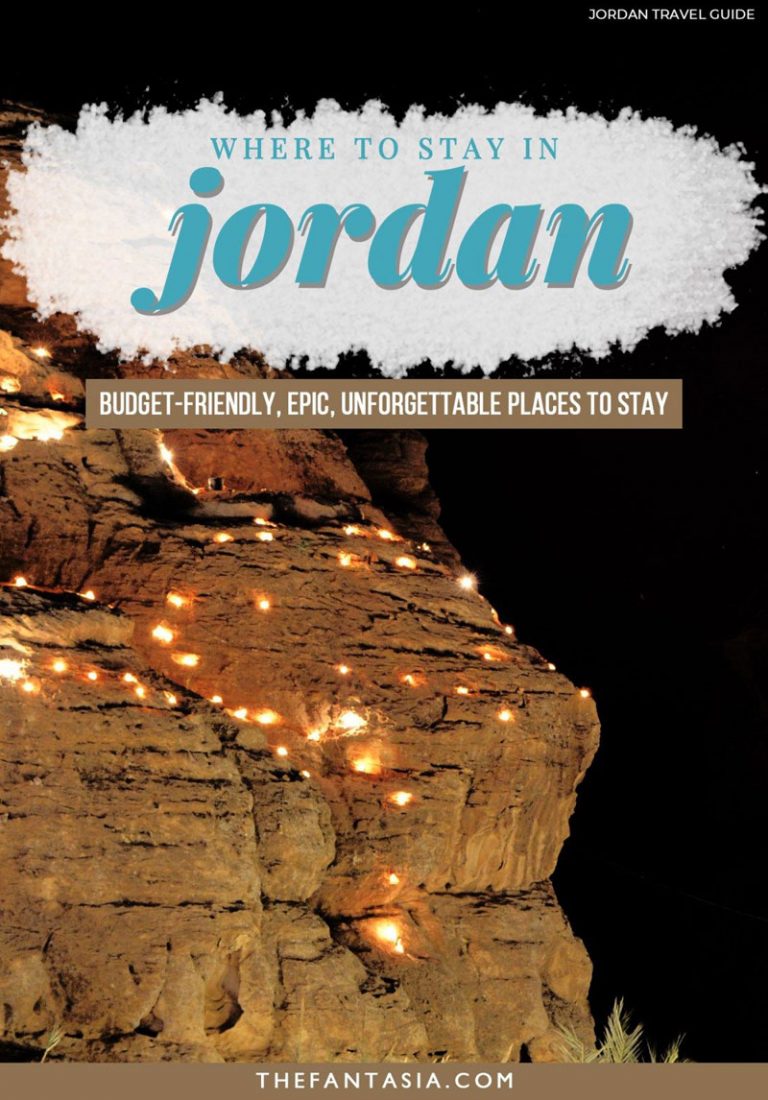 Where to Stay in Jordan
This list isn't meant to be exhaustive and certainly not going to fit everyone's style of travelling. I personally picked those accommodations that are centrally-located, budget-friendly, and brings an exciting new experience. If you are overwhelmed by the choices of accommodations in Jordan, I hope this will be helpful to you!
All of my accommodations were booked on Booking.com which has now become one of my favourite travel apps allowing me to get all the information I need about a particular accommodation without having to hunt for it (Plus cancellation and changes are easily done via their app!)
Where to Stay in Wadi Musa / Petra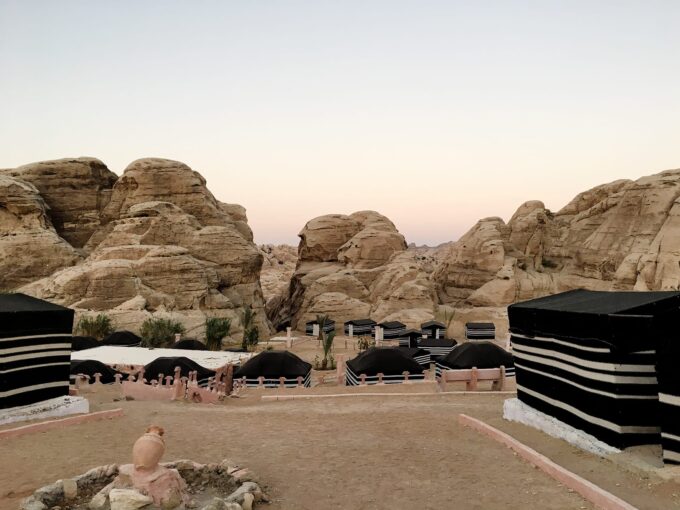 Wadi Musa is the village that has sprung up around the ancient city of Petra; it is the place to stay if you plan to base yourself as close to Petra as possible without having to spend a lot of money staying at Movenpick (located right outside the gates of Petra).
For most travellers, the hotels and camps in Wadi Musa means they are only 5-10 minutes away from Petra, which is a huge bonus. If you are someone who enjoys walking and exploring, then Wadi Musa will give you more than just Petra. Throughout Wadi Musa, there are plenty of bakeries, supermarkets and restaurants so you can really eat like a king / queen and enjoy the tastiest falafels, zaa'tar breads and sweet pastries that will make all that hiking and climbing worth it.
Keep in mind that Wadi Musa itself is a fairly hilly area so even if everything looks like it's a short walk, it may be a short and uphill walk. Also, Wadi Musa isn't exactly the most walkable area of the world so if you are staying at some obscure camp/hotels, chances are you'll have to get a taxi or the hotel driver to get you to where you need to go.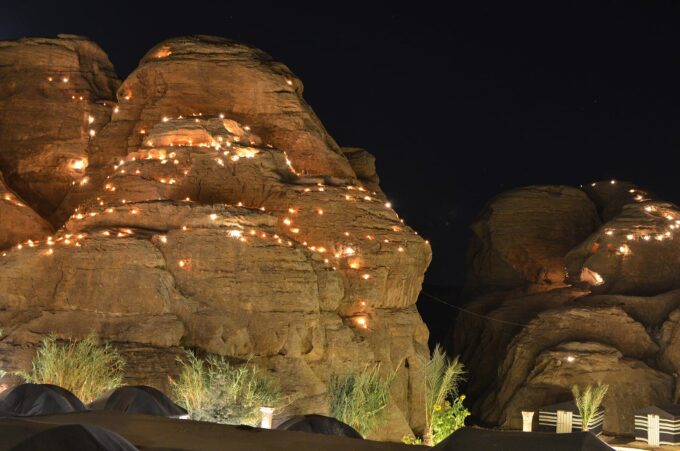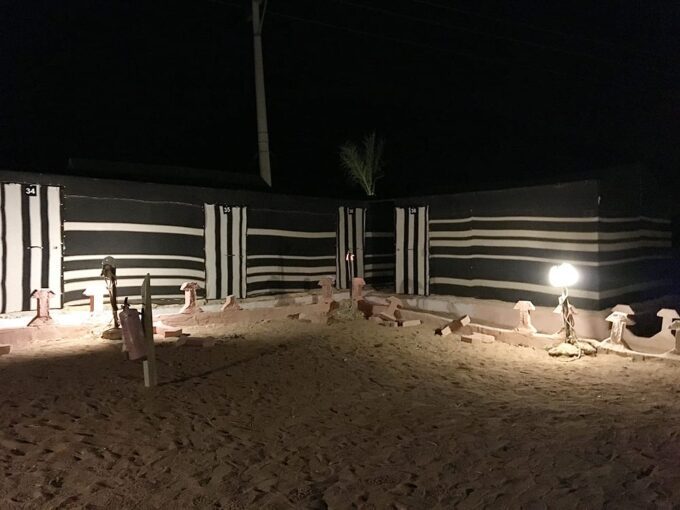 I've probably talked about the Seven Wonders Bedouin Camp too much on the blog but there is a good reason for it! For those looking to have a taste of Bedouin hospitality with Western-style amenities, this is the place for it.
The camp is located about 5km away from the Petra Visitor Centre, and about 5-10 minutes drive away from Wadi Musa. The camp itself is located almost in the middle of nowhere, so you do need to arrange transportation to and from with the camp (JD5/vehicle). If you need to go to the supermarket to pick up any supplies, make sure to do it before you arrive at the camp as it is quite isolated and there's no supermarkets nearby.
You can enjoy traditional Bedouin-style buffet dinner for JD10/person and the camp can supply you with lunch packs that you can take with you to Petra for JD4-5. Breakfast was included and they supplied me with a cheese and ham wrap and an orange because I had to leave early. I think the breakfast option is more varied but having to leave at 5am meant options were limited.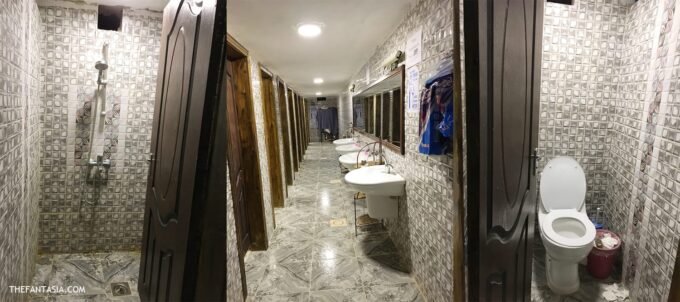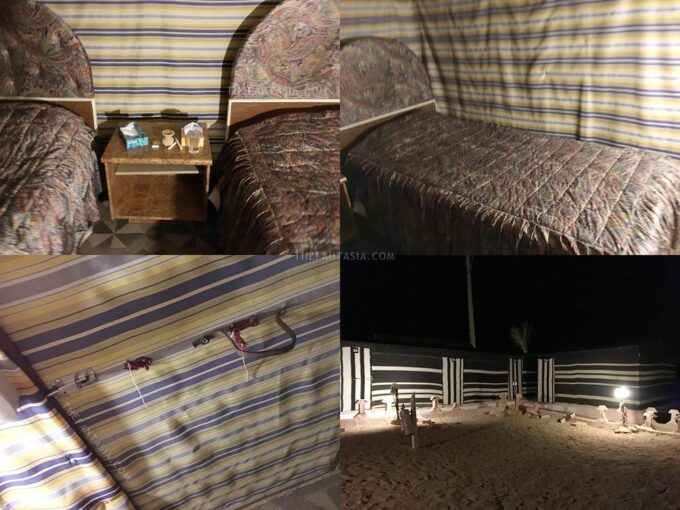 There are about 5-6 Western-style toilets and 5 showers. Hot water is available from 6-11pm every evening. The camp is suitable for individuals, couples, families or even larger groups – I believe this camp is used by Abraham Tours which runs popular budget group tours from Israel (met a fellow traveller who confirmed this) so there's plenty of guests around. There are plenty of young children too who seem to enjoy the incredibly unique experience. The lights go out at midnight or so but there are candles in the room. There is a wall plug inside the tent and tons of blanket so you can be charging your electronics and stay warm throughout the night.
Pro Tip: Bring a flashlight and cash as payment is in cash only and ATMs are only found in Wadi Musa.
Prices: JD35 for a single tent; JD40 for a double-tent.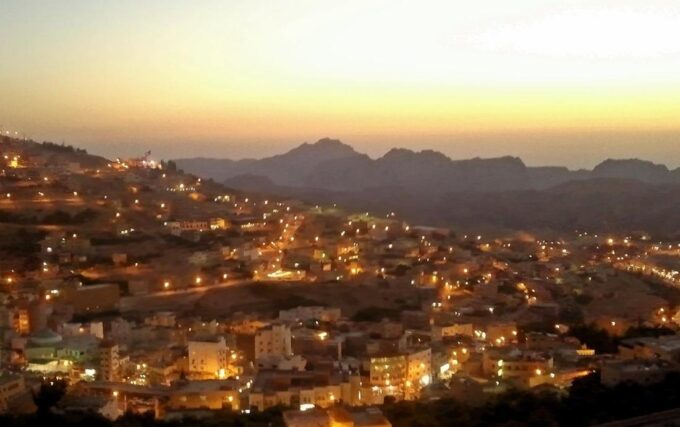 The owners of Seven Wonders Bedouin Camp also run the Rocky Mountain Hotel in Wadi Musa which is located about 10 minutes away from the "downtown" area. For those looking to stay in a more "hotel"-like environment and have easy access to supermarkets and restaurants, this is your best option. The hotel itself is incredibly basic and no-frill although the owners are incredibly accommodating and helpful, even offering to pick up tickets for Petra at Night for a group of guests who were checking in before me.
I cancelled my booking as I didn't need to stay overnight so I can't speak much to the actual experience of sleeping overnight. There is a free shuttle that runs from the hotel to the Petra Visitor Centre. Each room has a private shower but you do have to pay an extra JD3 for air con/heating.
Pro Tip: Payment is in cash only so be sure to bring cash upon arrival. This hotel provides similar buffet-style dinner, free breakfasts and prepacked lunches similar to the camp.
Prices: JD23/night for a single room, JD35 for a shared double room.
3. Movenpick Resort Petra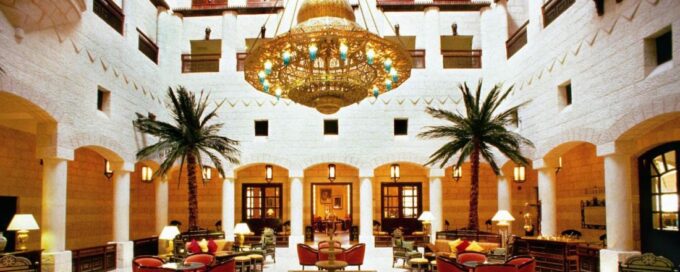 For those who can afford to splurge a little, the Movenpick Resort Petra is one to go with. Situated a mere 50m (that's like 20-30 steps) away from the Petra Visitor Centre, this is the closest you can get in terms of accommodation. Given its location, the hotel does tend to fill up quickly and you can expect a very luxurious stay at one of the most recognized brand names in the world.
I didn't stay at Movenpick as it was far too expensive for me but feel it's worthwhile mentioning as you'll often hear things mentioned relative to the Movenpick hotel. According to booking.com, breakfasts are included.
Prices: JD224-600/night.
Where to Stay in Wadi Rum
Wadi Rum is a 700km2 valley in the south of Jordan that often gets overlooked by tourists flocking to see Petra. To me, Wadi Rum was my favourite and most unique Jordan experience. Doing a 4×4 (Full day or Half Day) Jeep tour and camping overnight in the desert was the highlight of my trip and I would gladly spend much longer if I had the time.
There are plenty of Wadi Rum tour operators that you can book ahead of time. I picked Bedouin Directions and have written about my Wadi Rum overnight camping experience on this blog post.
Although prices vary between operators, the sites you visit in the desert remain largely the same and you visit the same 8-10 sites throughout the tour.
1. Bedouin Directions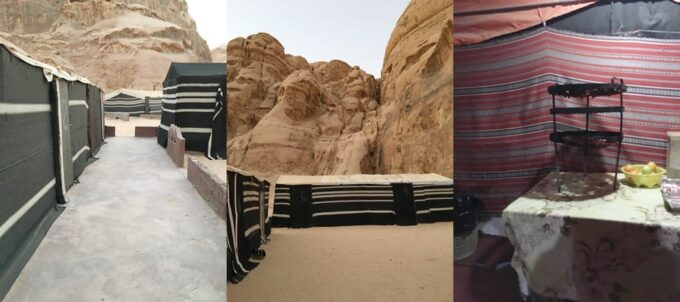 My stay at Bedouin Directions was a highlight of my trip. Despite the fact that I was the only guest during the 4×4 portion of the tour, I had an incredible time meeting guests who came with other groups and camp operators. I had a personal driver and photographer which was worth the price.
The camp itself has 3 Western-styled toilets and one shower. There's no hot water but the cold water felt incredibly refreshing after a whole day in the sand. I had a great time at the camp and enjoyed a very delicious dinner with about 8 other individuals who stayed in the camp overnight.
Prices: Overnight stay at the camp is JD35 but goes up to JD55 if you are the only guest
Pro Tip: Bring a flashlight and extra batteries/charger as the only plug/outlet for charging is in the common area.
Where to Stay in Amman
Amman is often the first thing most guests think of as a home base when putting together their travel plans. As much as Amman is basically the capital and busiest city in Jordan, it's not exactly the best when it comes to budget accommodations and most travellers skip it altogether and choose to stay in Madabaa which allows them to visit Mount Nebo, Dead Sea and the surrounding area.
I didn't plan on spending a long time in Amman, only using it as a base to explore Jerash so I wasn't too concerned about the lack of options.
1. Sydney Hotel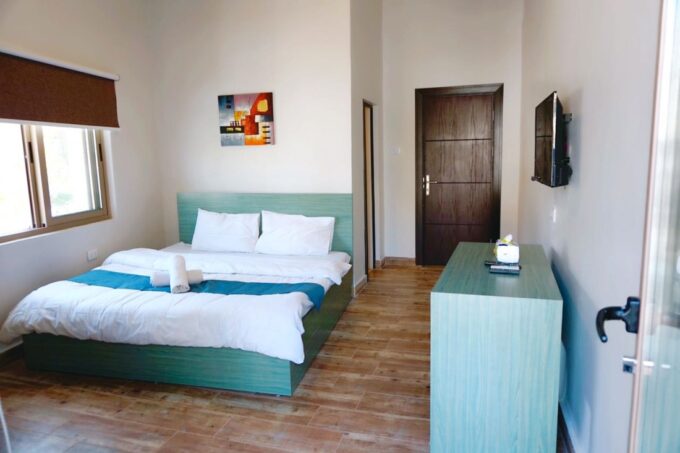 I feel like I hit the jackpot with the Sydney Hotel in Amman – it's not upscale or luxurious by any means, but it was one of the best and most comfortable nights I've spent in a budget hotel anywhere in the world. I opted to stay in one of their single-budget rooms which, though not spacious, afforded me some privacy and my own space to repack and finish up my Jordan trip.
Breakfast is included, and wifi is very strong from the room and common area. What I liked about Sydney Hostel, aside from its central location, is the fact that they offer dorm accommodation and single/double accommodations. If you are comfortable with sharing your space, the dorm accommodation, which is located right next to the reception desk, costs as little as JD7/night, and this includes the free breakfast too.
The rooms are sound-proofed, and I felt very safe in the hotel. The neat thing about this hotel is its location – you are only 1km away from the Roman Theatre and other popular ruins in central Amman.
Breakfast was very basic, as with all other free breakfasts I've had in the Wadi Musa and Wadi Rum. I highly recommend picking up some extra snacks along the way because the breakfast was definitely not as filling as I'd hoped.
Pro Tip: Need a driver to get around in Amman or to take you to Wadi Musa? Ask the owner (Tariq) for a driver named Saleh Al-Qaisi (Phone: 0798297971) who drove me and two other guests to Jerash and Al-Joun and took me to Allenby afterwards. A great and courteous driver with a lovely car!
Want more Israel & Jordan Inspiration?