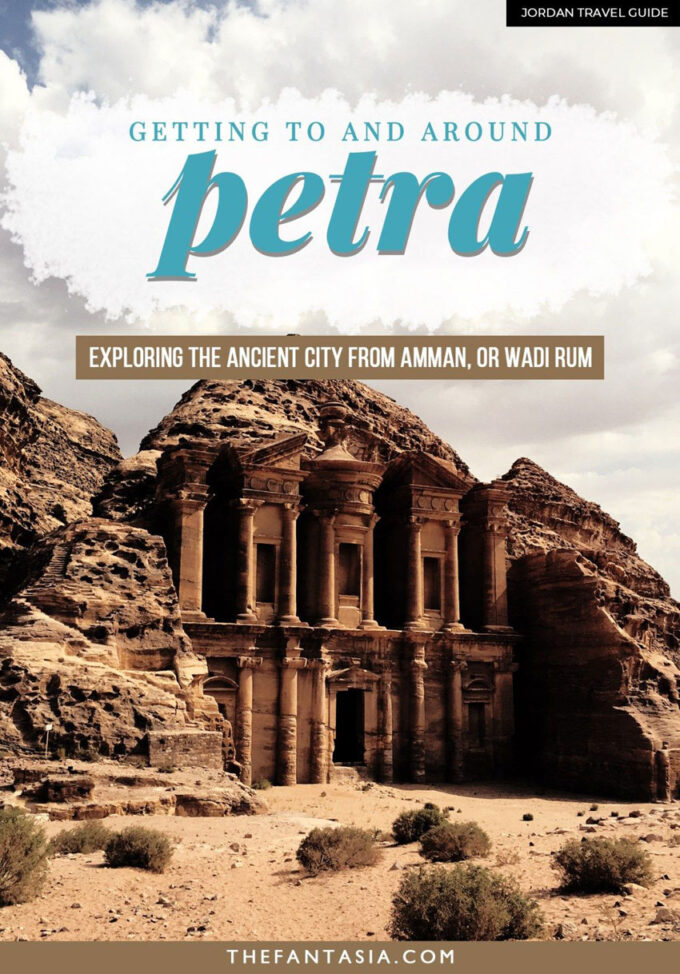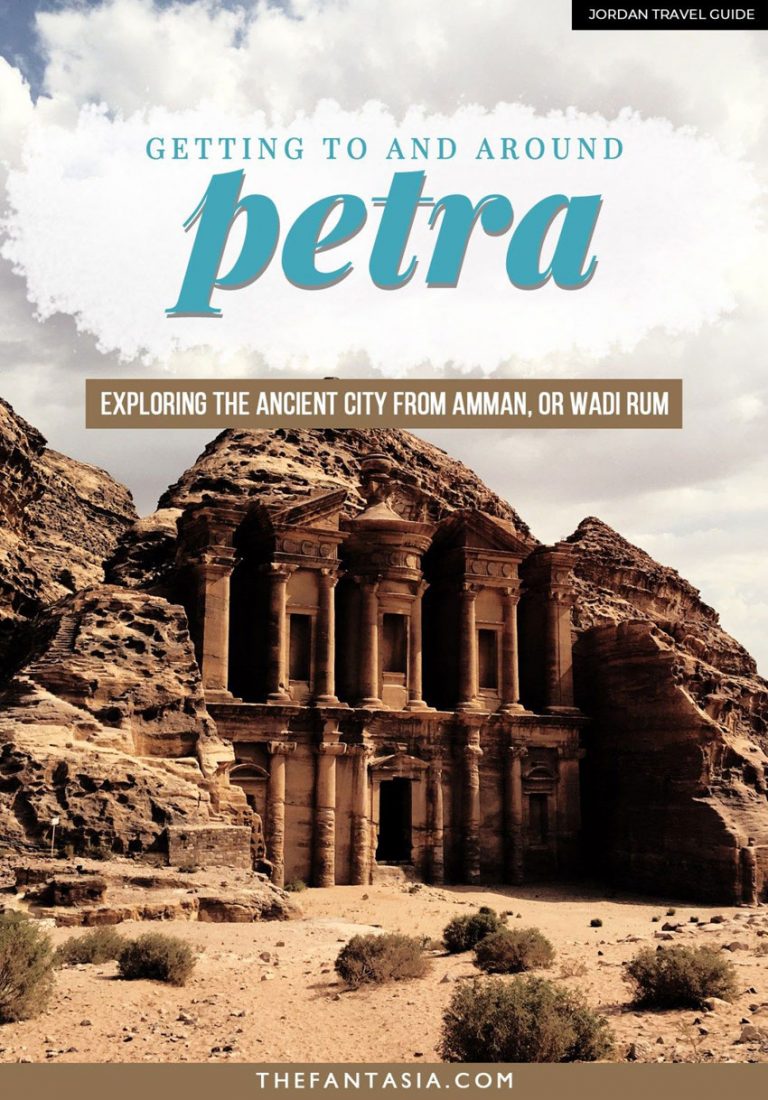 Despite the fact that Petra is probably Jordan's most well-known and most visited tourist site, I still find it challenging to find information on how to get to Petra in a cost- / time-efficient manner, that's also safe for solo female travellers.
Much of the information I came across in my research is often in Arabic and sometimes Google Maps doesn't have all or the right names either, so it's really helpful to compare your information with as many different sources as possible. Given the informal nature of the way public transportation is run in Petra, there will be conflicting information around cost, pick-up location, and schedule of said transportation so I am summarizing my experience in Jordan from late 2017 to give you a more up-to-date information!
Given that Petra is probably Jordan's most well-known and most visited tourist site, there have been some improvements in recent years on the public transportation to take independent travellers there. Don't be intimidated because it seems hard – I think that's part of the fun!
This guide is meant to provide additional guidance should you wish to find alternative modes of transportation. Since I'm not a group tour kind of person, I am all about putting together my own itinerary and finding my own way around which is definitely not everyone's style of travelling. Petra is easily one of the most famous and popular sites in Jordan so beating the crowd is my main goal.
Getting There: How to Get to Petra, Jordan
Generally speaking, if you're not comfortable taking the public transit or local buses/shuttles on your own, your options are 1) taxis and 2) private drivers. When booked on the spot, they are less expensive compared to taking a private transfer booked online (which is often charged in USD and costs almost 2-3x more).
Taxis are available in abundance throughout the country so it's very easy to quickly flag one down. Keep in mind that taxis are generally not in the best condition and the drivers smoke a lot too. It's best to negotiate your fare before getting in so that there's no surprises – not all taxis have working meters either.
Pro Tip: If you want to hire a private driver, ask your hotel / tour operator to arrange it for you rather than flag one down in the city! It's usually less dicey and the hotel will have the incentive to make sure you're with a courteous / English-speaking driver so it's a more comfortable experience.
Freelance / private drivers are the best folks that balance safety, price, and availabilities. There is always an availability, they generally drive their own car (safer, cleaner option) and routes / pricing are negotiable. The best way to book private drivers is through your tour operator/hotel. They likely have friends who are private drivers and can take you around easily.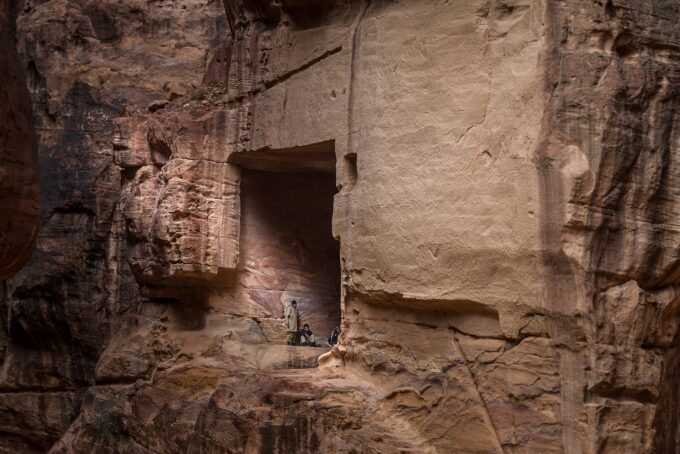 From my own experience, I took the taxi once (couldn't stand the smoking) and had a private driver the rest of the trip to go to Jerash from Amman, then to Wadi Musa from Wadi Rum. It was no more expensive than flagging my own taxi but definitely could have been less expensive if I have travel partners to split the cost with.
Try to remember / know the Arabic name of the destination so there is no confusion with the driver. If you can, take a screenshot of Google Maps or your hotel confirmation as not every driver speaks fluent English!
How to Get to Petra from Amman
1. Tourist JETT Bus (JD10)
If you are travelling from Amman, you can take the tourist JETT Bus which leaves daily from Amman at 6AM for a mere JD11 (C$22). Purchase your tickets in advance (where possible get the blue ticket slip as proof of purchase if booking in person).
Pro Tip: Book your seats ahead of time and try to get a printed confirmation of booking. The online booking link didn't work for me so if you have time in Amman to go to their office, this is your best bet as you may be turned away without booking if the bus is full.
You can book a seat online but it is not guaranteed to secure your spot. There are several offices/bus stations in downtown Amman that JETT stops by so double-check ahead of time which bus stops you will be departing from. The four stations (that I'm aware of) are:
Abdali
Tabarbour (North Terminal Bus Station)
7th Circle
Al Wehdat (South Terminal Bus Station)
I highly recommend booking ahead of time if you can – during my research, I read that you can book the ticket on the spot. However since this is a highly popular route with only 1 bus operating each way, it gets full very quickly. I showed up without prior booking and got lucky since I was a party of 1 and they could slot me in. A group of 4 ahead of me were turned away as there weren't enough seats. This may have been a one-off situation on a particularly busy day, but it's something to keep in mind.
Journey time is from Amman to Petra and vice-versa around 3.5-4 hours. You will arrive at Petra around 10-10:30AM. These daily bus only depart once from Amman and once from Petra, so do not miss your bus.
You can take the same bus back to Amman. The bus departs at 4:30PM in front of the souvenir shops. You need to walk over to the parking lot that has all the tour buses, spot the blue one that says JETT on it and buy your ticket. If you need to purchase your ticket separately, you can buy the return ticket directly from the driver. He will give you a slip and assign you a seat number.
2. Take a Public Minibus / Shuttle from Amman (JD1.50-5)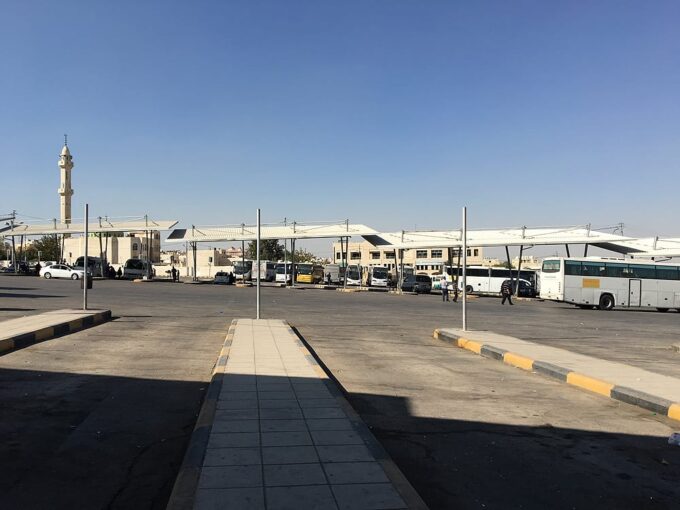 There are a number of shared minibus / shuttles also called servees that departs from specific bus stations in Amman and goes outside a city. This is the same minibuses that the locals take so you'll likely be the only tourist on it. The bus that departs to Wadi Musa, Wadi Rum, and Aqaba that departs from the South Bus Station (Al Wehdat Bus Station or "Mujemma Al-Janoob" in Arabic).
The shuttles / minibuses don't have a specific departure time – they only leave when the bus is full. I didn't wait for too long (maybe around 30 minutes) since the shuttles only take 12-15 people. The shuttles that head south of Amman depart from this station. For exact coordinates, and latest information, I find this particular website to be very helpful.
Pro Tip: For destinations SOUTH of Amman (i.e. Wadi Rum, Petra), your bus will depart from the "Al Wehdat Bus Station" (South Terminal Bus Station). To go NORTH of Amman (Jerash/Al'Joun Castle), you need to depart from the "Tabarbour bus station" (North Terminal Bus Station)
The minibuses depart from 9-4pm from the Amman station and from Wadi Musa/Petra between 6am-1pm. The fee for the minibus may vary – various sites indicates JOD5 (C$10) as the base price, but I paid JOD3.5 (CAD$7) which also covers the cost of my luggage. There are no specific stops so if you need to get off the bus, just knock on the side of the car to let the driver know you want to stop here.
Fun Fact: Men and women don't sit together (unless they're married); so expect to be moved around a little bit. Your luggage will be stored at the back!
3. Taxis or Private Drivers (JD80-85)
There are taxi drivers that can drive you between Amman and Wadi Musa/Petra. You can also hire drivers for the day and they are more than happy to work out a better pricing for it. If you're travelling as a group, the private driver is your best bet. Pricing between major routes is quite uniformed and almost identical from different providers.
Alternatively, if you are booking a tour, you can ask for them to help arrange a taxi for you. You'll likely get a better deal that way and won't get charged an obscene amount as a tourist. You can prebook the taxi's ahead of time so they pick you up from the hotel. Generally one-way from Amman to Petra costs JOD80-85 (C$160-170) and payment is payable directly to the driver.
Cash is king in Jordan – best to bring enough Jordanian Dinars for your entire trip as ATMs are scarce. There are a number of black market currency exchange spots near the main tourist areas for USD/Euros if you're in a pinch
I recommend booking with Saleh Al-Qaisi (Phone: 0798297971) or ask the owner of Sydney Hotel (Tariq) for Saleh, the driver; he was my driver in Amman and drove me around to Jerash and eventually to the King Hussein / Allenby border to Israel. His pricing is very reasonable and I booked him through my hotel (Sydney Hotel in Amman)
How to Get to Petra from Wadi Rum
1. Bus from Petra to Wadi Rum: Tourist Minibus/Shuttle (JD7-10)
If travelling from Wadi Rum, you can take one of the independently run shuttle bus between Wadi Rum and Petra. It looks like the one below. Cost is JOD7 / CAD$15 and it picks you up from Rum Village at around 8:30AM. It also operates the other way around, departing from Petra/Wadi Musa to Wadi Rum at around 6AM.
The best way to arrange this transportation is to as your hotel operator/tour organizer to book this service for you. They will call the driver who will let you know what time to be ready. This is a tourist bus so you'll be picking up a few people before departing.
Don't be late for the pickup – not only will you be angering the other tourists on the bus, but they don't wait too long at each pickup location either.
2. Taxi or private transfer (JD40-45)
You can also take a taxi between Wadi Rum and Petra if you need to arrive by a specific time. Taxis cost JOD40-45 (C$80/85) for a one-hour journey per vehicle. It's much cheaper if you can split the cost with other guests.
How to get to Petra from Aqaba
If you are coming from Aqaba, you'll need to get to Wadi Rum first via taxi. No other points offer public transportation so your best bet would be a taxi if you're based anywhere else other than the two locations I've shared here.
How to get to Petra from Israel (Jerusalem or Tel Aviv)
The most convenient, safest, and easiest way to tour Petra from Israel is through an organized tour. Tour groups have an easier time at the border (there are special entry rules for tour groups), pay a lower visa fee and have their own vehicle.
The most budget-friendly, and highly rated option I came across during my trip is Abraham Tours. They have tours that go to Egypt in addition to Jordan, and departs from Tel Aviv or Jerusalem.
Have you been to Petra or Jordan? What are your best tips to get to Petra from surrounding countries/cities?
Want more Jordan Inspiration?