When planning my trip to Petra in Jordan, I knew that this trip had to be perfect since it was one of those destinations that I wasn't sure was going to be returning to in the near future. All those research paid off because I felt all those questions I had pre-trip was answered through intensive preparation.
Petra is a destination that seems to top a lot of people's bucket list over and over again. I felt that it was a trip well worth the effort, time and my biggest regret was only spending one day there which was hardly enough to truly appreciate the scale, size, and impact of the city during the Nabatean days. Below, I have put together answers to some questions I had prior to coming to Petra.
1. How Much Does it Cost to go to Petra?
Petra is a destination where the longer you stay, the cheaper it gets. Given its size, you need a few days to really understand and appreciate it. Tickets can be purchased at their office and the details are provided on the official Visit Petra site. Ticket prices range anywhere between JOD50-90 (CAD$100-180) and as of February 2018, 1-day ticket is JOD50/CAD$100 per person. The cost for locals is JOD1/CAD$2.
It's best to stay at least 1 night in Jordan to avoid paying the non-accommodated visitor fee o f JOD90 / CAD$180 (meaning you travel to Petra strictly as a day trip, arriving and departing from Jordanian borders on the same day). If you plan on visiting other sites in Jordan including Wadi Rum or Jerash, it may be worth looking into getting the Jordan Pass (JOD70 / CAD$140) which is cheaper and more convenient for independent travelers (i.e. not part of a group tour).
Note that Petra by Night tickets have to be purchased separately (JOD17/CAD$34) and you must present a day-time ticket to buy it. The Petra by Night tickets are not included in the Jordan Pass.
Be sure to bring your passport/ID with you when purchasing tickets.
2. Where Should I Stay?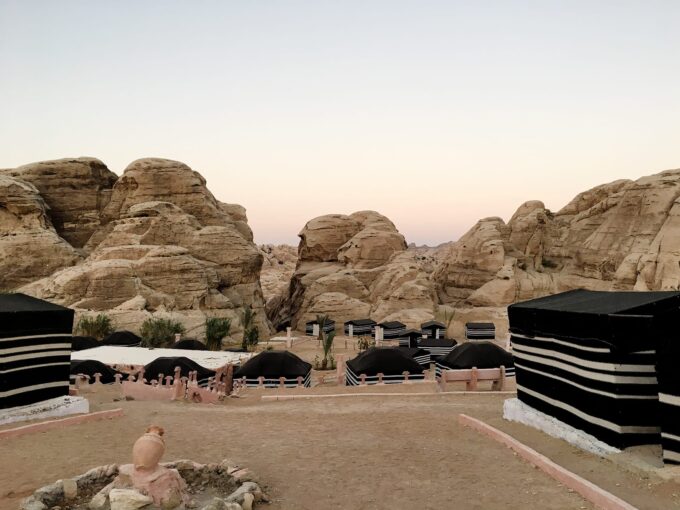 Petra is a whole city so to get the most of it, it's worth staying for a few days. Wadi Musa is the village that has sprung up outside of Petra which caters to tourists looking to be close to Petra. If staying in the city, you'll need to add 5-15 minutes drive to get to Petra as walking could be tough due to the hilly nature of the village.
There are a lot of budget options you can find throughout Wadi Musa and the fastest and cheapest way to check availabilities is through Booking.com (even if you plan on booking directly, you will often be redirected to Booking.com or other third-party intermediary). Most (if not all) accommodations are aware of tourist needs like transportation to Petra itself, or Wadi Rum, so they can help arrange transportation, lunches, and helping you find grocery ahead of your trip.
The closest budget option to the Petra Visitor Centre entrance are Petra Moon Hotel (JOD100+ / C$200 per night) and the Petra Guest House Hotel (JOD 88+ / CAD$157 per night). While the more luxurious option is the Movenpick Resort Petra starting at JOD 133 / CAD$266. I stayed at the Seven Wonders Bedouin Camp in Wadi Musa for JOD45 / CAD$90 a night.
3. How to Get to Petra from Wadi Musa
If you're staying in the village of Wadi Musa, Petra is a short walk away. Some hotels provide shuttles that take you straight to the visitor entrance. Otherwise, you can always take the taxi for as little as JOD2-4 (be sure to bargain before getting in!) It may not be as practical to walk as Wadi Musa is a very hilly area.
4. How to Get to Petra or Wadi Musa from Amman / Wadi Rum / Aqaba
If travelling to Petra from outside Wadi Musa, I will redirect you to another post where I have detailed budget options for independent traveler to choose from. There is 1 public tourist bus that is available from Amman (JETT Bus), otherwise, you'll likely have to take the taxi to get to Petra.
5. How to get to Petra from Israel (Tel Aviv or Jerusalem)?
There are a number of tour operators that run day-trip or multi-day tours departing from Tel Aviv and Jerusalem. A great budget option is Abraham Tours which also runs a hostel chain as well. You get discounts if you book their tours and hostel together so it may be worth looking into. Abraham Tours is one of the most popular budget tour operators so if possible, book ahead of time to prevent your preferred dates from gettin sold out.
6. Is there a guided tour of Petra?
A guide can be booked at the visitor centre and a day guide costs JOD50/CAD$100. I feel that Petra is one of those sites where your experience will be so enriched with a guide so if there's enough people in the group, it is worth splitting the cost.
There are also a lot of trails in Petra which are not marked well so it's very easy and dangerous to get lost (happened to me several times). The Bedouin guides can often provide the best and not-so-obvious trail/views throughout so it is worth the price should you feel inclined to.
7. When Should I go to Petra?
I would advise going to Petra during the low season or spring/fall/winter seasons for 2 practical reasons: 1) there are fewer people around (and this place can get crowded really easily!) and 2) the temperature is far more forgiving as there aren't a lot of shade in the open city.
If you plan on visiting Petra at night, you'll want to make sure you are there on the evening of Monday / Thursday / Friday, the only 3 days that Petra is open at night for this activity.
8. Are there any food / lunch options in Petra?
Yes, there are restaurants inside of Petra. As far as I remember, there is one at 1) immediately before the Siq starts, 2) near the tourist shop by the Colonnaded Street, and 3) when you get to the Monastery. Throughout the hike up to the Monastery, there are small shops that sell drinks dotted throughout.
As you can imagine, the prices inside these shops are astronomical (JOD10/CAD$20 is pretty average for a sandwich; drinks are around JOD3/CAD$6) so it's best to see if your hotel can pack you a lunch or to buy grocery ahead of time and pack it in your bag.
Please don't forget to bring enough water (I took 1.5l bottle with me) and some electrolyte to help you stay hydrated.
9. Are there washrooms in Petra?
Yes there are porta-potty style washrooms throughout the site. Take a map or screenshot of the site before you go so you'll know where to go.
10. What Should I Wear?
Comfortable sneakers is highly recommended as you're going to be walking on a lot of uneven, rocky, and hilly areas. For women, erring on the side of conservatism is always recommended and this means covering your shoulders and knees. Petra is one of the most visited tourist sites in Jordan so you will see people wearing all sorts of clothes including tank tops and it seems most locals are pretty apathetic about it.
11. What Should I Bring?
Bring things to protect you from the elements; this includes a pair of sunglasses, hat, sunscreen, a scarf/sweater in case it gets really chilly in the shaded areas.
Bring extra cash as there is some souvenir shops inside worth picking up a thing or two.
12. Is Petra by Night Worth the Visit?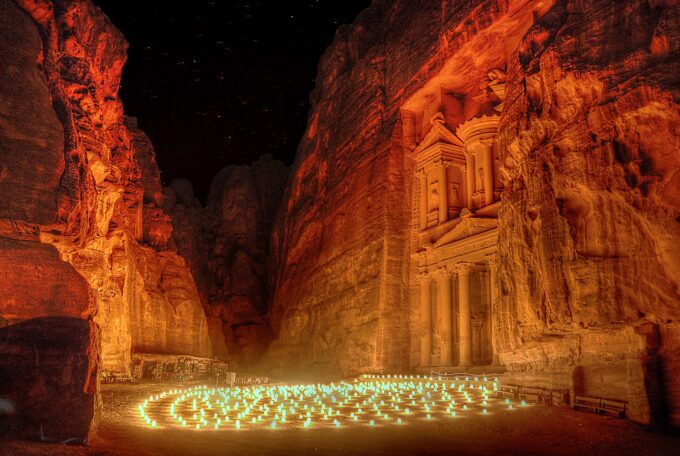 I'm in the camp that says Petra by Night is not worth spending the extra money for. From what I have read and heard from people I met, the experience is simply not worth the price. Given there's no cap to the number of tickets sold per day, the area in front of the Treasury gets crowded really easily. The experience doesn't feel like as authentic and there are people there who only cares about the Instagram snap over the actual experience itself.
I'm not the biggest fan of crowds so that was another reason for me staying back. If you feel it's worth the money then it's a great experience to have!
13. The Working Animals in Petra
There are a lot of donkeys/camels/horses – working animals – in Petra that caters to tourists. They are not handled and taken care of in the best way possible so I would avoid it unless you really have to use it. I have seen instances where a donkey is forced to carry 2-3 tourists so you can imagine that their treatment is hardly something to be promoted.
If you really need to take them, the cost of the animals from the Visitor Centre is included in your ticket price, but you will be asked to pay them tips which would be anywhere from JOD30+ (CAD$60+) If you see cases of animal abuse, you are encouraged to report it.
14. Be Wary of "Sex Sparrow" Guides Who Specifically Target Solo Female Travelers
It didn't occur to me in Petra, but it did in Wadi Rum so I feel it's worthwhile to raise a point here. There are guides (they're known specifically as "Sex Sparrows of Petra") throughout the major tourist spots who specifically target solo female travelers by suggesting them to take a "non-touristy" route, discover hidden parts, inviting them to see their caves (local Bedouins still live in the caves throughout Petra), offering drinks and so on.
The men are often dressed and wears kohl makeup similar to Jack Sparrow (hence why they're often referred to as Sex Sparrows) to make their eyes look more intense. There have been allegations of attacks and assaults so it's best to be wary and extra cautious when being approached. There is an active Instagram account that keeps track and calls out these scammers, called shakira_the_donkey.
This is not to say that all of Jordan is dangerous – I have taken the taxi, been driven in the middle of the night and very early in the morning alone so generally speaking so generally speaking, I did feel quite safe in Jordan.
Want more Jordan Inspiration?
Have you been to Petra? What was your experience? Do you have any other tips to add?