The very mention of the ancient lost (now found) city of Petra is going to liven up any conversations you're in, guaranteed. Having taken the trip in October 2017, Petra still retains this mystical aura about it and everyone just seems to want to know your take on it. If you have the time, I highly suggest you to go through my list of things to do in Petra below and tailor it to fit your itinerary and fitness level to get the most out of your experience!
It's very common to see travellers and tourists visiting Petra strictly for the Treasury, made famous after being featured in Indiana Jones and the Last Crusade. But given its vastness, it would be remiss to be limited to just one structure, given that Petra was a whole metropolis with many parts to it to discover.
If you are planning to stay in Petra for more than one day (i.e. not just a day trip), consider getting a Jordan Pass as it can save you a significant amount of money by skipping the entry fees on various tourist sites.
Be sure to take a moment to go through my Jordan trip cost breakdown to give you a better sense of how much it would cost to DIY your itinerary through Jordan as a solo female traveller.
If you enjoy this post, discover more of
my Jordan travels here!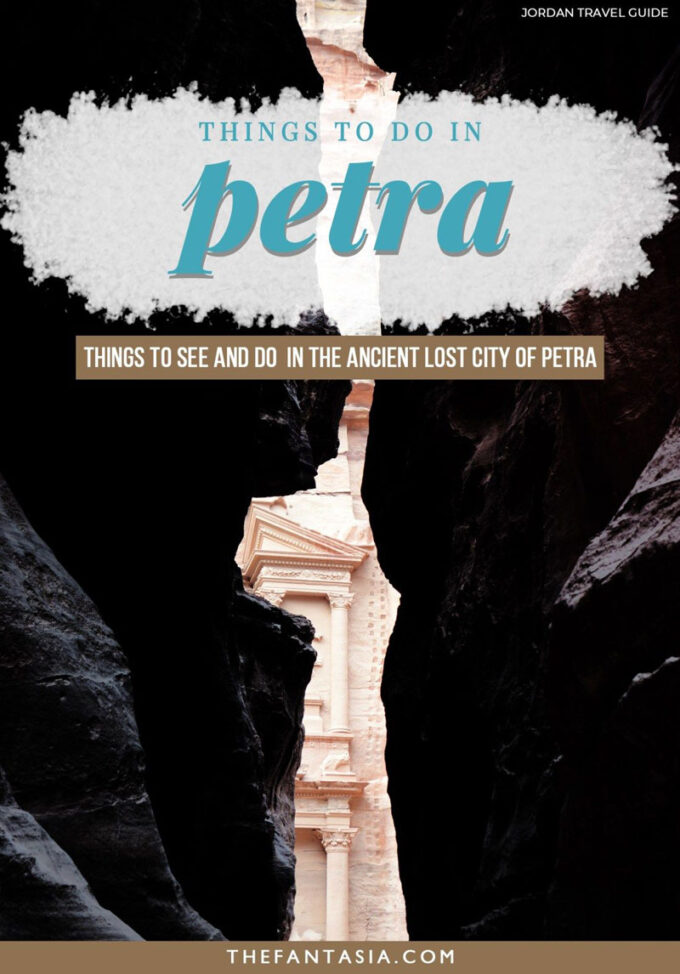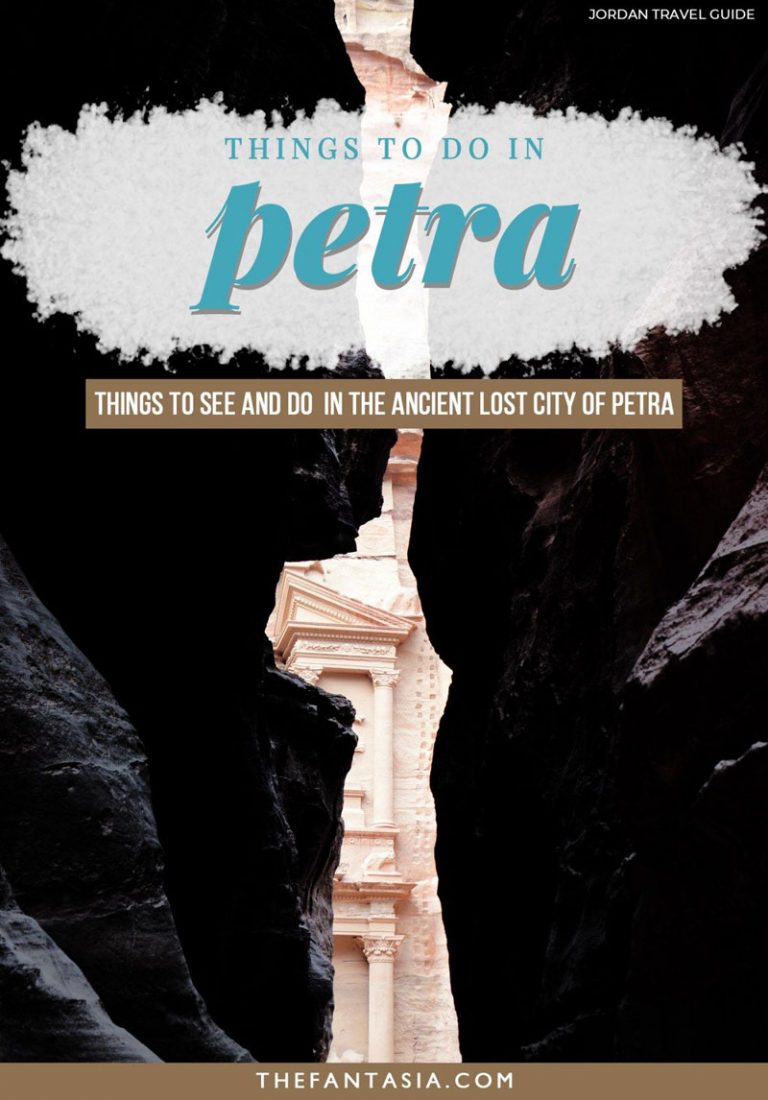 Things to do in Petra | What to see and do
I won't lie that visiting Petra for only 1 day was one of my biggest travel regrets. I wished I could have spent 3 days in Petra, a week in Wadi Rum, but alas, the timing simply didn't work out. Logistically, it makes a lot of sense to spend a few days in Petra as distances between the points of interest and extent of the area makes it something worth spending time to discover.
Plus, if you go at a more leisurely pace, avoid the hottest hours of the day, you'll have a much better time and enjoy the experience a lot more than trying to rush it to check it off your list.
1. The Treasury (Al-Khazneh)
I know this post says "beyond the Treasury" but it would be remiss on my part to exclude it! I have included it for the sake of completion and because I think anything that ignores it would be incomplete.
The iconic facade of the Treasury has been endlessly featured on Lonely Planet guides, Discovery/History Channel documentaries so this is the place to get your shot to prove that you're there! The elaborate rock cut structure was made famous as the final resting place of the Holy Grail in the Indiana Jones and the Last Crusade movie. This structure is the most famous within the well-developed metropolis of Petra but don't spend too long here are there as still plenty of viewpoints, and other structures worth seeing and exploring!
Pro Tip: Get your shot of the facade of the treasury and be on your way! This area gets packed super quickly as it's usually the first pit stop for many travellers. Getting ahead of the route will help you enjoy the other parts of the site with less crowd
2. The Siq (As-Siq)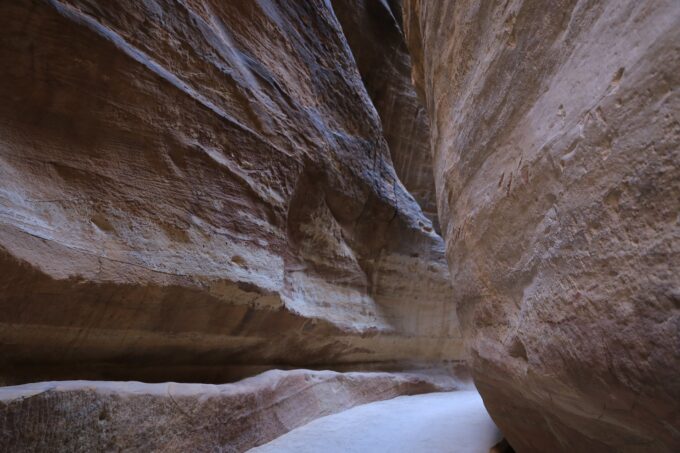 The Siq is a narrow passage formed by natural sandstones which measures 3–4 m (9.8–13.1 ft) wide that leads to the Treasury. This is the path that everyone takes to see the Treasury and is a highly enjoyable trek – don't forget to take some photos and videos as different parts of the passage exude a completely different vibe/aura than the next.
The path is wide enough to accommodate tour groups and tuk-tuk's though you should keep your eyes and ears on alert at all times because some curves in the passage hide incoming traffic.
The natural sandstone that "guards" the passage provides a natural shade and keeps the narrow passage relatively cool even during the day. There are plenty of chairs and attendants cleaning the passageway to keep it looking picture perfect at all times. It's also fascinating to see remnants of the feats of engineering that allowed the Nabateans to flourish here, and that is the almost-perfect condition of the water pipes and channels that run throughout the Siq.
3. The Monastery (Al-Deir)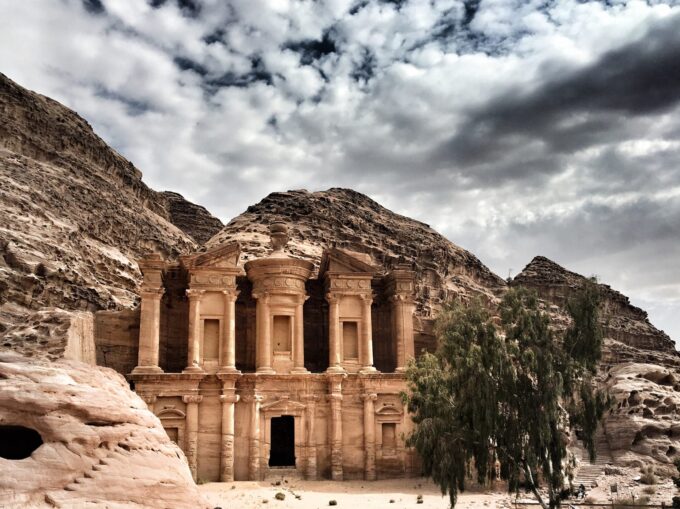 The Monastery is located on the "opposite" end of the city compared to where the Treasury is located according the tourist map. I opted to make this my second stop as I wanted to experience the hike (lots of regrets but at the end, it was worth every step) and see the view that is considered highly elusive and unique when I leave Petra.
The Monastery is not the easiest trek to do and I only recommend it if you are fit enough to do an intensive 1-hour hike, most of it uphill, and the flat ones being quite uneven, so wear proper shoes! It took me 45 minutes though I'm sure someone who's more fit than myself could easily conquer it within 30 minutes or less.
You don't have to be a super-fit athlete by any means, but just manage your expectation so you don't come away disappointed. There are about 900 steps and the trek takes anywhere between 1-1.5 hours.
The path to the Monastery is not marked, but you'll know you're on the right path because there are souvenir shops that dots almost the entire path, the presence of other tourists and locals hawking the service of their camels, horses or donkeys to take you up.
From the Treasury to the Monastery, you will pass by the Street of Facades, Colonnaded Street, the Ampitheatre all of which I will detail below.
4. Treasury from Above
For a unique view of the Treasury (because front of the Treasury is pretty much the only shot you can get!) is from a viewpoint higher than the top of the Treasury itself, giving you an uninterrupted view of the Treasury and guests below. The sweeping view is highly impressive but could be difficult if you don't have a guide or know where to go. Similar to the trek to the Monastery, the trail isn't well-marked so your best bet would be to follow any guides or tourists taking the trail to get an idea on where you should go.
This viewpoint, not only offers a striking view of the Treasury but also a sweeping, uninterrupted view of the surrounding area that will make you go quiet in contemplation of how advanced the Nabateans were even 3000 years ago! Getting up here, as you might imagine, is a completely uphill hike (you are scaling the equivalent of the height of the Treasury afterall!)
I don't have the exact route to get here (you'll notice that the trail markings throughout Petra is quite lacking but makes it all the more fun to explore!) so it's best to compare the recent blog posts or recent reviews on TripAdvisor online to get a better idea on how to get there.
Alternatively, you could always hire a Bedouin guide to take you up there. If you are a female, it's best to go with at least 1 other person because you will spend a majority of the time fairly isolated and there are plenty of unscrupulous stories about the Sex Sparrows of Petra.
5. Little Petra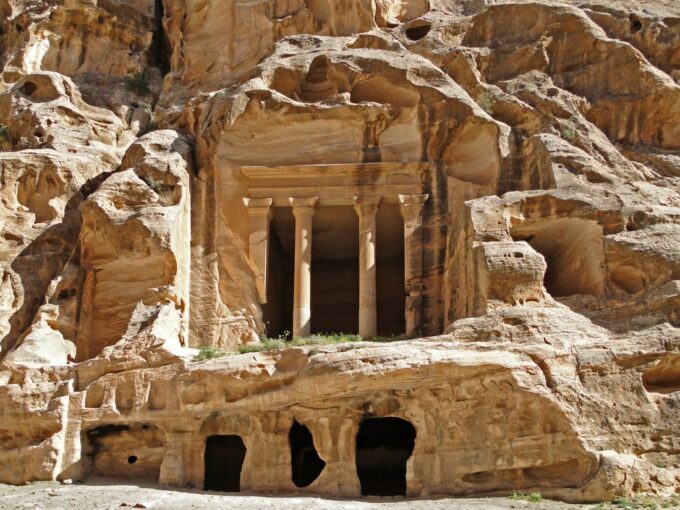 Little Petra is located in the Northern suburb of Wadi Musa, located about 9km away from the town. It earned its name given the site's familiar carved facades, narrow passageway (albeit shorter one) that resembles the Siq as well as similar carvings but without the crowds that you would see all the Treasury. There are a few buses and guides that go here but generally speaking it's a much more pleasant, less-crowded experience. It is also an easier visit given its much smaller scale so there aren't as much walking or hiking involved.
If you want a taste of Petra "off the beaten path", this would be a great way to do it. I didn't get a chance to due to timing constraint but there's no added cost to go here, aside from the cost of the taxi to get here. It doesn't take as long to visit so it's something that can be easily done over a few hours to half a day.
6. High Place of Sacrifice (Al-Madbah)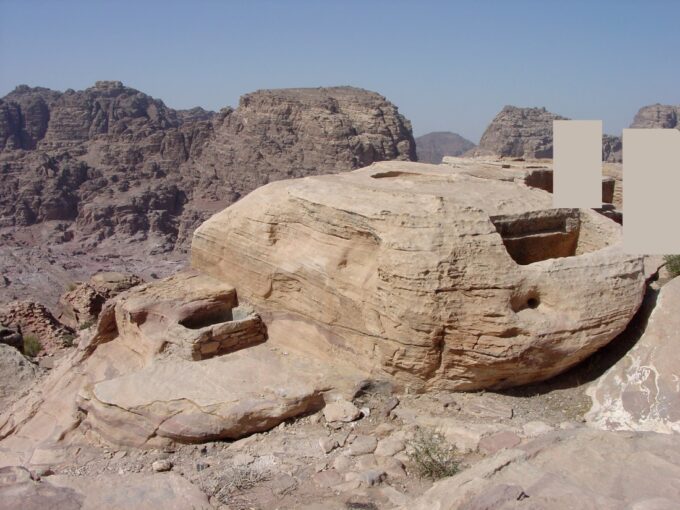 At the top of a mountaintop, there's an altar used (as you guessed) for animal sacrifices to present as offerings. It is believed, that the higher the alter, the closer the offering is to God or the deities for which the offering is made. Getting here requires a shorter hike, around 20-30 minutes, veering off to the steps near the Royal Tombs. Surrounding the alter is a dizzying and highly impressive view of the city that's quite unlike any other.
7. Royal Tombs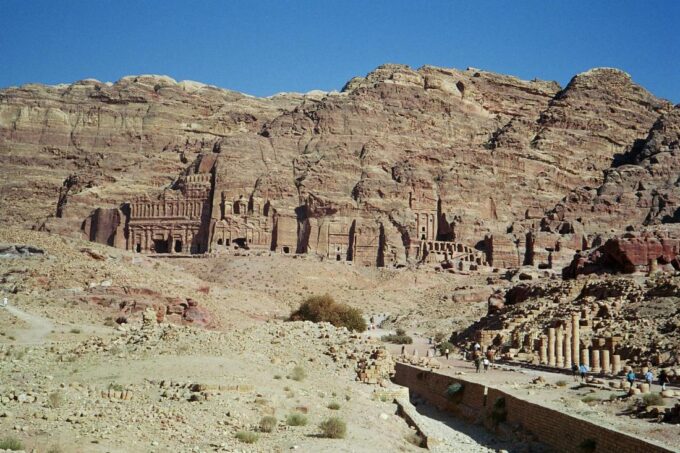 The Royal Tombs of Petra is a unique stretch of tombs built into the sandstone carving on a mountainside. It is supposed to house the tomb of Nabataean King Malchus II. The burial chambers and site is generally incredible well-preserved and you can still see a lot of inscriptions and impressive sandstone colours that remained vivid through the passage of time.
The stairs aren't as steep and the lack of crowd makes the site highly impressive to soak up. I know there are plenty of rock carvings, inscriptions and sandstone formations at this point that you may feel "Petra-ed" out or find the sites repetitive, but every carving and site has its own unique history that is worth exploring.
8. Colonnaded Street & Nabatean Ampitheatre
You can get a sense of Roman influence as you walk through the Colonnaded Street past the Treasury. Here you'll come across a massive ampitheatre, reminiscent of the one in Athens' Parthenon, and Roman inspired columns. It was supposedly the area where vendors would sell their wares as the citizens would go about their day.
Both the Colonnaded Street and Ampitheatre stuck out to me relative to the Nabatean structures all around. This section is also relatively flat and easy to walk compared to the more hilly, rocky rest of the journey. There is a souvenir shop that you'll encounter if coming from the direction of the Treasury, where you can pick up some refreshments or see local wares before you start down the Colonnaded Street.
9. Street of Facades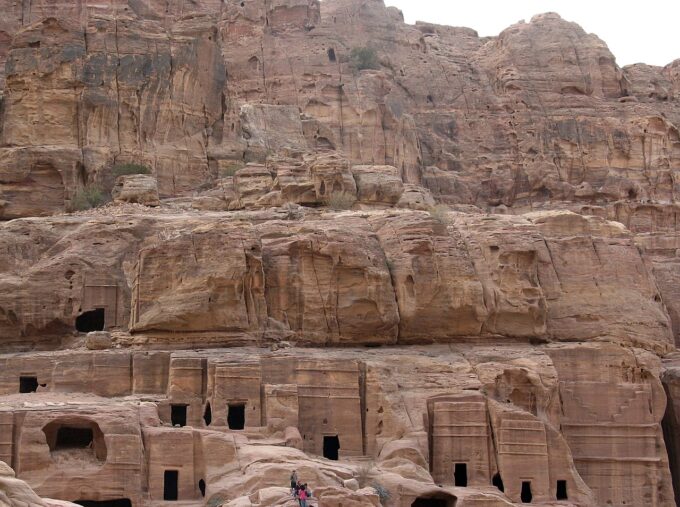 I'm always so excited to discover a well-preserved part of a city and the Street of Facades is one of the many unique remnants of the Nabatean culture still visible and easy to access today. The caves house tombs of prominent officials in its heyday and the cave also double as a temporary residence for visiting family members. You could ask for a guide to take you there to discover more of the caves and different tombs that are there.
10. Petra by Night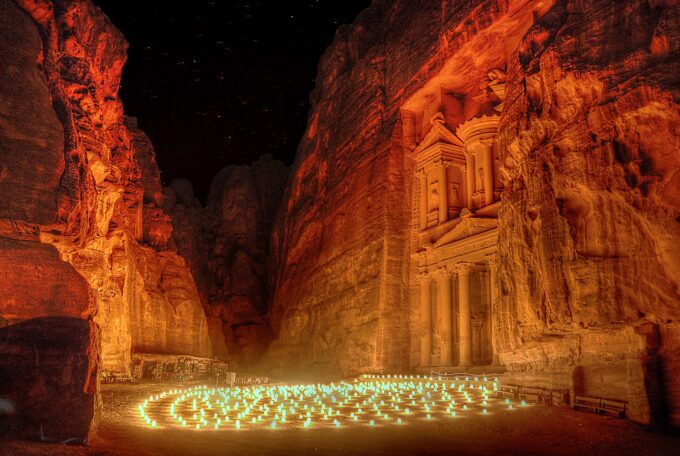 One of the best activities to do in Petra is to visit it at night. The experience is highly unique with the Siq and the area in front of Petra lit up with candles which adds to the stunning red and orange facade. It's an activity that's run by the official group that manages Petra. It's a highly unique experience that occurs three times a week for 2 hours.
Your Petra ticket excludes this particular activity so you do have to purchase this ticket separately. You need to purchase tickets in advance costing JD17 (Roughly CAD$30-35) and you can't do Petra by Night without the day time ticket.
I opted not to do Petra by Night as I arrived on one of the days that didn't run it. Upon further research, it seems that most people are quite split on the value of the activity, some labeling it as quite disappointing given that there are no limits on the number of people that can enter on a particular night. That essentially means that the activity is often so packed that it's hard to get good photographs or enjoy the experience.
11. Best View in Petra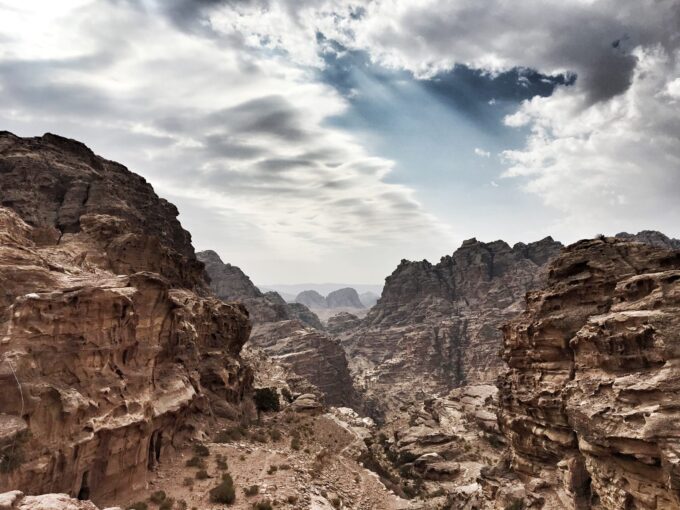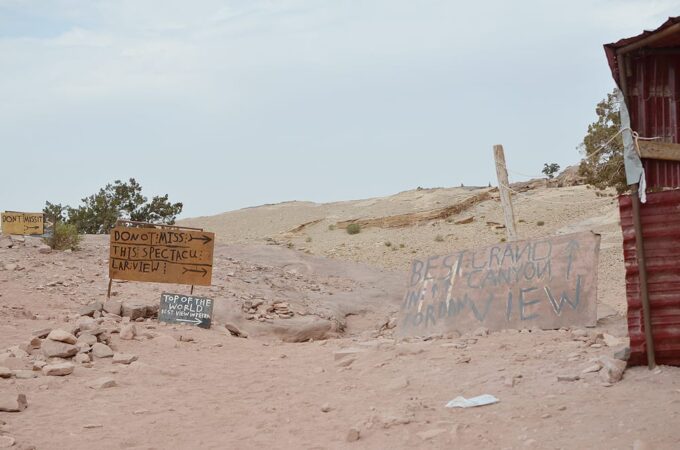 I'm not normally one to blindly follow handwritten signs posted on a cardboard all over the empty space once I got to the Monastery. But I was intrigued, and if I already spent the 1 hour to hike up here, I might as well complete the rest of the journey.
Deciding to continue on and do a bit more hiking past the Monastery, I discovered that there are several viewpoints that the Bedouins who live here have discovered. Walking for another 10-15 minutes, you will start seeing those cardboard signs, and I opted to follow one which led me to this stunning view. There's a few different spots you can choose to visit should you have the energy and I think it's worth discovering, and sitting down for a few moments' respite before you head back down!
Want more Jordan Inspiration?