The MAC Studio Fix Fluid Foundation is a lightweight medium-coverage foundation with an oil-control formula and a natural matte finish. I've long been a fan of this foundation and as one of my very first high-end beauty purchases, this product has a special place in my heart! 
No products found.
This foundation is a classic – it's been around for ages, and there have been so many drugstore dupes for it. Nothing like the original product though!
This foundation is also one of the very few beauty products that I've purchased over and over again which I think is a testament to how much I love this product. It is also that kind of foundation that I can love and wear for months then tuck away until the next season.
MAC Studio Fix Fluid Foundation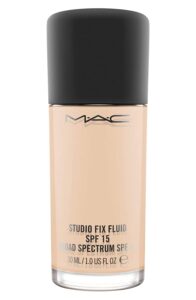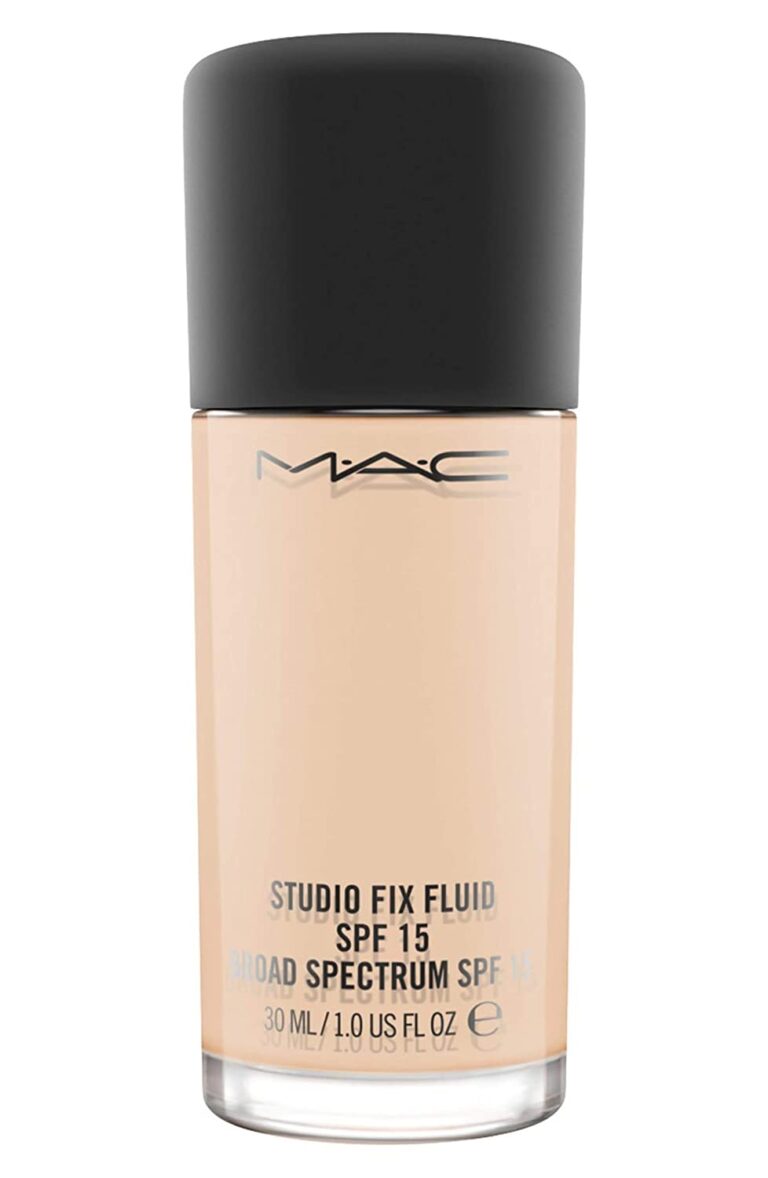 The MACStudio Fix Fluid Foundation comes in a standard 1 fluid ounce, 30ml glass bottle with a wide opening. In the last year, I've had to purchase a $12 pump to go with this which is one of the reasons it's a source of annoyance for many. For me, the lack of a pump is not a big deal – I've used it for years without one and you just learn to know how much to dispense.
MAC Studio Fix Fluid Foundation Application, Formula and Finish
The foundation is lightweight and is quite pigmented, so a little bit will go a long way. It has a thin liquid consistency – very similar to the Estée Lauder Double Wear Foundation – which means it's best applied with a brush or your fingers.
I've found that the beauty blender tends to absorb too much of the product, and doesn't give quite the same kind of coverage that the brush would. Given how pigmented the foundation is, I'd recommend starting with a tiny amount and building up from there.
The MACStudio Fix Fluid Foundation dries to a natural matte finish that doesn't cling on any dry spots or the contours of your face unless you over-apply. It's best to not go over the entire face with a second layer of foundation as it will get cakey and makeup-like very quickly. Instead, grab a concealer or if you really want to use this, use a spot-concealing technique to minimize the second layer.
I have normal-dry skin so this foundation creates a natural-looking finish that doesn't transfer nor get patchy throughout the day – it's one of my favorite long-lasting formulae!
The formula dries down without needing a setting powder, and I've rarely felt the need to set except during the summer / warmer weather. I find the foundation to deliver a lovely medium-coverage finish – it covers up most minor imperfections but requires a bit more for those bad skin days and very pigmented spots/redness.
The foundation claims to wear well for 16 hours – I've worn this for a good 10-12 hours with no issues but I don't think most people would wear their makeup for that long. I haven't had any issues with the formula breaking up or getting patchy on the face at all. It's a low-maintenance foundation that really does a lot without much effort.
Read More: Laura Mercier Silk Creme Photo Edition Foundation Review.
MAC Studio Fix Fluid Foundation Shade Selection, and Coverage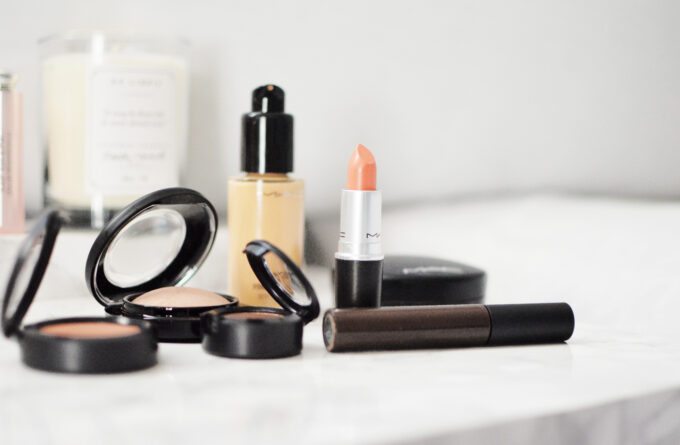 Like all brands owned by Estée Lauder, MAC offers a lovely selection of colors that covers a variety of skin undertones thereby being a great fit for women of colours. I personally wear NC25 in the winter and mix it with a little bit of a darker foundation during the summer.
On its own, this foundation provides beautiful coverage. When I need a bit more, I'll apply a second layer but that's often unnecessary. When I want to achieve a perfect-skin look, I'll pair this foundation with the MAC Mineralize Skinfinish in Natural Medium  – I've never had so many people compliment my "perfect" doll-like skin as much as when I'm wearing these two combined!
For some additional reference, I wear the following shades in other brands:
Read More: MAC Pro Longwear Nourishing Waterproof Foundation.
A Few Issues to Note with the MAC Studio Fix Fluid Foundation
This formula has been around for a while and I know one of the biggest concerns people had was how it tends to break them out. In the last 5 years that I've been using this (admittedly, quite on and off), I've never had any issues with my skin getting clogged up and breaking out.
There are three drawbacks that I can think of with this foundation – the packaging with its wide opening, the smell, and how it wears during warmer weather. The packaging is a matter of preference, and for those willing to go the extra mile, the pump is an investment worth spending money on only if you plan on repurchasing.
The pump can be used on foundations with similar packagings like the NARS Sheer Glow or Estée Lauder Double Wear Foundation (Though you may have to trim the bottom to ensure fit). I do know that this foundation has a bit of a "paint"-like smell although I find that with a lot of MAC foundations/products so it wasn't too much of a problem for me.
During the warmer season, this foundation needs a little more work to stay on the skin compared to the colder weather. I find that I have to set this foundation during this summer every morning if I want this to last until the end of the day. So while it adheres to the skin well without the heat, it does need some help to ensure "grip" during the warmer weather.
Read More: Estée Lauder Double Wear Foundation
Overall Thoughts with the MAC Studio Fix Fluid Foundation
Despite the few issues with this foundation, it remains to be my favorite go-to foundation for the last 5+ years that I've been into wearing makeup. A big part of it comes from the fact that most issues with this product (the lack of pump, paint-like smell, formula, etc) don't really bother me.
It is a foundation that really needs to work for you to love it. It's not a foundation I'd readily recommend to everyone as it's quite a picky foundation. If you are in the market for a long-lasting, medium coverage foundation that does a fantastic job at everything and you have low-maintenance normal-dry skin, you might want to check the MAC Studio Fix Fluid Foundation out!
Have you tried the MAC Studio Fix Fluid Foundation?
You should also take a look at the following list: