At the barest hint of spring (or any seasonal change for that matter), it signals a time for a makeup change-up. If you've followed or read my blog for some time, you'll know that it takes a lot for me to change up my routine. I'm all about finishing what I already have open before opening a new product because I like to keep my makeup stash as sanitary as possible! But the warmer weather that we had throughout February simply meant a need to bring out some new products and colours!
I was cleaning up a lot of my makeup the other day and decided to bring out a few new items that I haven't used and/or tested in a while. Let me know what your current makeup routine looks like!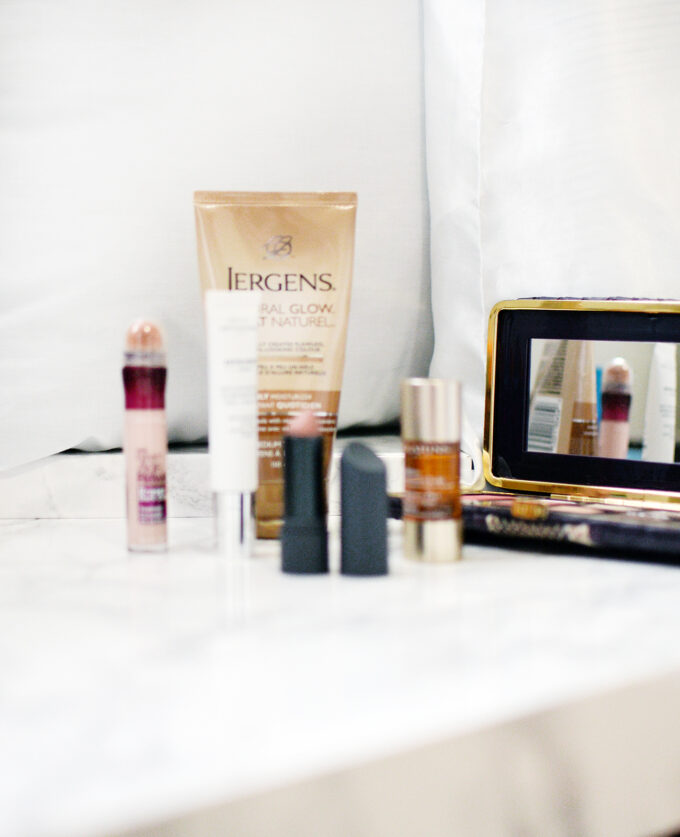 My skin managed to get a couple of tones lighter during this past winter. I've been incorporating some fake-tan products that I've really gotten along well with: The JergensNatural Glow Daily Moisturizer and the ClarinsRadiance Plus Golden Glow Booster. The JergensNatural Glow Daily Moisturizer for a very natural-looking, gradual tan on the body that works best when combined when mixed with a more potent at-home tanning formula. The extra work is a hassle but it's been worth it for a much more natural-looking and less prone to ending up like a streaky mess.
I also have been loving adding a couple of drops of the ClarinsRadiance Plus Golden Glow Booster ($31, available here) for an extra boost of colour on the face (although you can use it on the body as well). The tanning effect is very gradual but takes as short as overnight to get there. I use this before bed (lay a towel over your pillow to avoid smearing) mixed with my night cream and The Ordinary100% Rosehip Oil and it gives my skin a lovely tanned, glowy look. I only have to "touch up" the tan every few weeks so it's a staple product all-year round (In the summer because my sunscreen makes my face paler than the rest).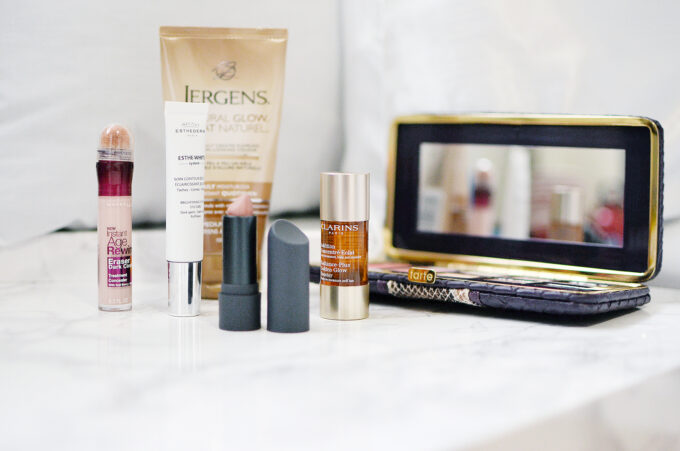 For whatever reason, the dark circles around my eyes haven't gotten better despite getting myself to bed earlier. I've been using a combination of treatment and concealing during the day. For treatment, I've been using the Institut EsthedermBrightening Youth Eye Care which promises to really brighten the undereye circles quickly and effectively. I really like the stainless-steel slanted applicator which not only massages the product into the skin as I apply the cream, but also for the cooling / depuffing effect. Although I haven't noticed a significant reduction in my dark circles, I can say that the area isn't as puffy!
During the day, I rely heavily on the MaybellineInstant Age Rewind Dark Circle Concealer ($8.99, available here) to conceal and highlight. This product has been getting so much raves on social media since I started out with makeup so I feel like I'm 5+ year's late to the party. I use the shade "Brighten" which has a pink undertone, and it gives my skin the subtlest brightening effect. I would say that this particular shade needs to be paired with another concealer to give it that distinct contouring look. On its own, it does a decent job at covering the dark circles under my eyes.

One of the products that I was so excited about re-introducing into my collection was the TarteEye & Cheek Palette which I bought on sale a few years ago. I forgot how much I loved this product – the two blushes are so pigmented, and the eyeshadow colours are exactly what I would wear on a daily basis! The quality of the pigmentation of ALL the colours included and the quality are so top-notch. Similar to a few of my favourite products, this palette is quickly replacing my staple LORACPro Palette.
The last product that I've been loving to use in my routine is the Bite BeautyAmuse Bouche in Honeycomb. It's not exactly an old product as it is something that I've been using since I got it very recently from Influenster. I am absolutely in love with the creamy food-grade formula and I'm starting to warm up to the colour a lot. I definitely see myself buying a few more colours in the near future!

What are you favourite products recently?
---
Disclaimer:
This post features product(s) provided for editorial consideration. All opinions are my own. For more information about my review policy, please
click here
.
---