I have to admit that self-tanning isn't something that I excel at. That and Mario Kart. Don't spread this around, but I don't recall being extremely good at either at all. So after 21920481+ YouTube videos, blog tutorials, and memorizing Cosmopolitan articles on "How to Apply Self Tanner like a Pro!" while downing multiple glasses of wine (to numb the pain inflicted by a potential self-tanning disaster), I thought I would put together a list of 3 beginner-approved self-tanning products.
The best part is that these products won't break the bank! At $20 or less, these products are a great way if you're just dipping your toe into the wonderful world of self-tanning. Honestly, I refuse to spend $40 on a high-end self tanning bottle when the result depends a LOT on my own application and skills. Maybe later.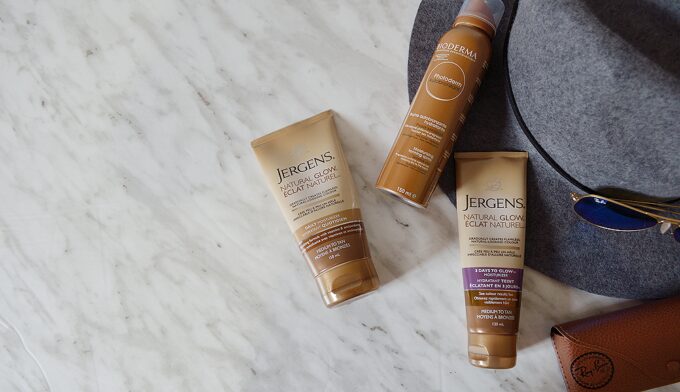 The good news is that these products can be used individually or with each other – depending on your time constraint and preference. I have light-medium skintone so I typically go with self-tanners that lean towards the darker end of the spectrum.
Jergens Natural Glow 3 Days to Glow Moisturizer – $13
For some reason, when I think of at home self-tanner, my mind immediately jumps to this product, and no other brands. The JergensNatural Glow 3 Days to Glow Moisturizer promises to deliver a healthy, tanned skin in 3 days with daily application. A pretty tall promise when you think about it! The back of the product has colour guideline which I find completely useless, so you have to use your gut a little bit here. The good news is that because it takes 3 days to develop, you can control how much colour on your skin, so the risk of going orange is fairly minimal.
I like that it is a moisturizer/lotion format which makes it easy to spread on the body, and minimizes the risk of streaking or uneven finish. I work on one limb at a time, making sure that the skin is coated evenly, and because it doesn't drip nor is it runny on the skin, it makes the process a breeze. The colour payoff, after three days is quite minimal, so it was a little disappointing to invest the time with nothing to show! However, his is a product that I like to keep as staple because it is totally low-maintenance, results in minimal clean up, and has the lowest risk of becoming a disaster. Plus, I can always mix in my own colours to ensure a more prominent finish.
Jergens Natural Glow Daily Moisturizer – $9
I wasn't too impressed with this product because I honestly saw no difference on my skin. I know I don't tan easily but one would expect that you would get a bit of colour after using it this for a week straight. Minimal.
To salvage this product (because if there's one thing I hate, is throwing out my hard earned money in the trash), I like to use it with the "real" self-tanners I've gotten from various value sets / as a freebie at Sephora. One that came to mind is the St. Tropez Tanning Mousse. The tanning mousse can be used on its own, but to control how much colour, I like to dilute it a little bit with this moisturizer. Think about it as making a tinted moisturizer from your regular foundation.
Bioderma Photoderm Autobronzant – $20
The most expensive of the bunch still sets you back less than $20 and will last you a really long time. This moisturizing self-tanning mist promises gradual, and even tan. I've written a review in the past about how this is a foolproof self-tanner product of choice for me personally which still hasn't changed to this day. I do have to highlight that the mist can potentially result in streaks and blotchiness around the hard to reach and blend areas like your ankle, as it happened to me. Fortunately, since the result is so gradual, you can quite easily and quickly fix it!
The product takes 3 days to develop and can be maintained by applying every 2 days. The good news is that you can definitely see some colour after 1-2 days so if you are quite pale, you probably won't have to wait 3 full days to see some colour which was my experience. The mist format is really easy to use, mess-free, and relatively quick to do. Unfortunately the mist is uncoloured so it can be hard to see which areas you've already sprayed and could lend itself to result in overapplying in some areas. So be sure to be super focused and know exactly which areas you're applying the product to. The good news is that it is relatively forgiving to use, so it would not leave you with a traumatizing self-tanning experience.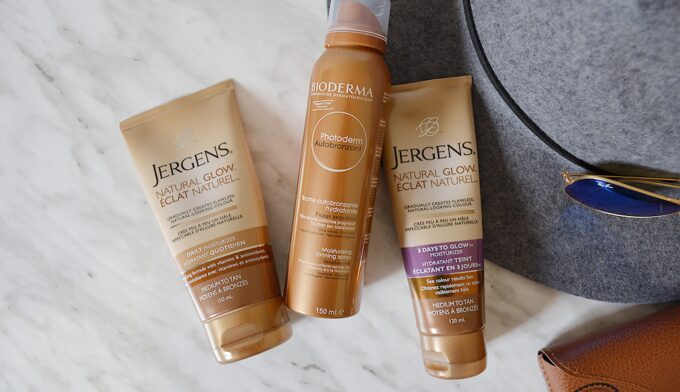 My personal preference between the three remain to be the BiodermaPhotoderm Autobronzant because of its easy to use format, and no-transfer finish. I can slip on white jeans, and sleep on white sheets and I wouldn't even worry about the colour transferring. It's also a quick one to reach for when you're pinched for time. A second favourite is the JergensNatural Glow 3 Days to Glow Moisturizer. I like the format, but on its own, I don't get much colour payoff so I always have to mix it with something else like the BiodermaPhotoderm Autobronzant or to tone down self-tanners like St. Tropez Tanning Mousse.
Now it's your turn! Do you use self-tanning products at home? What's your go-to product? Leave me some suggestions (and maybe some tips!) on how to ensure a flawless tanning application!
---
Disclaimer:
This post features product(s) provided for editorial consideration. All opinions are my own. For more information about my review policy, please
click here
.
---