It could help for the weather to make up its mind sooner than later because I can then figure out what kind of skincare products I want to be using. I introduced a few new items in my current routine so I felt it was a good time to write a mini review of each product as I use them.
I was mostly disappointed in the products I have featured in this particular round – I do believe that you need to feature both the good and bad equally on the blog so this is one of those posts where most of what I'm sharing is probably oriented more towards not going "don't buy this!"
So don't be alarmed that this post will enable you – I'm going back to my St. Ives moisturizer, Clarins Energizing Wake Up Booster Lotion, and the Philopsophy Purity Cleanser.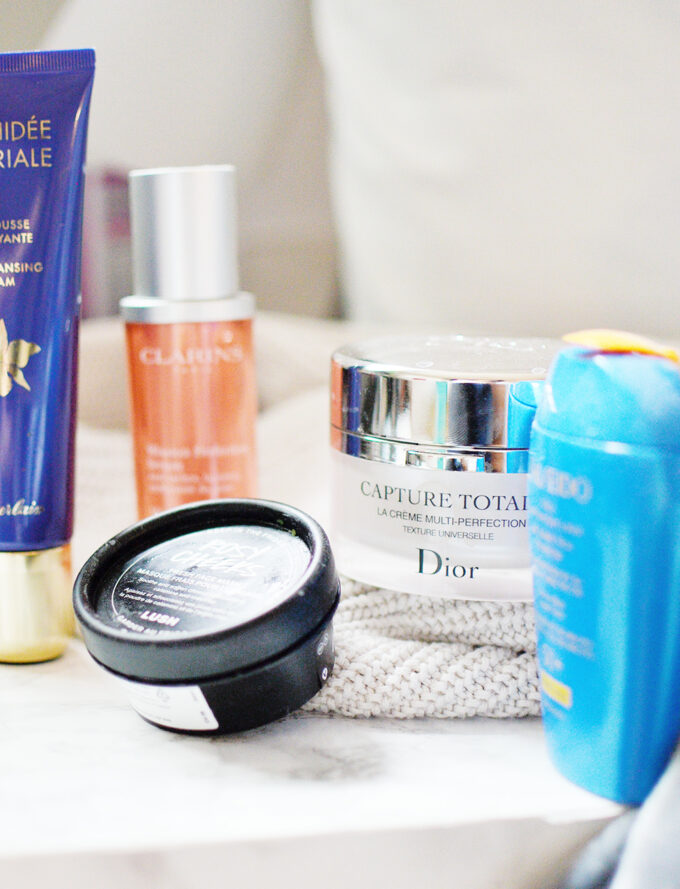 Since I've run out of my favourite cleanser, I've pulled out a few products from the archives (or the makeup 'shelfie') to finish them up since I've only tested them a few times to review. It breaks my heart (to the joy of my wallet) that the GuerlainOrchidée Impériale The Cleansing Foam ($130, available here) hasn't lived up to what you would expect from the price – it's been drying out the bottom half of my face to the point that my makeup won't cover it. I get the sense this could be because I'm using two types of foam cleansers so I may need to dial-it down a bit. I certainly have hopes that it won't be as bad if I stick with just this one cleanser for now.
The good news, the GuerlainOrchidée Impériale The Cleansing Foam smells incredible – as far as whether it's justified to pay that kind of price for a cleanser, I'll leave that up to you. I didn't feel like it did any better than a $20-30 cleanser!
Continuing the trainwreck that is expensive skincare and makeup products that I need to finish before they expire, I've been using up the DiorCapture Totale Multi-Perfection Creme ($195, available here). This incredibly rich moisturizer may look like it comes with a lot of products but actually a mere 2 oz (Roughly 60ml) which last very long considering the price.
The rich but really lightweight in texture moisturizer sinks the skin immediately without any of that heaviness caking up on the skin. However, I did notice it would pill (if you run your fingers across the skin, the product will "ball" up) which was extremely strange so my makeup would not stay on. I noticed this happening towards the end of the this product's life which was a good thing! Hardly a good reason for repurchasing.
I've been slowly using up the ClarinsMission Perfection Serum ($69, available here) which promises to even out the skintone and to maintain the results, you want to be using sunscreen religiously to prevent those pesky hyperpigmentation from coming back.
I'll be honest – there isn't a lot of product in the bottle and the serum is more of a moisturizer. It absorbs easily into the skin and has a pleasant scent but I have a feeling that I'll run out of the serum before actually seeing any results. Plus, rather than a very liquid-like serum texture that I'm used to, this has more of a moisturizer cream-like texture which is why I've been quite generous when pumping it out haha.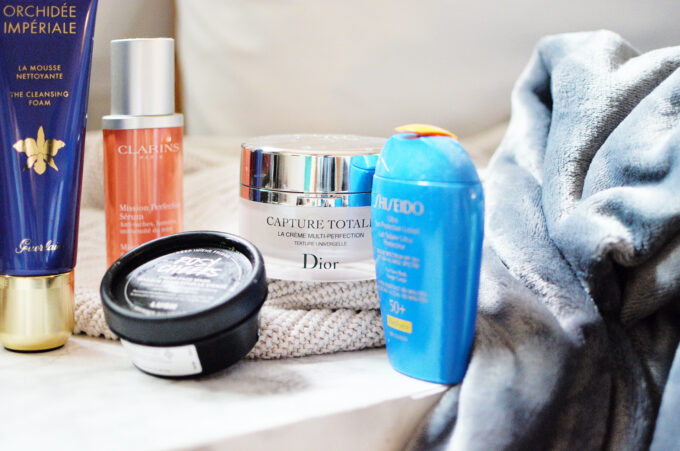 The ShiseidoUltra Protection Cream ($27-41, available here) is something I've repurchased several times because I really like how this sunscreen doesn't feel too heavy on the skin. It still has that white cast unfortunately, but it doesn't smell as chemically as some of the drugstore ones I've used in the past. I don't think I'll be repurchasing this as I'll be moving towards a more "natural" sunscreen in the future but this is one of my favourite from the high-end variety available!
The current budget item in my routine is the LushRosy Cheeks Face Mask ($12.95, available here) that I picked up from trading in empty Lush black pots. I don't think these fresh masks are something I'll repurchase regularly as I don't feel like it helped with my breakout.
Do you have any current favourites in your skincare routine?
---
Disclaimer:
This post features product(s) provided for editorial consideration. All opinions are my own. For more information about my review policy, please
click here
.
---