I was recently invited to the launch party of Institut Esthederm Paris and its 2016 range launch, the EstheWhite system. As a skincare-obsessed beauty blogger, I am so so excited to share this new launch with you – especially if you struggle with discolouration and hyperpigmentation on your face.
If you haven't heard of or ever seen the Esthederm brand anywhere, you're not alone! The brand is new to North America, except for the Canadian Quebec market, where it was introduced twenty years ago. This year, the brand has decided to expand to the rest of (English-speaking) Canada and select states (around 10) in the US.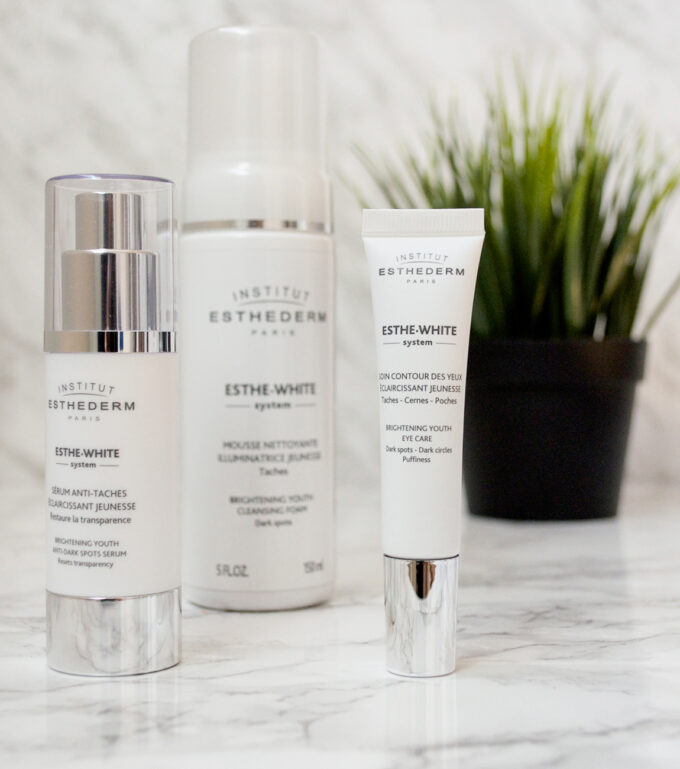 For a bit of context, Esthederm is the premium sister brand to Bioderma – they were both founded by the same pharmacist / biologist in the 1970s and as of 2016, Esthederm is already available in over 60 countries worldwide! Unlike Bioderma, which is mass-distributed, Esthederm's range of products are available exclusively at spa's and salons, although it seems that it can also be purchased online via Obsessed Canada's website.
The Institut Esthederm Paris Difference
I think it's worthwhile talking a little bit about the different approach that Esthederm took in developing its products, and some of the innovations / point of difference about the products to justify its premium price point.
Esthederm's products have clinical-grade ingredients which are ingredients used for decades in spas across spas by top estheticians. This means the products are as luxurious as they are powerful
Esthederm uses a skin re-education trigger system to encourage the skin's own cellular behaviours and natural process to heal itself. This means reducing the number of chemicals introduced on the skin
Esthederm doesn't just use regular water but feature the patented cellular water which composes 70% of the ingredients across its skincare range (You can buy the bottled version here at Obsessed Canada!)
The three points above summarize the brand's approach and how ingredients used are chosen based on their safety and proven effectiveness with the priority of adhering to the skin re-education process.
Personally, point #2 sold me right away – with the heavy level of pollution, free radicals and irritants that our skin is exposed to everyday, I'm always looking for something that gets deep into the skin to do the work. I use a variety of different products, treatments, and makeup so I am already introducing a lot of "new" ingredients on my skin that the skin cells have to fight or adapt to. Having products which strictly works by "waking up" and "rejuvenating" my skin's own army of cells seems to be the safest and most effective way of getting and seeing results.
The Institut Esthederm Paris EstheWhite System
The new EstheWhite system skincare range comprises of 7 products for your entire skincare regime. The 7 products are divided into three categories: 1) preparation, 2) treatment, and 3) targeted treatment.
Although not overly complex on the skin or yourself, the regimen includes products that you are already familiar with using, so I would imagine you can substitute one item from your existing routine with one from Esthederm's routine if budget is an issue or if you don't necessarily feel like you need each one of the products to achieve the results.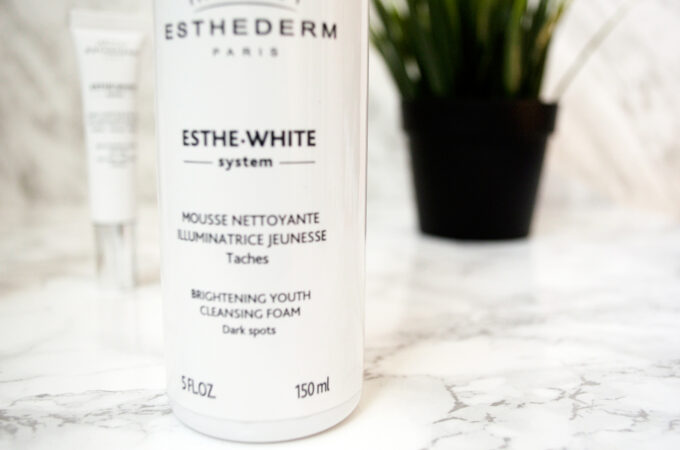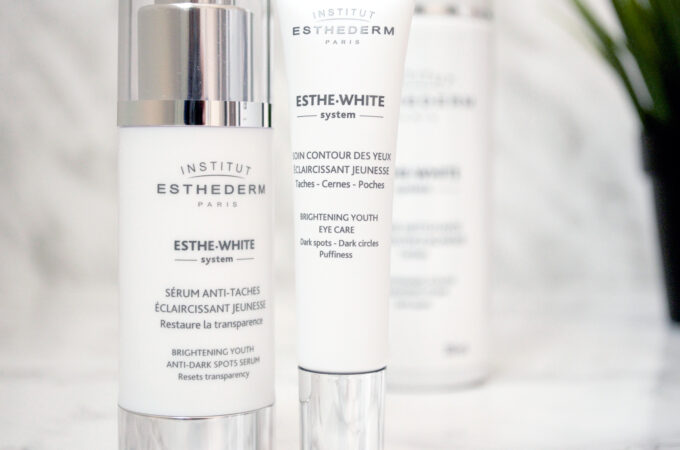 1. Preparation
Brightening Youth Cleansing Foam ($39, available here)
Brightening Youth Milky Lotion ($39, available here)
2. Treatment
Brightening Youth Serum** ($99, available here)
Brightening Youth Moisturizing Day Care ($99, available here)
Brightening Regenerating Youth Night Care ($99, available here)
3. Target
Targeted Dark Spots Concentrate** ($69, available here)
Brightening Youth Eye Care ($69, available here)
Anything marked with ** is considered the star products of the range and I would encourage you to look into these treatment products first before the rest if you're considering trying out the range!
The price point of the Institut Esthederm Paris products are in-line with a lot of high-end skincare range, and I would encourage looking into some of their star treatment products if you want to get started!
To learn more about the products and Esthederm's other product range, you can visit the Esthederm website here or their Facebook page! Esthederm products can be found at Spa Institutes nationally (use their store locator here!) and Ogilvy in Quebec!
---
Disclaimer:
This post features product(s) provided for editorial consideration. All opinions are my own. For more information about my review policy, please
click here
.
---