Despite my love for the colder temperatures, my skin doesn't readily accept it as much as I'd like to. The recent cold weather has had me updating my skincare routine and pulling out the heavy duty pieces from my makeup storage and putting into good use.
After last year's barely there winter season here in Canada, I will just say that winter is truly coming and it's coming back with a vengeance. I'm in the minority in this and I'll admit it: As someone who loves winter and the colder weather, I am absolutely not complaining and basking in this marvellous weather we are having!
[show_shopthepost_widget id="2275392″]
I've always believed and abide by the "simpler, fewer, and lesser" mindset when it comes to my skincare routine and day-to-day makeup. It goes without saying then that with just 6 products in my entire winter skincare routine, I am quite the minimalist!
After cleansing my skin with my beloved Philosophy Purity Cleanser, I proceed to apply toner to remove the excess makeup. I am loving the ClarinsDaily Energizer Wake Up Booster ($18, available here) for that purpose. This product is a morning toner – one that you would use to wipe off the sleep from your face while depuffing the eyes and revitalizing the skin at the same time. I love putting it in the fridge at night and applying it in the morning – the cooling sensation and citrusy scent helps wake me up! I'm guilty of overusing this product though – I'll use it in my evening skincare routine as well!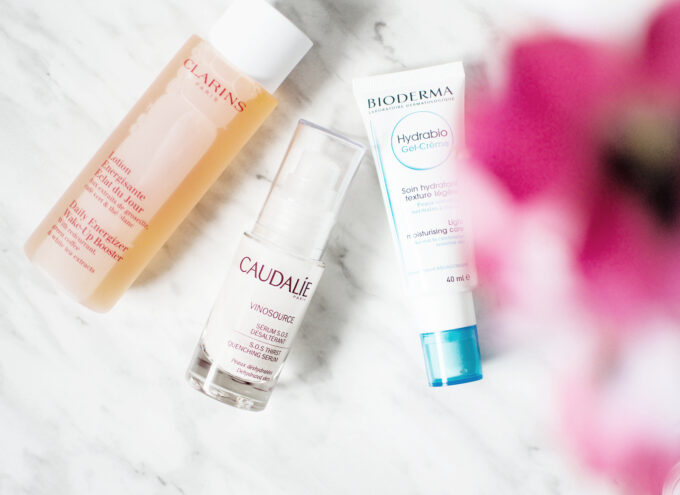 Once my skin is thoroughly cleansed, I start with my skincare bits. In the morning, I start with The OrdinaryHyaluronic Acid 2% + B5 ($6.80, available here), a hydrating serum by a company called Deciem. Their "The Ordinary" range has been making tons of waves in the beauty world for their insanely inexpensive prices and really powerful ingredients. I'm a huge fan of hyaluronic acid as it encourages the skin to retain the skin's own moisture rather than introducing new articles on the skin. This serum applies quickly into the skin and really nourishes the skin cells from within – something I'll gladly repurchase considering the price.
I would then proceed with the BiodermaHydrabio Gel ($29.50, available here) that comes in this highly convenient pump / tube packaging. It's gel formula is hydrating and feels really comfortable as it is formulated with the aquagenium™ patent which stimulates the skin's cellular capacities to rehydrate.
Before I proceed with makeup, I apply a little bit of eye cream. Now that I'm nearing my mid-twenties, I'm a lot more conscious about the lines, and wrinkles around my face than ever before. Right now, I am loving the ClarinsEye Contour Gel ($38, available here) to reduce puffiness, dark circles and reinvigorate the skin considering its packed with caffeine and hydrating ingredients.
That's pretty much all I'll be wearing in terms of my skincare routine during the day. For night time, I like to add a few bits to my routine.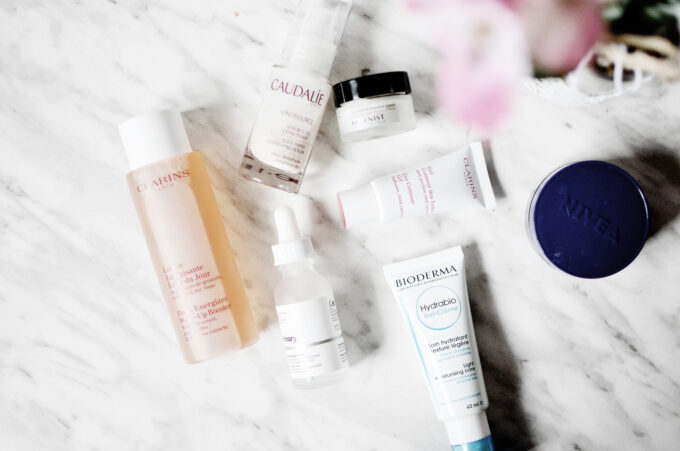 I'll start my evening routine with the same serum I used in the morning, The OrdinaryHyaluronic Acid 2% + B5, but I'll usually layer on a face oil or another serum like the CaudelieVinosource SOS Thirst Quenching Serum ($57, sephora.ca). I'm a firm believer of packing on all the moisturizing products as much as possible and take advantage of my sleeping to let all the goodness sink.
I'll also use a different night time moisturizer. Right now, I'm using a combination of the NiveaQ10plus Anti-Wrinkle Night Care ($19.99, available here) and the Algenist Firming & Lifting Cream ($120, available here) to give my skin as much anti-aging, firming and moisturizing benefits as possible whilst I sleep. I finish with the ClarinsEye Contour Gel again!
What are your favourite winter skincare routine products?
[show_shopthepost_widget id="2275392″]