Recently, Sephora had a summer sale with tons of products discounted up to 50% or more. When I saw the TarteAmazonian Clay Eye & Cheek Palette ($55, sephora.ca), the beauty blogger in me had clicked on Checkout, faster than I could have said "I don't need another one". Originally priced at $55, and then discounted to $29, the palette features 2 strips of blushes (each about 1/4 of the full-size), and 6 full-sized eyeshadows, making each product cost a mere $3.63!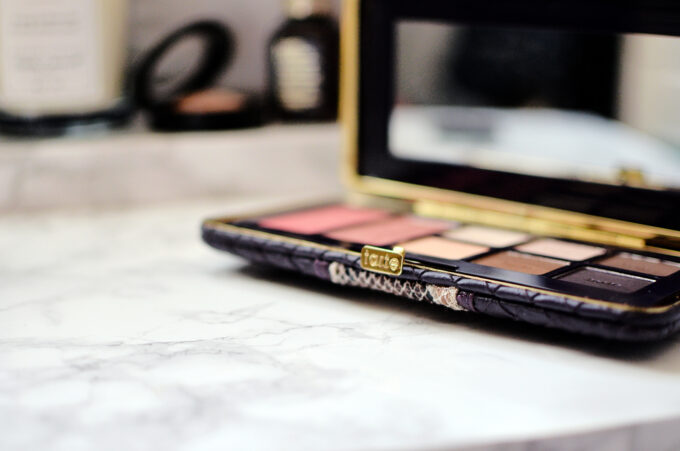 Encased in a stylish, faux-leather, snakeskin-patterned clutch, this clutch is great travel piece. Tarte always does colour combination best, and I wasn't surprised to be immediately head over heels with the colours and the combination of matte and shimmer finishes, perfect for day or evening wear. One thing that distinguishes Tarte from other brands is that their products are infused with skin-loving amazonian clay, which not only improves the product's performance, but also beautify your skin at the same time. Read more about Tarte's skin-vigorating ingredients here!
For Canadian readers, Tarte now ships to Canada – shipping is free for orders over $75! If you missed out on any Tarte products (that were on sale) at Sephora, you might be able to find it on their sale page!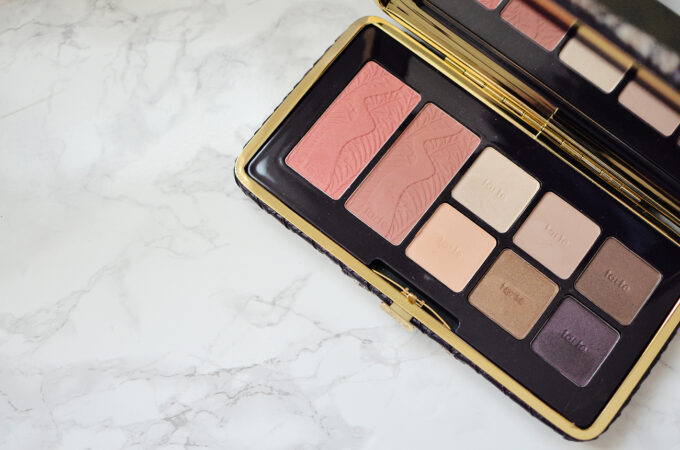 Last year, I missed out on the blush palette which was released for the holiday (Off the Cuff, $50), and regretted it ever since. This palette made up for it though – the two blushes included, Free and Exposed are colours every girl need to have! The shades are universally flattering and imparts the loveliest, and natural-looking finish on your skin. I believe the shade Free is exclusive to this palette as I could not find that shade on sephora.ca. Exposed is one of the most popular permanent shade, which you can purchase separately for $31 at Sephora. At 1/4 of the full-size, these blushes are worth approximately $7.75 each or $15.50 for both. The blushes are easy to blend, and the texture is soft, yet still very pigmented without much fallout.

The eyeshadows take this palette into a whole another ballgame. While at first glance the colours almost look dull, my first swatch gave me the most pleasant surprise. Not only are the colours so soft, but the pigmentation and ease of blending just made these eyeshadows great to work with. As soon as I saw the palette in person, I was really surprised to learn that the eyeshadows are full-sized too, so no chance of you running out of your favourite colours quickly!
Product/Value Breakdown
The blushes are 1/4 of the original full-size ($31), so each one is worth $7.75 (or $15.50 for both). Individually, the eyeshadows cost $20, so all 6 in this palette is worth $120. Overall, this palette is worth a hefty $135.50!
Combining the beautiful, unique colours, and quality ingredients, you have the perfect combination for a stylish, high-quality palette that will last you a very long time. Tarte makes some really awesome value sets, particularly when combining their very popular blushes, and high-quality eyeshadows, so if you see this on the sale section again, snatch it up immediately!
Now it's your turn! Have you tried the Tarte Amazonian Clay Eye & Cheek Palette? As always, I'd love to hear your thoughts! Share with me comment section or through Twitter or Instagram!