A few months ago, DECIEM's The Ordinary skincare range made its way to my radar. I've grown to rely heavily on my beloved French skincare products (the ones that you can pick up at City Pharma in Paris) but seeing as my stash is running quite low and I don't have a trip to Paris planned soon, I went ahead to DECIEM's website to see what all the hype was about.
As they say, the rest is history.
I hope you're sitting down as you're reading this because what sets apart DECIEM's The Ordinary range is their price. Believe it or not, these products will only set you back anywhere from $5-$15.
Really?Really.
I couldn't quite believe it myself until I picked up 3 different products for only $25 and have repurchased and made my way to their stores about 4 times since. They're that good and I am beyond excited to discover more of the brand in the future when they have open up another store close to where I work!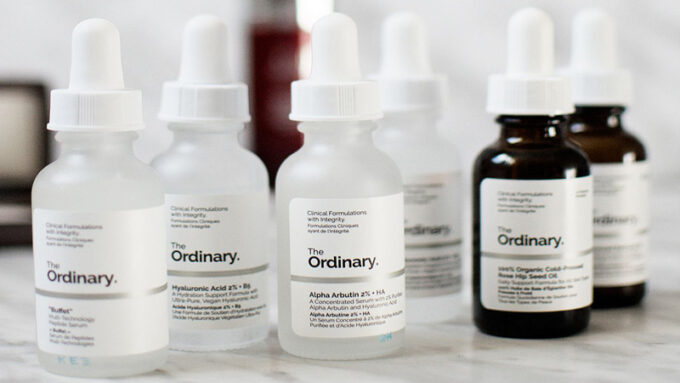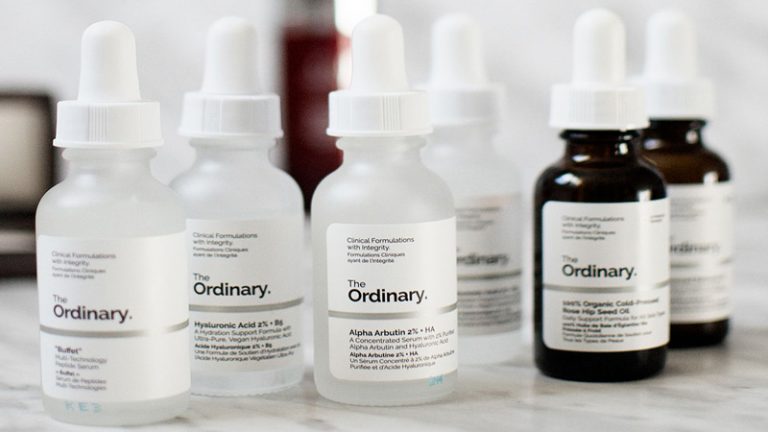 The Ordinary range is available at: The Ordinary Website (Free shipping with $25 purchase) or at DECIEM stores around the GTA.
The whole premise of The Ordinary brand is that it packs active ingredients without all the extra that the beauty industry adds like fragrance, fillers, and so on. You're probably thinking that The Ordinary is like what ELF Cosmetics or dollarstore makeup is to skincare. That's what I thought at first but I couldn't be more wrong! As of today, I've used about 6 different products from their range and plan on purchasing a lot more!
I'm a believer in this product range as it only contains a few actives in one product thus maximizing efficacy and reducing the risk of adverse reaction to other products.
I follow the 3 serum/oil rule that the brand suggests – don't use more than 3 serums/oils at a given time otherwise it will reduce the efficacy of the product. This has worked well for me for the last few months. Each 30ml bottle seems to last about 3-4 weeks of daily use twice a day.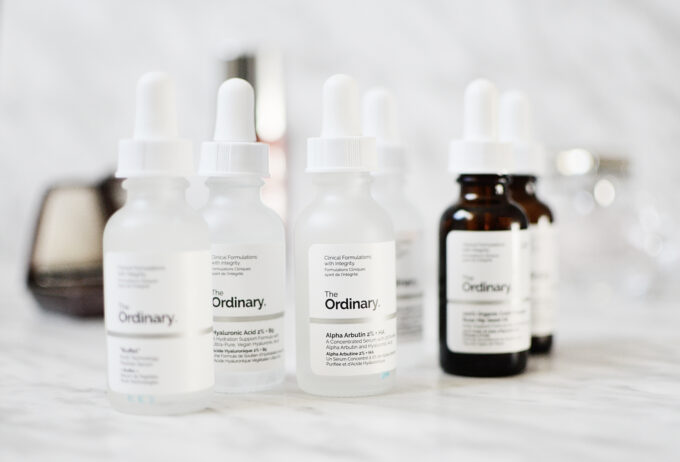 The Ordinary Picks for Hyperpigmentation
Niacinamide 10% + Zinc 1%
The very first item I started integrating into my routine was the Niacinamide 10% + Zinc 1% ($5.90, available here). Niacinamide may not be as well known as hyaluronic acid just yet, but it's an ingredient that should be on your radar as it helps to brighten, soothe and diminish the look of hyperpigmentation and blemishes on the skin. The way it works is by preventing melanin from reaching the skin, thus avoiding hyperpigmentation and dark spots in the first place. It has a transparent, non-perfumed and slightly sticky texture.
Alpha Arbutin 2% + HA
Along with the Niacinamide 10% + Zinc 1%, I've been using the Alpha Arbutin 2% + HA ($8.90, available here). I wanted to see if using them together can achieve results (diminished look of hyperpigmentation and scarring) faster. As far as I can tell, it has been very effective at doing just that – when used in combination, I've noticed a decline in the appearance of old dark spots. I would say it's about 25% reduction in visibility so I do need to repurchase these and regularly keep it up to really make an impact. Keep in mind the hyperpigmentation and scarring on my skin are also older so they need something a little bit stronger to disappear completely!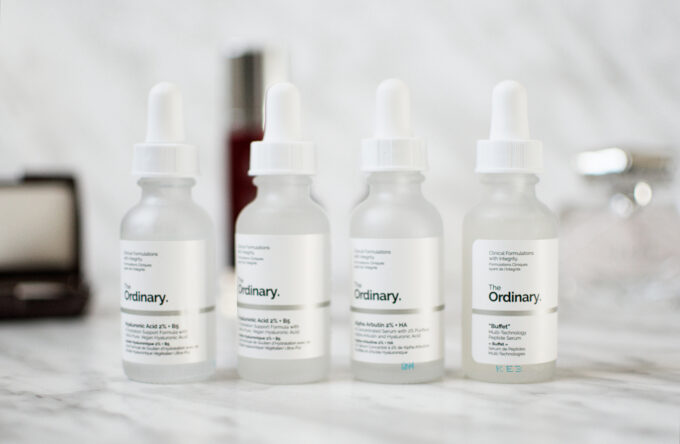 The Ordinary Picks for Hyration & Anti-Aging
Hyaluronic Acid 2% + B5
The Hyaluronic Acid 2% + B5 ($6.80, available here) is one that everyone seems to love and rave about. It's not hard to see why – it's the beloved hyaluronic acid in its active form. Hyaluronic acid is a favourite among skincare lovers because it holds 1000x more of its own weight compared to water and helps retain moisture on the skin.
The clear, unscented liquid just absorbs into my skin quickly and I've noticed a huge change on the texture of my skin. It's a lot more elastic, moisturized and plump. On its own it does a great job at achieving what it claims but from what I've seen, when paired with the 100% Organic Cold-Pressed Rose Hip Seed Oil (which I'll talk more about below), it just seems to work a lot better.
The "Buffet"
The "Buffet" ($8.90, available here) is a concoction that combines several anti-aging ingredients in one. As far as anti-aging goes, I'm all about prevention and I've been enjoying using this. There isn't too many visible results from what I can see by using this regularly so I don't really have anything yet to report.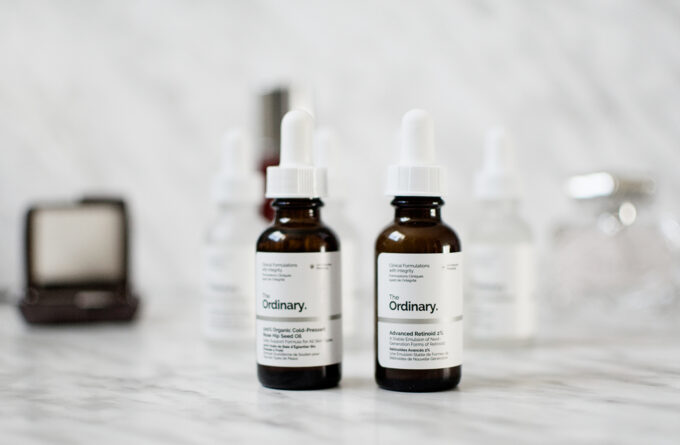 The Ordinary Picks for Targeted Treatment
100% Organic Cold-Pressed Rose Hip Seed Oil
I'm not usually a fan of face oils as I find them to be very heavy and too much for my skin. I typically break out when I incorporate them into my routine which is why I avoid them. The 100% Organic Cold-Pressed Rose Hip Seed Oil ($9.90, available here) is an exception – I've been using this for over a month and wow – my skin has never looked better and I've never broken out!
My skin absolutely adores this oil – it just drinks it all up. Upon further reading, I know why – it's full of anti-oxidants and rich in vitamins A, E, D and C – good fighting free radicals and prevent cell damage. It's also full of fatty acid and a few other polyunsaturated fats which helps regenerate the skin cell membrane! My skin texture seems to be a lot smoother, and more even! As someone who avoids face oil religiously and suddenly converted into a face oil user, my experience is a testament to how effective this product is!
Advanced Retinoid 2%
The last product that I've been loving in my routine is the Advanced Retinoid 2% ($9.80, available here). The retinoid (not retinol) is a targeted treatment that works on your skin at the deepest level so it tends to show visible results a lot quicker. Retinoids is meant to encourage the skin to turn over cells rapidly, replaces old cells and promotes new cell growth to maintain that youthful and healthy skin look. It also firms up the skin and prevents wrinkles in the long run.
This is by far the most interesting product I have in my collection – it has a milky white watery texture that doesn't seem to do much in the first few days I've been using it. I thought this product might be too harsh to use on a daily basis but it's been so good to my skin so far – no irritation! I wasn't getting any results the first week I was using it but I kept it up knowing that skincare products tend to take at least 10 days to show results. By the second week, I am glowing. I am getting compliments on my skin. I haven't heard that in 10+ years!
The Ordinary – An Incredible Addition to Your Skincare Routine
I love, love, love the fact that The Ordinary range is a great supplement to my existing skincare routine. I am seeing amazing results compared to $100+ serums they try to sell you at Shoppers Drug Mart, Sephora or Holt Renfrew. All 6 serums I've purchased have only cost me $50 but is showing me results faster and more effectively than $100 product I've purchased (Looking at you Dior!)
I love that all these serums and oils provide targeted treatment for my skin so I don't ever feel like I am overwhelming my skin with too many products in one go! Each serum works to target a specific need and using a combination of 3 products in the morning and evening has really shown incredible results.
If you're like me and are not scientifically inclined at all, I've found going to stores and speaking with the sales associate to be really helpful at narrowing down the products you need. If not, I'll point to you the brand's Regimen Guide that they have on their website to start your basket.
I am recommending The Ordinary range – for the cost of a latte or a small dinner, these have made such a difference on my skin!
Over to you now! Have you tried The Ordinary?