It's been the Dior week here on the blog, and I'm so excited to be writing about a new addition to the Dior foundation lineup, the new Dior Forever Foundation that's joining one of my all-time must-haves products!
It's no secret that my favorite foundation of all time remains to be the DiorDiorskin Star Foundation which I have probably talked to death on this blog.
The new Dior Forever foundation is very similar in appearance to its sister, the Diorskin Star Foundation, sharing Natalie Portman as the face of the launch. With so many high-tech foundation releases in the last couple of years from many high-end brands, it's difficult to say what else could be new and different. But I must say that the new release, Dior is really delivering on that flawless skin manifesto with an unbeatable matte formula! 


The Dior Forever Foundation is the Upgraded version of the Star Foundation
The new Dior Forever Foundation is marketed to be a combination of skincare, makeup, primer, and sunscreen in one. It's quite a novel product if you take it at face value, but I always think trying to do too much can be really counter-productive.
I find the Dior Forever foundation shade range corresponds with each other quite well between the two formulas so it's helpful if you already know your shade in one of them. I wear the #021 Linen with the Diorskin Star Foundation, a perfect match to my MAC NC25 skin tone.
Similar to its sister formula, it seems to use the same rule of thumb where the shades ending in the number "0" has a pink undertone, those that end in "1" has a yellow undertone, and those that end in "2, 3" have a more neutral undertone. There are 16 shades in the range, and although it's not as diverse, it's a promising start so far!
If you already wear another Dior foundation that has similar naming systems, more likely than not, it will correspond to this new launch. Personally, I use #021 in both the Forever and Star foundation.
Here is an equivalent shade in the Dior Forever foundation range which I will be purchasing separately since shades #20 and #30 are far too pink on my skin tone.
Like the Star foundation, the colors ending in 0 are pinker/neutral-toned, and those ending in 1 have a yellow undertone. So shade #21 is a light-medium foundation with a yellow undertone.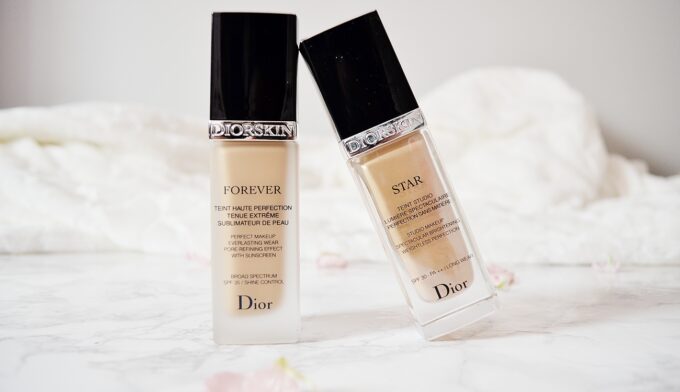 Dior Forever Foundation: Primer and Makeup in One
Unlike the buildable medium-to-full coverage, satin finish of the Diorskin Star Foundation, the Forever Foundation has a fuller coverage with a matte finish. The Diorskin Forever Foundation has oil-controlling properties that help control shine and corrects the complexion (redness, and unevenness) with no mask-like effect despite the matte finish. I can't really comment on this as I have normal-dry skin and rarely has issues with oil.
The formula has a soft-focus ingredient, similar to the Diorskin Star Foundation (it was hailed as the selfie foundation when it first launched), and helps reflect light and add radiance to the skin. I find that the pores are less visible and the skin looks better and more even throughout.
The formula is supposedly able to last for a good 16 hours, however, I've yet to have to wear it that long yet. For me, as long as a foundation gets through an 8-hour workday just fine, I can live with that. This foundation has no issues standing up to an 8-hour workday in an office, and a 2-3 hour drinks/dinner session afterward.
As a foundation with a built-in primer, one of the key ingredients here is dimethicone, a type of silicone that is a common ingredient used in primers to smooth out the skin.
Sunscreen & Skincare Properties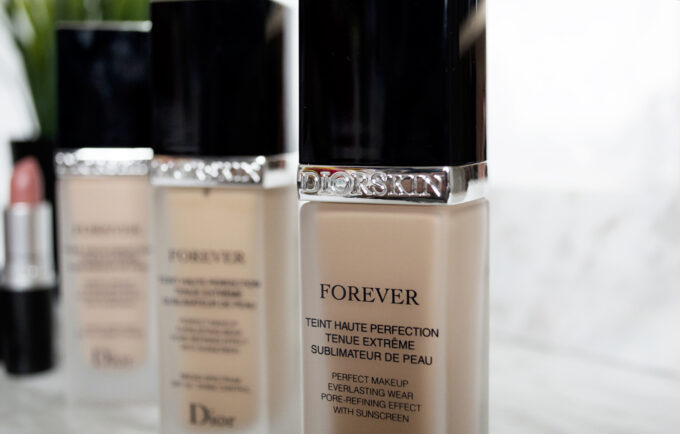 I will admit that I was a little hesitant about how this product would perform when I read that this foundation has sunscreen in it as it meant there is a high likelihood it won't photograph well. The original Diorskin Star Foundation did as well, but only with SPF15.
This has far more than that – SPF35, which is a good amount for daily sun protection. It's really interesting that the back of the box actually has an instruction section, which tells you to apply the foundation alongside sun protection with the very familiar directives to apply 15 minutes before sun exposure and to reapply every 2 hours. So to me, the SPF35 foundation claim is more of a marketing extra, nothing that should substantially alter your skincare routine.
As for the skincare properties, the skin is supposedly set to improve with each application given the Diorskin Star Foundation ingredient that refines pores affected by dryness, and slack. The foundation is supposed to help smooth the texture of your skin over time. It was a thing this foundation was released during the wintertime as I had a bit of time to test out the dryness claim. I think the foundation holds up quite well, but definitely not one you can use, and skip the moisturizer completely.
Dior Forever Foundation Swatches & Shade Comparison
For some additional reference, I wear the following shades in other brands:
The new launch is an excellent product and it's hard to find fault on a foundation that clearly delivers on every single one of its marketing claims thus far! It hasn't fully replaced my favorite Diorskin Star Foundation quite yet, but I'll let you know if I feel like changing it up with this for longevity.
A DiorDiorskin Forever & Ever Wear Extreme Perfection & Hold Makeup Base and Extreme Perfection Matte Finish Powder are complements to this foundation launch that's worthwhile looking into if you're into long-wearing complexion!
The Dior Forever Foundation is available now at Dior Counters nationwide, The Bay, Sephora, and Holt Renfrew.
Are you a fan of matte foundations? Does the new Dior Forever foundation pique your interest?
Check this also: