After I wrote about the new DiorForever Foundation recently, a number of readers contacted me and wanted to compare the new launch with its sister, the Dior Star Foundation, a long-time favourite. Given how similar they look and how quickly they launched one after another, I figured since there's a bit of overlap but also few major differences, I thought I would do a quick comparison between the two.
I was not the biggest Dior foundation user up until the Star foundation release in 2014. I found that the older products had a tendency to oxidize on my skin, and even the closest yellow-based shade was still a touch too pink on my skin. When the DiorStar Foundation ($64, available here) was released, followed immediately by tons of organic positive feedback about how this foundation made their skin look that much better even in pictures with flash (Hey, it was dubbed the selfie foundation!) I had to try it!
Ever since I bought my first bottle, and despite a dodgy start, I had found "the one".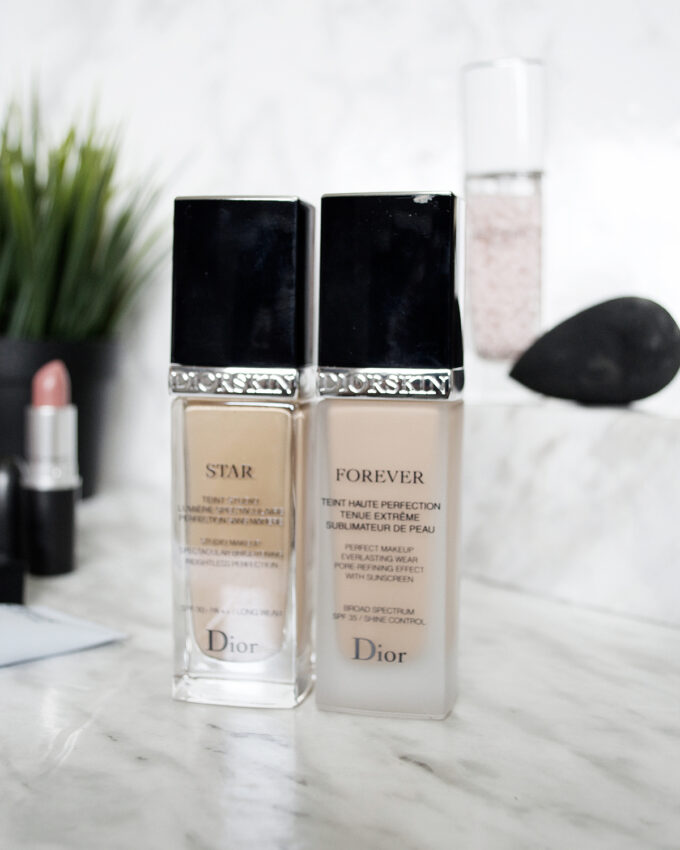 Why I Love the Dior Star Foundation
The DiorStar Foundation is my go-to for everyday purposes – going to work, brunch on the weekends or errands where I'm mostly indoors and just need to look pretty. Basically, anytime I am not exposed to the elements – rain, snow, wind, or doing outdoor activities, this is a staple.
The foundation holds up incredibly well – even after 10 hours of office work, the foundation looks as fresh as when I first applied it in the morning. There's no caking, or build-up around the crevices of the face (i.e. like the nose). It has a soft-focus effect – melting into the skin and makes your skin look radiant and fresh without applying too many products (i.e. a radiance primer, or a highlighter)
The lightweight formula makes it really forgiving, and super easy to apply with my fingers, brushes, or beauty blender with no streaks. This foundation was designed to have a dewy finish so more suitable for those with normal/dry skin and for those with oily / combination skin, this might not be the most appropriate option. The satin / dewy skin finish can accentuate the natural oils and make the face look more shiny without the right kind of prep underneath.
However, one occasion I would never bring this foundation for is for travelling or when I'm outdoors a lot. This foundation was simply not made for that, from the packaging (glass bottles is not the most travel-friendly product to carry with you) and the thin, lightweight formula will mostly disappear upon contact with water or when exposed to the elements like walking around with lots of wind or snow.
Dior Forever Foundation – The "I Need More" Option
That's when the DiorForever Foundation ($62, available here) comes into place. The new formula was designed to be a little heavier in terms of coverage, and has more SPF in the product resulting in a more adventure-friendly/appropriate product. Although I am still not keen on bringing the product for travelling (again, glass packaging here!) I am more inclined and willing to decant to bring with me on my trips.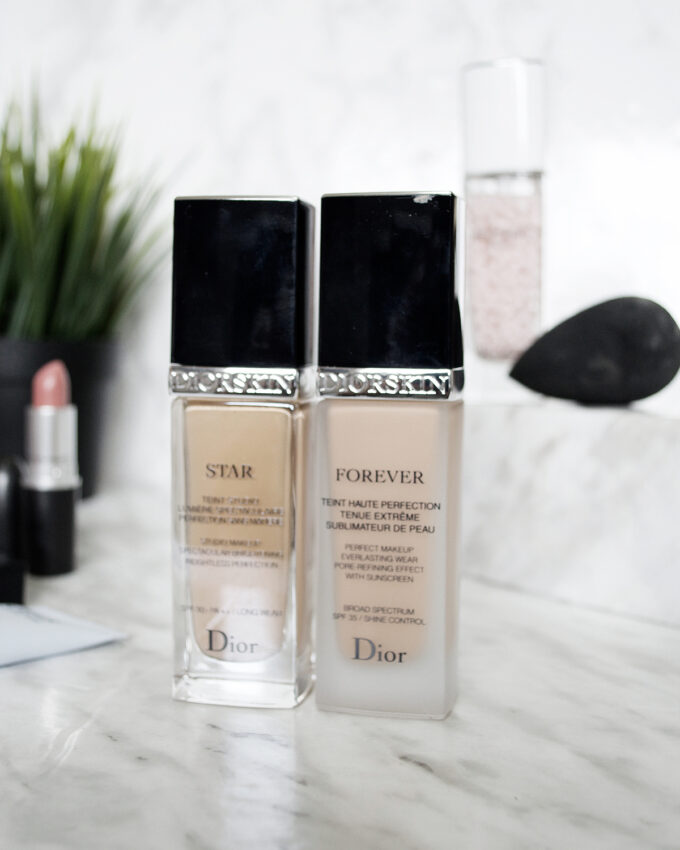 Aside from travelling, I think the key differentiation in this product comes from the finish and level of coverage. Although I am not one who is so vain that I need to be covered in makeup everywhere I go, there are those days when you're just having a really terrible skin day and there are spots or redness that you want to cover.
Depending on the occasion as well (i.e. hanging out with your co-workers after work or during a company trip), wearing a product that's a little more long-lasting is a more preferred option. Furthermore, the Forever foundation has a more matte finish that requires less maintenance and should be more suitable for those with a bit of an oily skin.
Dior Star vs. Forever Foundation
The Dior Forever foundation delivers everything about I like the Star Foundation with the addition of extra SPF, and heavier coverage that lasts longer without compromising on the lightweight feel, and wearability! I like having the options of a more lightweight formula for day-to-day, indoors and office-focused activity, as well as an option that I can be comfortable wearing at times where I need the fuller-coverage option.
Ultimately, the difference lies in your skin type and personal preference – two things that you will have to decide for yourself. If I were to summarize the 3 main difference between the two products, it would be:
Level of coverage (Star: medium coverage, Forever: more full/heavier coverage)
SPF level
Satin vs. Matte finish (Star: Satin / dewy skin finish, Forever: matte)
In terms of colours, the good news is that the range nomenclature and selection is pretty much the same across the two. As you can tell from the swatches, #021 (my shade in both foundations) are more or less the same. To re-iterate, the shades ending in 1 usually means it has yellow undertone, if 0, then it has pink undertone, and 3 means that it has neutral undertone.
Given the price point, it would not be practical to purchase on both (Although if you really LOVE the Star like I do, it doesn't hurt to try out the Forever foundation!) so ultimately, everything comes down to your own personal preference and which you think will suit your skin a lot more!
Which of the two foundations do you prefer? Will you be trying out the new Dior Forever Foundation?
---
Disclaimer:
This post features product(s) provided for editorial consideration. All opinions are my own. For more information about my review policy, please
click here
.
---