When there's a new foundation in town, I'm all over it. Despite my successful no-buy this year, I managed to sneak in a tiny, tiny Sephora order simply because I love reviewing foundations. And I couldn't be more excited to try out the new DiorBackstage Face & Body Foundation ($50, available here) especially after raving again and again about my love affair for the DiorDiorskin Star Foundation before the brand did the weirdest price increase ($50 to $64 in less than a year is far too steep of a price to pay!)
After perusing the Sephora website again, it does seem the Star foundation has been discontinued as it's not showing up there nor at The Bay. Can someone confirm this? If this was the case (and not an out of stock issue), I'd be pretty devastated – it really was a stunning foundation and one that I repurchased at least 3-4 times even after the price increase!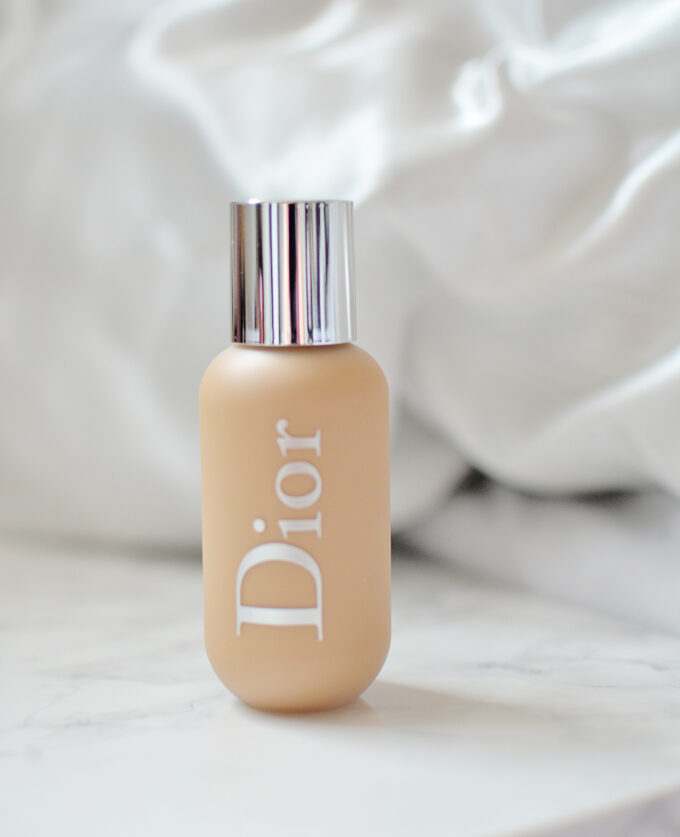 Trying out the Dior Backstage Face & Body Foundation
Admittedly, I wasn't sure about the whole face and body thing – I would have thought this to be a really lightweight, BB-cream like foundation and so I tried out a sample before buying it. Kind of glad that I gave this a try – the foundation itself is so good that I ended up caving and buying the full-sized version about a week after using up the sample.
The DiorBackstage Face & Body Foundation is a part of Dior's new "Backstage" range which is meant to achieve that classic Dior runway look with a few staples. Aside from the foundation, I found the other products in the range to be somewhat gimmicky – the eyeshadow palette feels really drugstore-like, the lip palette (though useful) just doesn't give the same Dior premium feel to it. The eyebrow palette looks impractical. The extension of the Lip Glow range is quite lovely if you're a fan of the formula, but I've always stuck with the drugstore alternative rather than paying an obscene amount of money for a lip balm.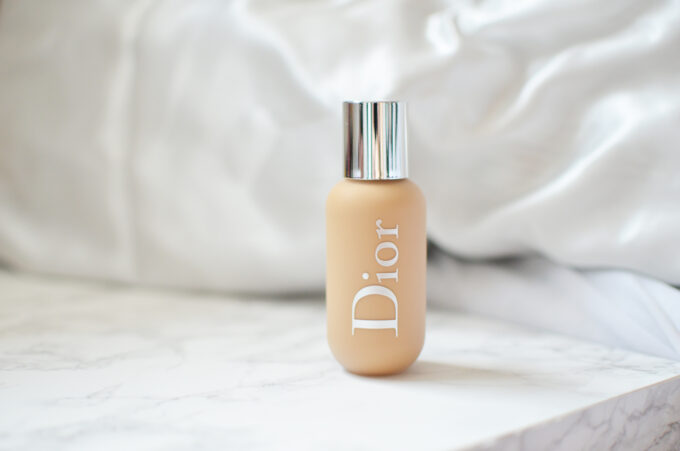 Basically, it seems the foundation is one worth trying out since it's fairly inexpensive by the standard of high-end foundation (I suspect, we'll be seeing a price increase around the holiday season, similar to what happened with the Dior Star foundation) and appears practical enough by way of the packaging. Sorting the foundation range on the Sephora website, there are only a few foundations under the $50 mark, so I'll definitely be repurchasing this sooner than later to avoid the whole price increase fiasco.
Dior Backstage Face & Body Foundation – Colour, Wear, and Application
Similar to the MAC Face & Body Foundation, we're looking at a functional plastic bottle with a squeeze top rather than an expensive-looking Dior glass bottle. I don't mind it – the regular glass bottle is impractical to travel with and when I finish the foundation, I can never decant the remainder. I like this packaging a lot more and you can clearly see the colour of the foundation. It comes with a little more than the standard 30ml worth of foundation, the 50ml is quite generous for the price.
The foundation range has also been extended to around 39 colours so it's far more inclusive than previous Dior foundation ranges. I chose the shade 3 Warm Olive as I prefer foundations with that olive undertone to prevent oxidization and my still tanned skin. This shade is a fantastic match to the MAC NC25-30 skintone range as well as the Dior Diorskin #21 Linen (my Star and Forever foundation shade), and I'll list my shades in the foundation I use so you can compare.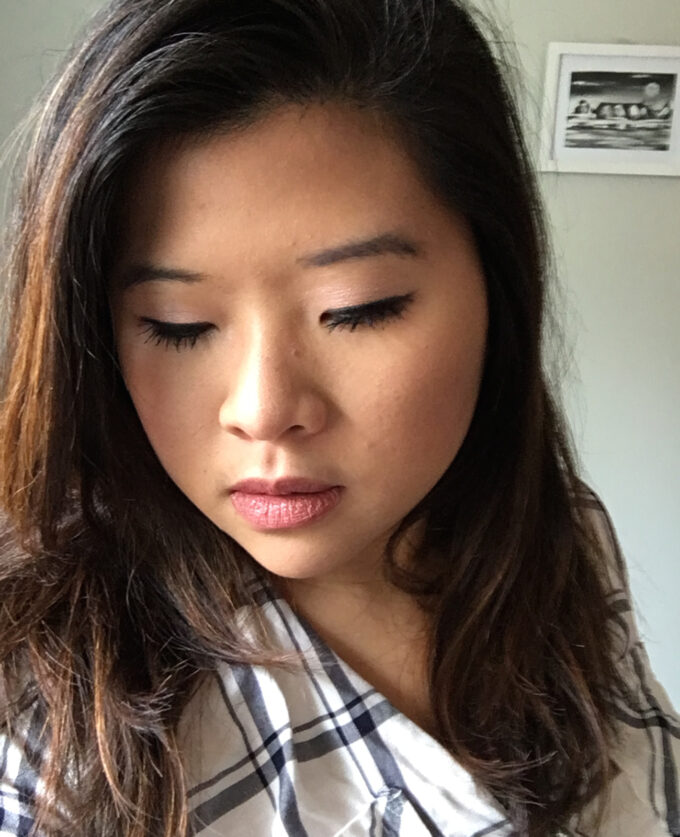 The rest of my makeup consist of:
Foundation: Dior Backstage Face & Body Foundation in #3.3 Warm Olive
Eye Makeup: MAC All that Glitters eyeshadow, Lancome Hypnose Drama Mascara, and Make Up For Ever Aqua Eyes in 0L
Lips: NARS Powermatte Lip Pigment in "American Woman"
The DiorBackstage Face & Body Foundation looks and wears suspiciously like the Star Foundation so I'm almost inclined to think this is one of those repackaged product, given the convenient discontinuation of the latter range. It has a medium finish and generally speaking, with a good skin condition, you probably don't have to worry about concealer / powder.
The foundation is very, very runny/liquid-y. It tends to leak from the bottle so that's something to keep in mind when you're travelling. I like to shake the foundation a little before using it to make sure the formula is well-combined. The foundation dries down quickly, and oxidizes to be a more orange-y finish. Very disappointing to be honest, but my slight tan means the foundation doesn't look too far off from my darker skintone. You also don't need too much – you get a really good medium coverage with a couple of drops and I prefer to finish with concealer if needed given the issue with the caking.
The swatches on my arm makes the dried-down foundation look orange but that's because the inside of my arm is far lighter than my slightly tanned skin. I've shown two pictures of the foundation on my face to show how it wears and look in daylight.
The foundation dries down to a semi-matte finish and disappointingly wears somewhat cakey around the triangle under the eye area. I suspect, layering another cream highlighter as well as the somewhat hot/humid weather contributed to this problem. I've had a similar issue with the Star foundation so this is one that I normally wear regularly around the Fall/Winter season. It's better to go light-handed on this as well and a buffing brush works really well for it. I found the beauty blender absorb too much of the product.
Swatches and Shade Comparison
Overall, if you are a fan of the original Diorskin Star foundation, you'll like this foundation. It's a good introduction to the active Dior foundation range and with 39 colours to choose from, there's a likelihood of a better skintone match.