It is no secret that I have more than just a crush with Make Up For Ever. It's an on-going affair that have lasted through the years: through bottles of foundations, stumps of eyeshadow pencils/eyeliners, and pans of blushes as proof. Relationship jokes, and analogy aside though, if there is one brand that I trust for looking my best, no matter what the elements throw in my way, and no matter what kind of event it is, that brand would be Make Up For Ever. The myriad of options, and complete repertoire of products that not only cater to the Pro's but to ordinary beautifiers like you and me makes it a reliable brand to fall back on no matter what product you're looking for.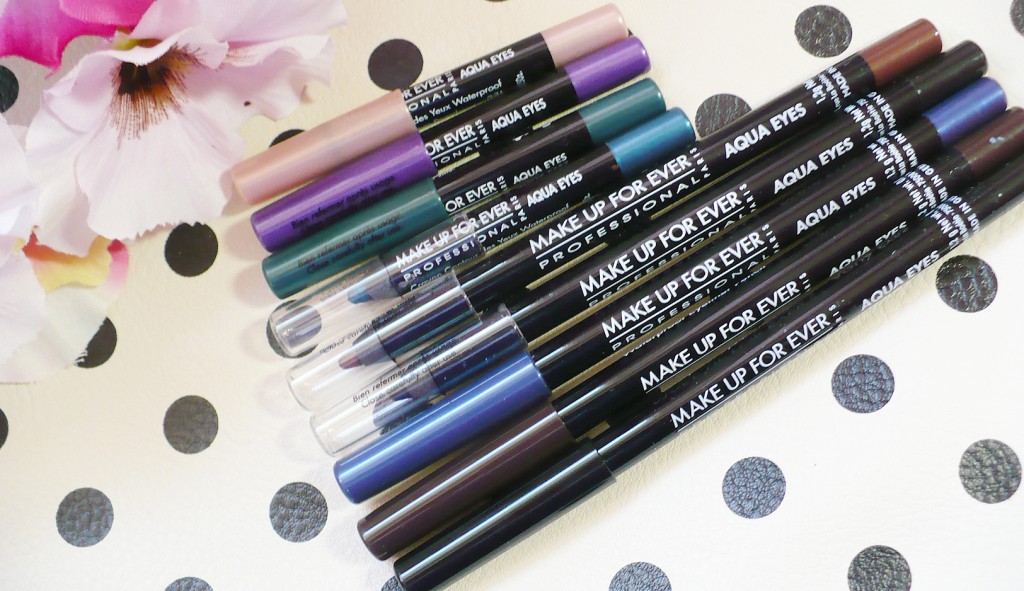 One of my favourite products from the brand is the under-rated Make Up For EverAqua Eyes ($23, available here). Sure many may scoff at me for preferring this over the cult favourites such as the Urban Decay 24/7 Glide On Pencils, or the offerings from many other brands, but how the product looks at the end of the day speaks volume about its quality.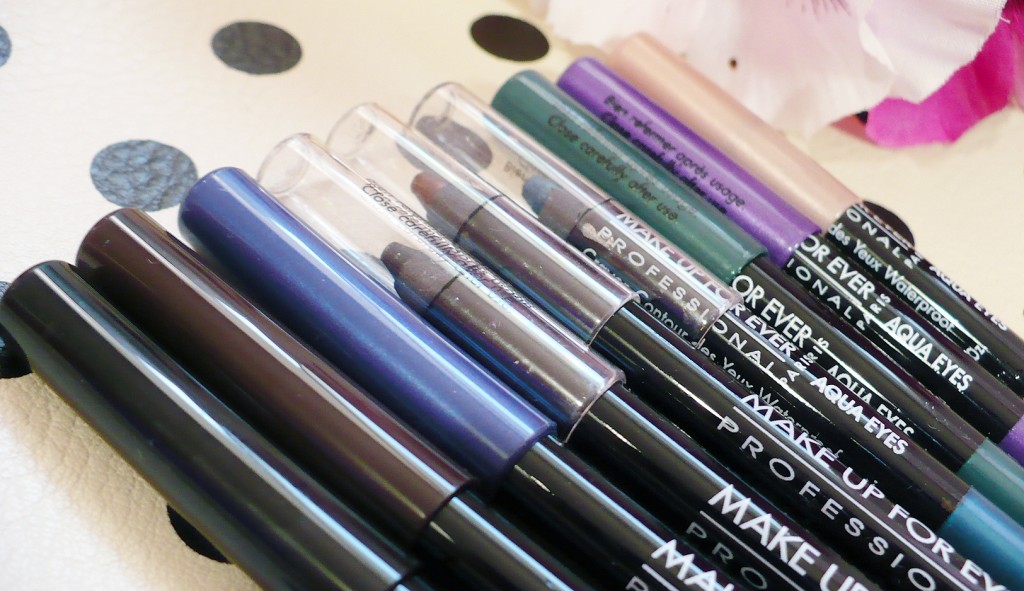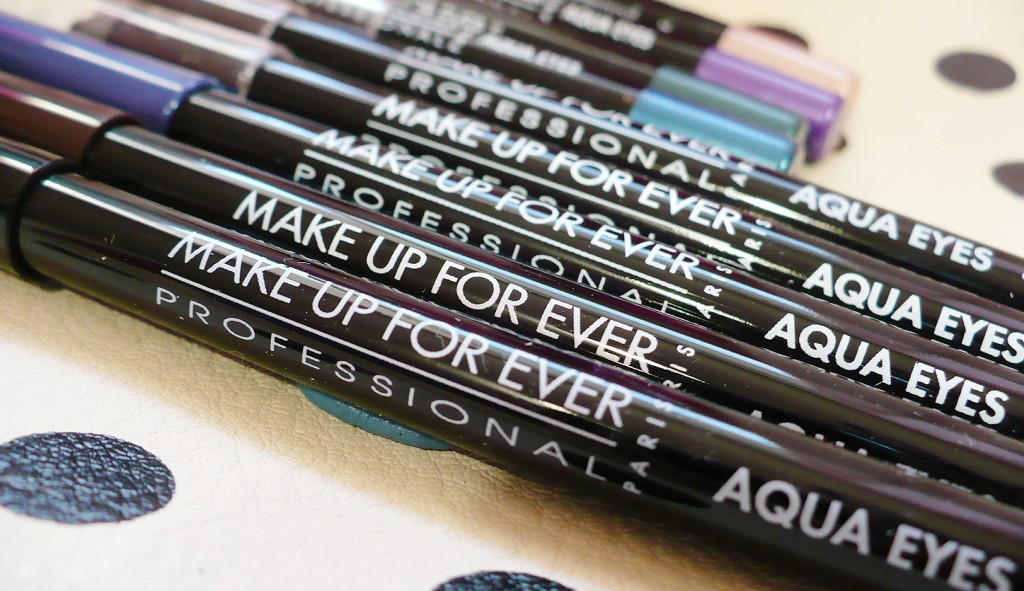 Available in more colours than you probably know what to do with, the pencils feature the popular aqua formula. Each pencil is consistent in its formulation: intense colour payoff, waterproof, smudge- and fade-resistant. I have 9 shades (out of the 25 available online at sephora.ca) in my collection, varying in shades and finishes from neutral to brights, and from matte to shimmers in finishes.
The pencils last a very long time on my lids, and I wouldn't be surprised if this eyeliner is the answer to those with oily lids either as the formula holds so well. It is waterproof, and smudge proof – once it sets, there's no moving it around, though it is easily removed at the end of the day with some micellar water. You can use the pencil as an eyeshadow as well – just smudge it all over your lid or crease before it has a chance to set completely.
It's not an overly creamy formula, meaning that though it will glide easily, it is not easily breakable so you won't end up with $5 worth of your pencil on the floor. It doesn't tug, applies easily, and looks as freshly applied at the end of the day as it was in the morning of.
I bought several of mine through a value set, so for your reference, the full-size has 0.04oz worth of products while the smaller one has 0.0025 worth of product (if you care about the math!)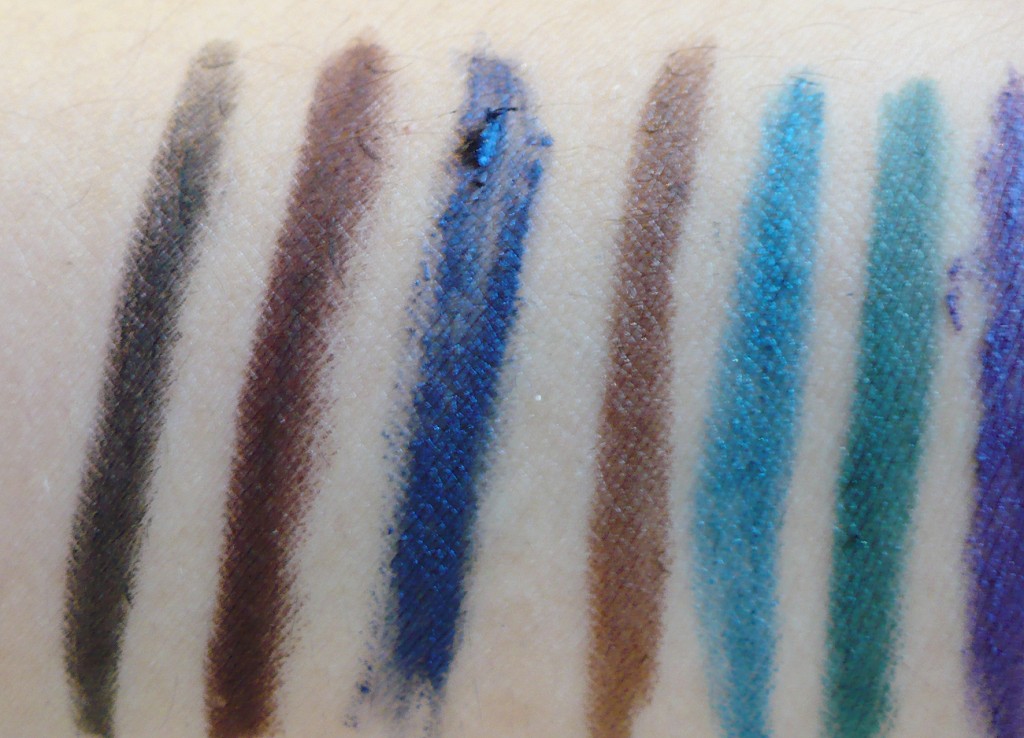 I am officially enamoured by the quality of these pencils. The colour payoff, variety of colour selection, great formula that will last through 10+ hours workday, kickboxing session, and even a downpour – this should be on your shopping list. If I can recommend one eyeliner for you to splurge on, I'd recommend this over the Urban Decay one. Don't get me wrong – I find the consistency of the formula to be more on point with this range of eyeliners than Urban Decay.
Now it's your turn! Have you tried the Make Up For Ever Aqua Eyes? As always, I'd love to hear your thoughts! Share with me comment section or through Twitter or Instagram!