I thought it would be fitting for me to post my third "5 in 2015" series with my most reached for products. These are not necessarily the newest or considered the "hottest" launches from this year because the best finds are the ones that stood the test of time! Although they may not be the hottest new product they are the ones I reach out for most because they are suitable for my kind of lifestyle: makeup with minimal upkeep and maintenance required!
Like many, I simply don't have the time to worry about touch-ups nor do I want to be worried about how my face looks at 3pm today. So when it comes to my staple beauty products, my principle is all about longetivity and minimal upkeep while remaining comfortable throughout the day. Like any women out there who carries and oversized purse, my bag is already overflowing with a lot of heavy items so minimizing the makeup addition is another key aspect of my makeup routine!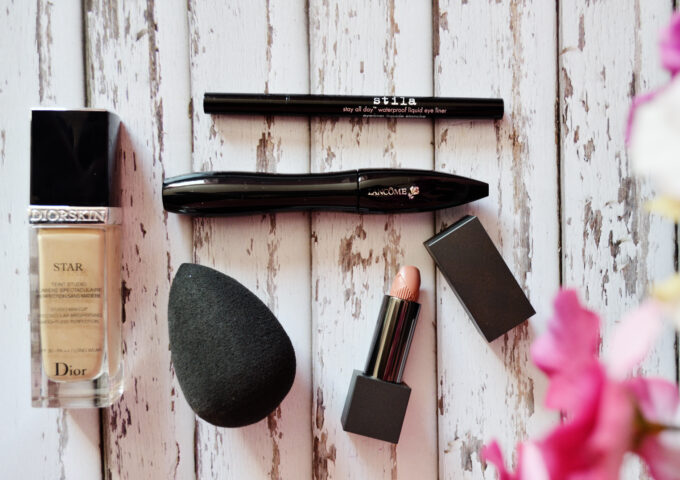 + DiorDiorskin Star Foundation ($56, available here)
I won't lie that the number of features this product gets makes me feel like a stepmother, favoring her own child compared to the other brands out there. However, this has quickly become my go-to, most used products for its great coverage, longetivity of wear, and great colour match. I can wax lyrical on this foundation and I have done so many times before, but feel free to check out my reviews of this product here, here and here to get a good idea as to why I love this foundation so much!
+ Beauty Blender ($26, available here)
The beauty blender and its drugstore Real Techniques dupe changed the way I do makeup, but I still won't pay the full price for the beauty blender itself. Given the product's popularity and to my extreme delight, there are plenty of collaboration and value sets to be found that includes this product including the one from this year's Sephora Favourites Superstar Set, and limited-edition collaboration with Benefit.
+ StilaStay All Day Waterproof Eyeliner ($29, available here)
If there is one product I swear by when it comes to lasting through anything including rain, hail, sweat and tears, it would be this eyeliner. I can give you specific examples to the times I've used this product through all of the above occasions including 1) Scavenger Hunt in the rain at Canada's Wonderland, 2) going through rough Canadian winters, 3) kickboxing right after work, and 4) graduation ceremony. It's that good despite the price! I stock up on this when I can – during the Sephora sale, when Shoppers Drug Mart has their mega-redemption event and any other retailer where I might be able to get my hands on this.
+ BurberryLip Velvet in #405 Nude Apricot ($36, available here)
This product was love from first swatch and that doesn't happen very often. It's so impressive that it quickly replaced the Dior Rouge Baume, which is my all-time favourite lip products, in a flash. I am just starting to get into Burberry's lip product offering so I'm curious to try out more colours and test more formula!
+ LancomeHypnose Drama Mascara ($30, available here)
I thought my love for the Too FacedBetter than Sex Mascara and the Make Up For EverSmoky Extravagant Mascara were destined to be forever until the LancomeHypnose Drama Mascara entered my life. As if I needed another expensive mascara on the list! This curvaceous mascara delivers everything you ever want a mascara to give you in one unbeatable formula – volume, length and longetivity.
What are some of your most-reached for products this year?