I've written a lot about my travel makeup bag, and things I keep at the office, but I've never really written about my work travel makeup bag. Since I travel quite a bit for work, I have a pretty streamlined process and trusted favourites that I will keep with me. Most of the products you see here would be similar to what I would wear on a daily basis but there are a few items that are new in this routine.
Let me walk you though a few of my favourite products that I trust explicitly for work trips!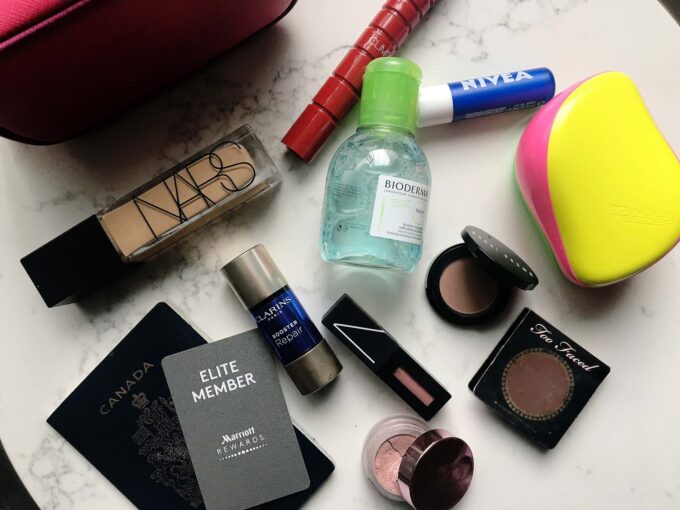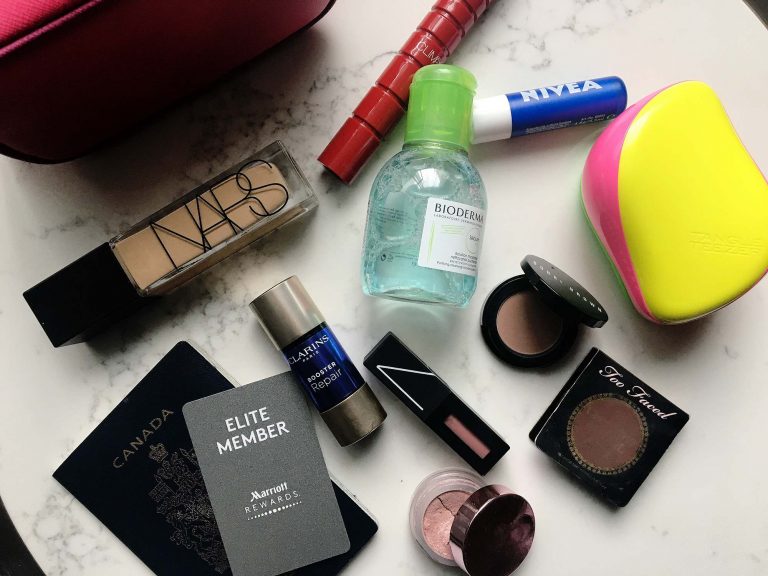 The Makeup Bits
My foundation of choice for these trips is something that is low-maintenance, doesn't require any sort of touch-ups during the day and has a great colour match for my skin. Although I normally would gravitate towards the Laura Mercier Silk Creme Photo Ready Foundation ($60, available here), my skin is paler due to the winter so I've been using the NARS Natural Radiant Longwear Foundation ($60, available here). It's a pleasant enough foundation and I like that it dries well without needing a setting powder.
For the cheeks, I haven't been able to stray from Too Faced Chocolate Soleil Matte Bronzer ($38, available here) which is something I've kept repurchasing as it is the perfect matte brown that provides that defined look on the cheeks. As backup and for a quick change if I want to lighten my makeup up, I also brought along this sample of the Bobby Brown Bronzer in #2 Medium ($55, available here). This bronzer is light enough to wear as a blush or if I want to wear a lighter contour powder, this would be what I'd go for.
For the eye makeup, I'm sticking with my favourite Clarins Ombre Iridescente in Rose Silver ($26, available here) which is absolutely perfect for everyday wear that can be dressed up or down. I love how versatile this product is and it's so easy to apply with or without a brush!
Finally, I've been obsessed with using the NARS Climax Mascara ($30, available here) – it's a decent enough mascara that elongates my straight lashes. I don't really care for curls as much because of the work nature of these trips.
For the lips, I cannot go without my Nivea lipbalm – it's just a staple for every trip and makes anything I layer on top less difficult to work with. I decided to bring a liquid lipstick for this trip, and surprise surprise, the one I chose is from NARS. The NARS Powermatte Lip Pigment in "Le Freak" ($30, available here) is the perfect everyday colour to work with.
The Skincare
I chose to keep the skincare incredibly simplistic; to keep my skin hydrated I brought along my ClarinsRepair Booster ($40, available here) which I like to mix with my moisturizer before I go to bed or if I want to add a bit of glow to my morning routine. Given how dry my skin gets while flying, I much prefer using my all-time favourite Bioderma Micellar Water.
What do you usually pack in your travel makeup bag?