Among all of the products that came out from the ClarinsContouring Perfection collection, the one that I've been coming back to (and I'm not ashamed to say it's replaced everything else in my collection) is the ClarinsOmbre Iridescente ($26, available here). I can't get enough of these cream-powder eyeshadow and the subtle upgrade it adds to my daily makeup routine.
The ClarinsOmbre Iridescente is an existing product and the Contouring Perfection saw three additional colours joining the permanent range (I only have two of the three!) I never paid too much attention to this product when I check out the Clarins counter so it was a genuine surprise to see how much I have been loving the Ombre Iridescente in the last few weeks. My pick of the moment? #09 Silver Rose – just the perfect colour for everyday and special occasions, depending on what you pair it with! Love love it!
The ClarinsOmbre Iridescente is available at: Sephora • The Bay • Shoppers Drug Mart
Clarins Ombre Iridescente
The product comes encased in a small pot which I can see being a potential recipe for drying out. The product has a velvet-like texture and is easily picked up with either my fingers or a brush making application really easy. There is a bit of fall-out when applying with a brush but that's small enough to be overlooked considering how phenomenal the quality of this product is!
The formula applies and blends really nicely with other powder products. I have used this over a concealer as an eyeshadow base to see if it will amp up the intensity but the base didn't seem to have much of an impact. A nude or white base would give this a much more pigmented finish though. I personally don't mind as I have a lot of ultra pigmented eyeshadows so it's nice to have something a little more subtle.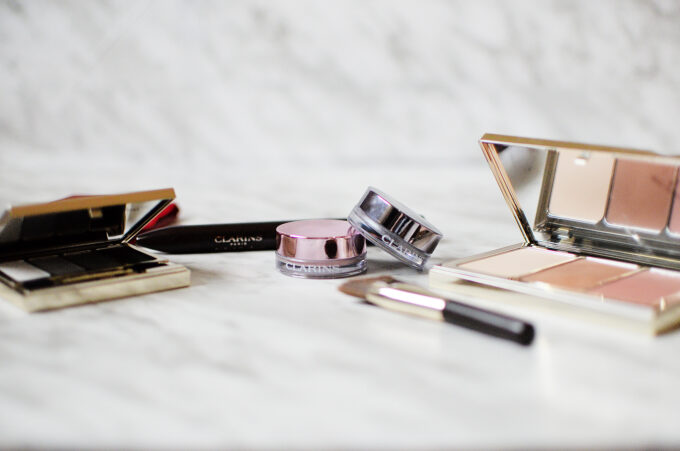 Pre-university me would have balked at the idea of spending this kind of money on an eyeshadow that is supposedly subtle and with not much fuss or excitement to it. I believe L'Oreal's Infallible Eyeshadow has a similar formula but I didn't quite love it as much as I've grown to enjoy wearing this. There's just something about this formula and finish that has truly replaced everything in my eyeshadow collection at the moment.
#09 Silver Rose is a colour that can be worn daily or for special occasions. It pairs up beautifully with greys and purples depending on the look you're going for. #10 Silver Grey is one that I thought was okay until I applied it and it just adds such am "oomph" factor to the final look. I like that both colours wear well on their own or when paired with another shade.

This product is a really great purchase if you're in the market for something luxurious like the CHANEL Illusion d'Ombre or GivenchyOmbre Couture Eyeshadow but may not be willing to splurge that much. There are certainly a few alternatives that exist in the drugstores and I would have returned to them but that hasn't been the case until I've tried this particular product. It's got that unique kind of iridescent and satin finish that truly upgrades your look!
Swatch these the next time you're passing by a Clarins counter – you'll see what I mean!
Have you tried the Ombre Iridescente eyeshadow from Clarins?
---
Disclaimer:
This post features product(s) provided for editorial consideration. All opinions are my own. For more information about my review policy, please
click here
.
---