At this rate, someone please make me a brand ambassador or "the face of" Bioderma. I legit spend so much money at my local Shoppers Drug Mart, in addition to being sent PR samples from the lovely folks at Bioderma that I have a mini warehouse shrine that could compete even with Shoppers Drug Mart's shelves. In addition, the sales associates at my 2 local Shoppers Drug Mart know my love affair with Bioderma SO WELL that they've always set aside any value kits / sets that are released for me because each store only gets anywhere from 10-20 each (Like, WHAT!?? right??)
The holiday season and the post-holiday season are the perfect time of the year to stock up on holiday/value sets which gets you a lot of bang for your buck. Particularly when they are you staple products and you go through them like water. Considering that they are a fraction of what it would cost to buy separately and at regular price, and the fact that I promised myself not to go wild in Paris for skincare this past November, I think I did quite ok!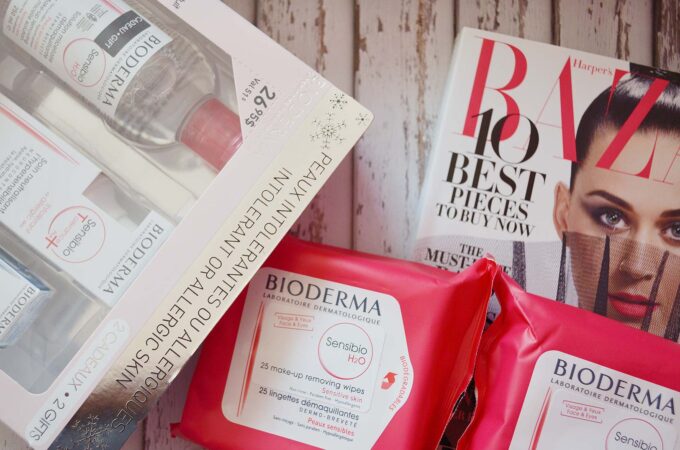 I spotted a number of holiday sets, and because you know, I've got that amazing relationship with the sales associates at the cosmetic counters, I was able to combine a 1) 20% off deal that was being offered across all Bioderma products and 2) a $5 coupon from previous purchase. The result was that I paid the same amount in Canadian dollars as I would have if I bought them in Paris, with the added bonus of not having to risk the products exploding in my suitcase (which happened once, and thank goodness it was the Sensibio H20 which is practically water so my clothes only needed to be dried out) nor adding bulk in my suitcase.
Onto the haul, here are the few backups and essentials that I picked up:
Bioderma Sensibio H20 500ml Duo Pack x2 – $32.95
Bioderma Sensibio Makeup Cleansing Wipe Duo Pack – $14.95
Bioderma Sensibio Sensitive Skin Trial Kit – $26.95
Another reason I wanted to share this post is because Bioderma is celebrating its 20th birthday in 2015. I figured this could be a good post to share some interesting facts about the #1 Micellar Water and why it loves you with "the simplicity of an old friend"!
Efficient: The super-cleansing power of micelles remove dust, impurities, and makeup (even waterproof ones) with gentleness!
Innovative: The formula was invented by Bioderma in 1995!
Intelligent technology: It is composed of 97% biomimetic active ingredients which makes it suitable for your bioligical skin composition and respects the skin's hydrolipidic film and epidermis for maximum comfort
Simple but Versatile: It replaces your makeup remover and toner (Although I still use a cleanser afterwards!
Highly recommended: This product has been endorsed by dermatologists, celebrities, professional makeup artists, and a throng of bloggers. And of course, because I said so!
Your skin's best friend: Bioderma focuses on the biological study of the skin so its products are created with biological mimetism for durable efficiency and high tolerance (excellent for sensitive skin!)
F.A.M.O.U.S. 1 bottle is sold every 3 seconds, and it's 20 years old. That's almost as old as me!
Soothing: the ingredients in the formula soothes the skin and decongests the skin preventing irritation
What is your favourite Bioderma products?