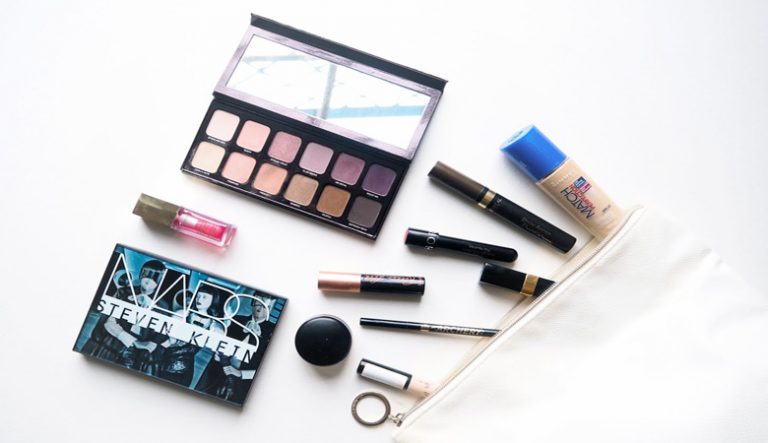 Putting together my makeup bag for my upcoming trip is nothing short of a disaster. Despite having lived off of the basic necessities when I lived in Ghana, I could hardly understand why I feel I need all these stuff for my upcoming trip.
And no, I'm not trying to impress anyone despite whatever someone else says. As I went about packing, I thought I'd share with you what I brought with me on this trip.
For someone who considers her maintenance to makeup as being low-key, I'm quite surprised at how much I'm packing, even for the bare necessity! This "Show Time" bag is simply so adorable and incredibly spacious – it fits so much stuff inside! I received this bag from the Beauty Trend Report event a couple of months ago. So, what's in my travel makeup bag you ask? Take a peek!
Hygiene | Travel sized Pantene bath products are godsend for times like these
Face & Base | Foundation and multi-purpose concealer for days that I can't be bothered with the foundation
Eyes | I can't skimp on this one, so I brought my multi-purpose Too Faced All I want for Christmas compact and an eyeliner
Brows/Lashes | The Too Faced Better than Sex mascara lives up to its name. You need it. The Benefit Gimme Brow is excellent for travelling without the bulk
Lips | Bring the "every occasion" colours and staples such as Nivea lip balm and MAC Shy Girl
Tools | The Tangle Teezer, Real Techniques Buffing Brush, and Multi Task Brush; Shiseido Eyelash Curler, bobby pins/hair clip and packs of styling creme for quick de-frizz
Skin Things | Moisturizer, sunscreen and cleanser
I think that's a pretty decent list – what do you guys think?